As they say 'from little acorns grow'. Yet there are those who debunk some of my modest efforts to reduce minor aspects of my pack weight (such as my recent 'Toothbrush Spoon' post -which saves at least 10 grams), or my DIY Ten Gram Pillow which probably saves you at least an ounce (or 30 grams).
I know even my own son opined that he was quite happy to carry the extra 10 grams even when I pointed out to him that to do so was the equivalent (in kilograms) of moving ten times that number (ie 100 kilograms) a distance of 1 metre. See A Lazy Man's Guide to Hiking and Hunting.
These tiny savings can add up, so that soon you have saved 100 grams or even a kilogram off your pack weight. the equivalents respectively of having moved 1 tonne or ten tonnes a distance of a metre – a considerable amount of work which I pointed out to him would involve his having had to carry quite a quantity of extra food to have performed. Itself something which also requires work, and so on, ad infinitum!
Even though I years ago thought I had pretty much completed all my major pack weight savings, nonetheless every year I seem to find the odd other wrinkle which still makes a difference. You will notice that many of these weight savings were quite cheap or DIY.
Below: A few of the knick-knacks I decided I no longer needed to carry!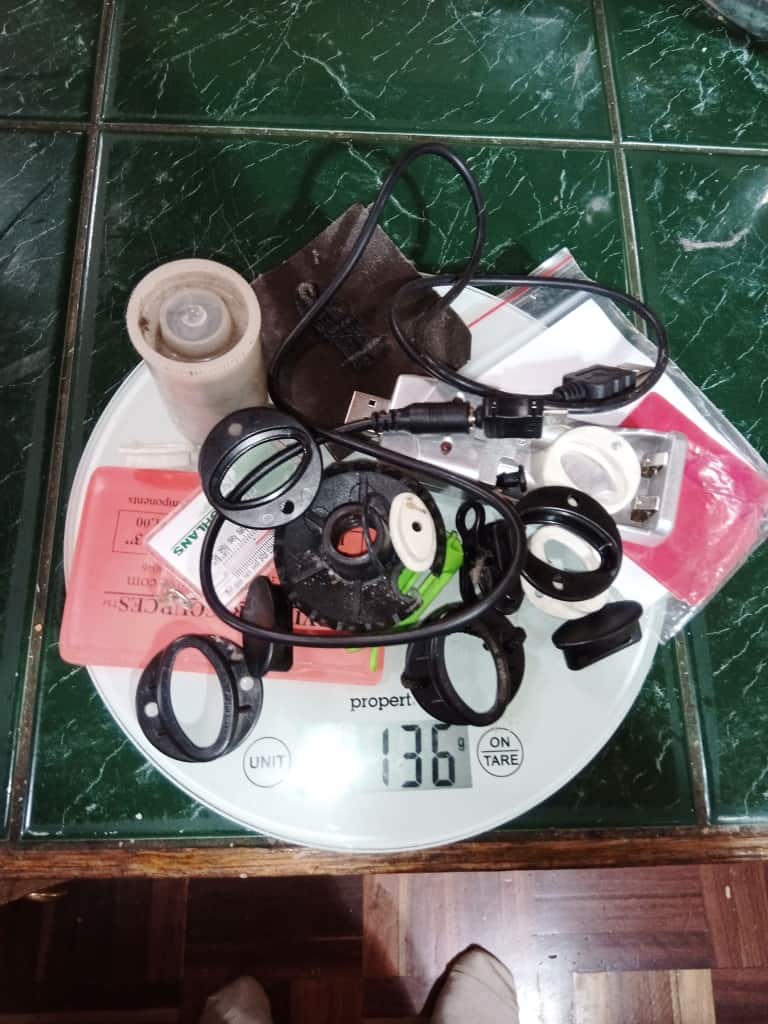 Here are some examples (and approximate savings) from just this year – taken mostly from posts I have made since last Xmas:
One Year Pack Weight Savings:
The Toothbrush Spoon saved me 10 grams
The Ten Gram Pillow  saved me approx 30 grams
My 20 Gram roll up stove saved me 15 grams
The Cosy which goes with it saves me 1/3 of carried fuel,say 50 grams.
Whilst Tinny's Gnome save me 25 grams
My Grey Flyer Tent saved me 250 grams
Various Pack Mods increased my pack volume and comfort and also saved me 20 grams
Or of I take my Superlight Hunting Pack (207 Grams)
A new Satellite Messenger saved me 90 grams
A new Iridium Extreme Satellite Phone saved me 130 grams
Switching to the lighter Topo Shoes (on some occasions at least) saved me 253 grams.
My new Atom/Jelly 2 phone saved me 10 grams (and meant I could leave my camera at home if I wanted).
My new Ultralight Chair saved me 100 grams.
The Straw Containers save me 5-10 grams.
Switching to he Tiny Nitecore Rechargeable Torches and dispensing with batteries saved me about 80 grams
Using Power Banks instead of spare batteries saved me 50 grams
Using Ultralight Charging Cables saved me at least 30 grams
Sorting through my pack and leaving out extraneous things saved me 136 grams

The New Ultralight Saw did not save me anything, but it would you.
Likewise the Tent Stove will actually add to my pack weight but save me a lot of work at the end of the day.
Approximate Total savings for just this year: 1209 grams

In addition I have decided to switch back from my new camera 236 grams to my old camera 160 grams. Picture quality did not justify the extra weight or inconvenience in my breast pocket. Saving 76 grams.
Final Total = 1285 grams.
I have made similar corresponding savings on my wife Della's pack weight totaling probably half a kilogram for her too. The combined savings probably represent two (or three)days food for both of us. This is a really important saving on the amount of work we need to do to have an enjoyable couple  of day's hiking in the bush. Good luck with your New Year's savings!
See Also:
A Lazy Man's Guide to Hiking and Hunting
DIY Ten Gram Pillow
Cosy