Thanks to Aussie Outfitter and hammock maker Tier Gear for allowing me to repost DIY instructions for this excellent tarp. You can still find their original post here: Tier Gear Catenary Cut Hex Tarp.
You can purchase all the items you need to build it and the 'Netless Hammock'  from them at a very good price with excellent service and speedy delivery.  These instructions detail one way to make a light weight hex shaped tarp with catenary cut sides. It incorporates a ridge line which is sewn using polyester binding tape. The binding tape ridge line is strong, should not need seam sealing, and adds very little extra weight.
If you cannot sew you can buy the tarp ready-made from them for a very reasonable A$160 (2017): Torrent Hammock Tarp By now (2022) they will have a new model.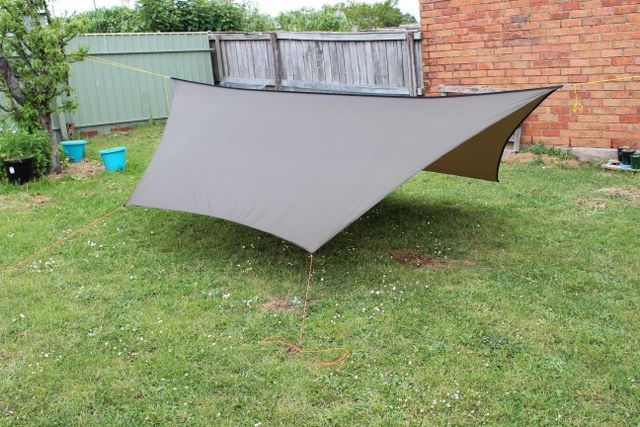 Length of ridgeline is 335cm
Weight is 324grams
Fabric used: Xenon Sil fabric – 7 metres needed
Hardware used: Split rings (4), and Silkworms (4).
Ridgeline binding: 25mm Polyester binding tape – approx 4 metres needed
Tie outs: 13mm grosgrain ribbon and Silkworms.
Thread used: Serafil 60 continuous filament polyester thread but most good quality outdoor threads will do the job.
Needle: Size 12
Step 1:
Lay out your fabric on a large flat surface, measure and cut two pieces 3460mm long.
Step 2:
On bottom long edge measure in 900mm at either end, and mark. Draw a line from these marks to the top corner. Repeat at both ends of each piece of fabric.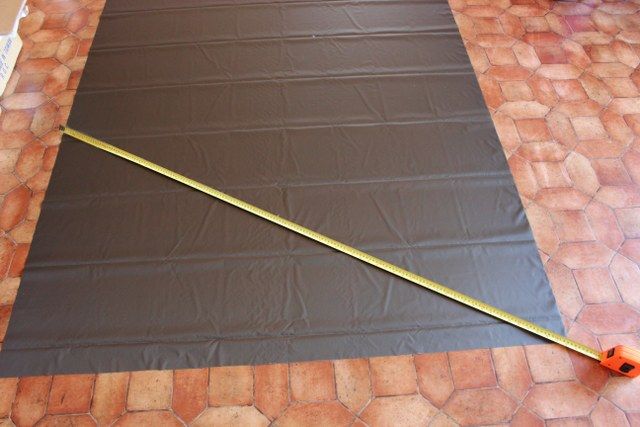 Step 3:
Now we are going to mark out the catenary cuts. On the lines you have just drawn, measure and mark the mid-point. Also do this on the bottom edge.
Step 4:
Using a set square measure from the mid-point up 100mm and draw a line. Repeat on all sides and bottom edge.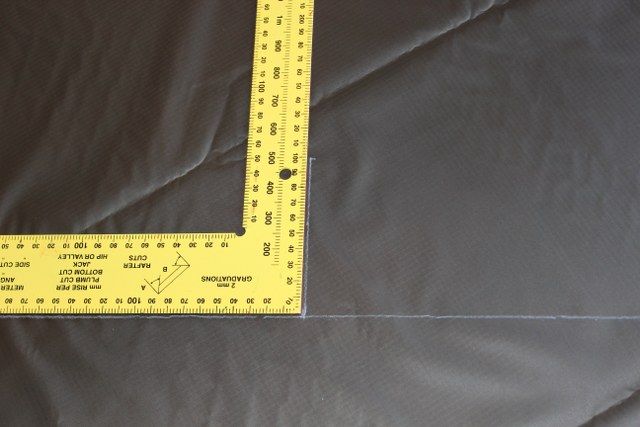 Step 5:
Now using a length of 6mm dowel (or some other equivalent), and some heavy weights to keep it in place position the dowel so that it intersects the two corners and the mid catenary cut mark, and draw a line along the dowel. Repeat on all sides
Step 6:
Cut out the catenary cuts.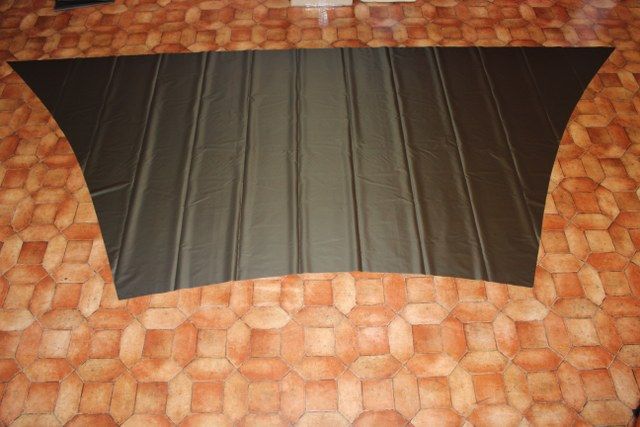 Step 7:
Sew a rolled hem along 3 sides of each piece of fabric but not the ridgeline. Pin where needed. Double stitched is preferable so a sew another line of stitching on the outer edge of the hem. Due to the cat cuts you will find the material will want to twist in places but work carefully and manipulate it as best you can. It won't be perfect.
The width of my rolled hem is about 12-13mm which is needed due to my tie out configuration. If you choose to go with a different tie out configuration you may use a narrower hem width.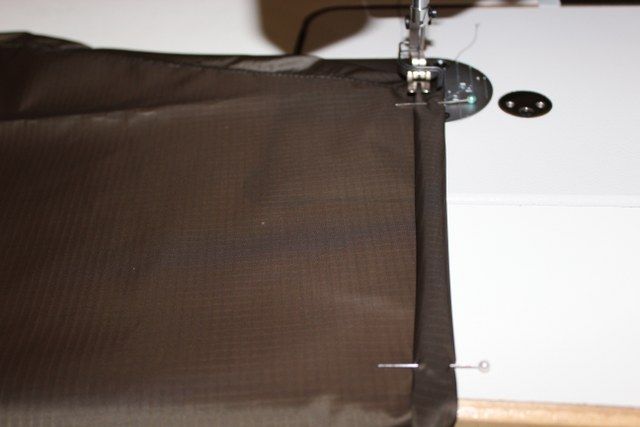 Step 8:
Now take both pieces and pin the ridgeline together, making sure that the ends line up, and the sewn rolled hem is oriented to the inside.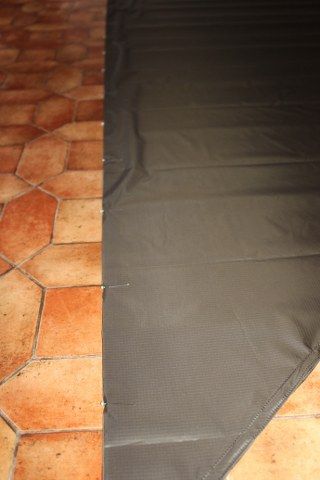 Step 9:
Sew one line of stitching about 6mm from the edge along the length of the ridgeline. This is used just to hold the fabric prior to binding the ridgeline.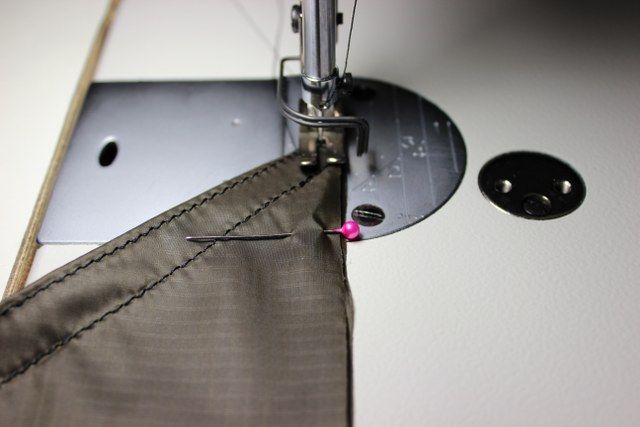 Step 10:
Using the polyester binding tape bind the ridgeline either by hand folding or utilising a binding attachment suited to your machine. Make sure you leave about 100mm at either end, though I recommend cutting it longer than needed now and you can trim to size later. You can also double stitch the ridgeline if you choose – which is what I did.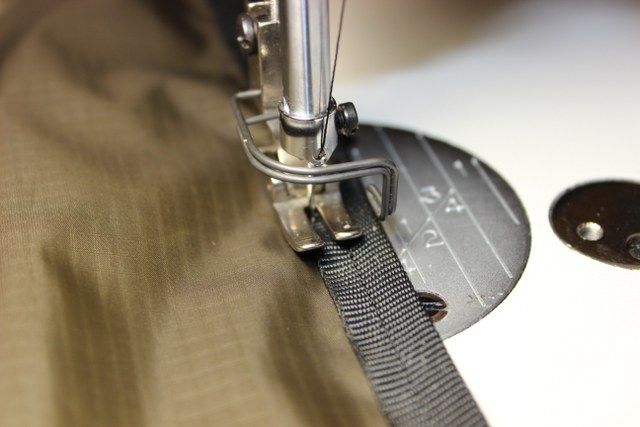 Step 11:
Fold the ends of the binding tape over, and stitch back onto itself on the ridgeline, leaving a loop of about 25-30mm at each end. I use a basic straight stitch bar tack with a z pattern which I have found to be more than strong enough. I measure and mark 10mm lines for the bar tacks, and sew a few times back and forth with a shorter stitch length than used on the tarp hem.
Also make sure you melt the ends of the binding tape to prevent it from fraying later on.
I use 2 split rings but you can use whichever hardware you like, or none at all.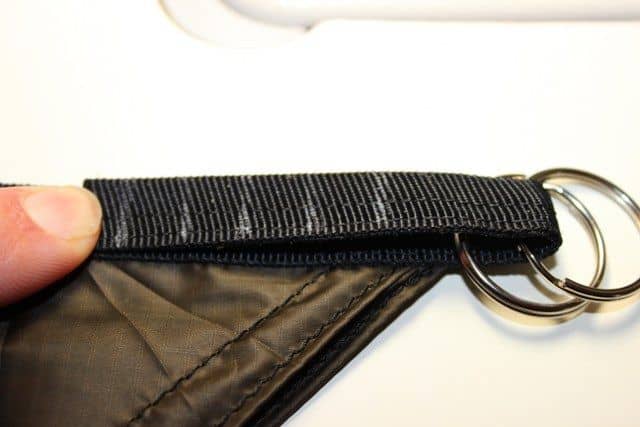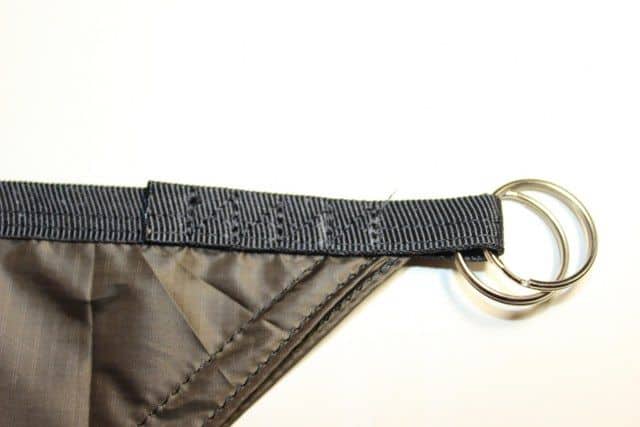 Step 12:
For the tie outs I chose a minimal lightweight design which incorporates no extra reinforcing as the stitching is kept within the hemmed edge of the tarp material only.
Firstly I folded back a small section of the corner and stitched it down with a basting stitch – just to hold it in place.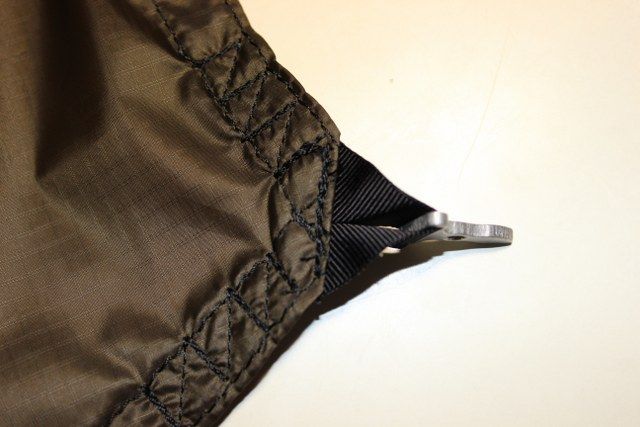 Step 13:
I then used 13mm grosgrain which was cut to a length of 120mm, and sewn to each corner using the same bar tack z stitch pattern as used on the ridgeline with 10mm spacing. These were sewn on the inside of the tarp, and a loop left in the middle which your hardware is attached to or you can tie your guylines straight to this loop. Repeat on all 4 corners.
In this instance I used Silkworm hardware which are extremely lightweight but again you can use what ever you choose or nothing at all.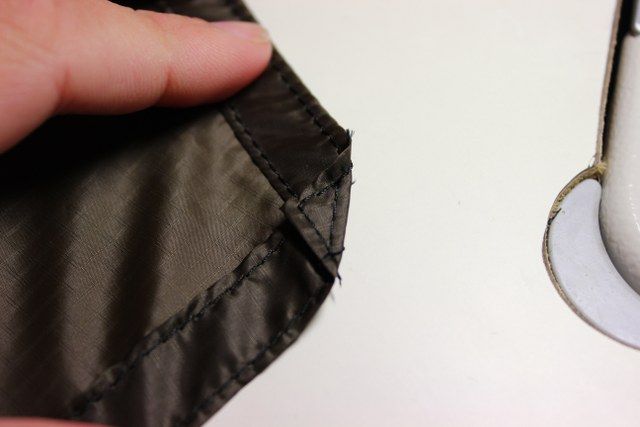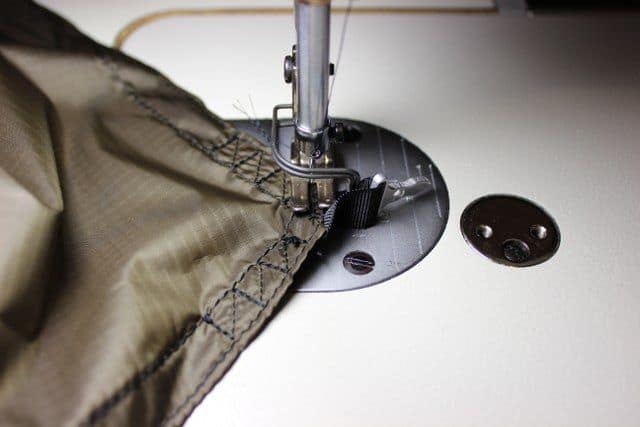 Step 14:
Once both sides of the tie out are sewn, its important to lay down a reinforcing stitch along edge of the corner. Flip the material over, with the grosgrain situated on the bottom and make sure you capture the grosgrain on the under side. A few stitches back and forth should do it. Repeat on all 4 corners and you are done.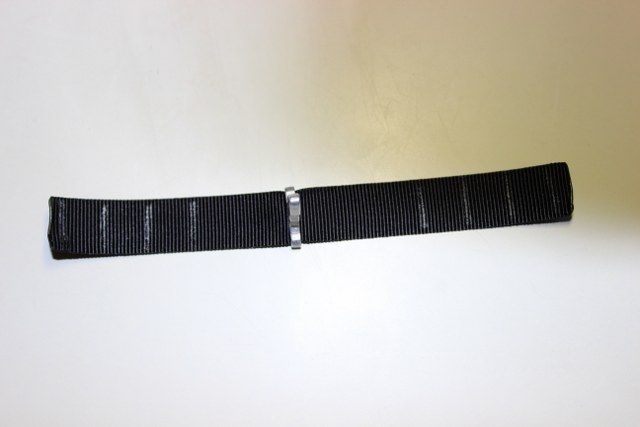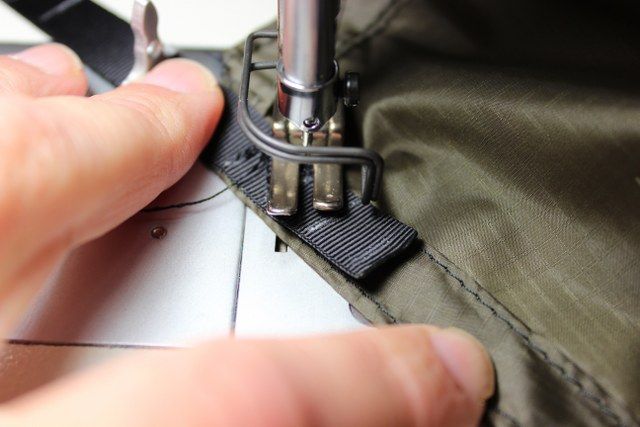 Step 15:
Go hang it and admire your handy work.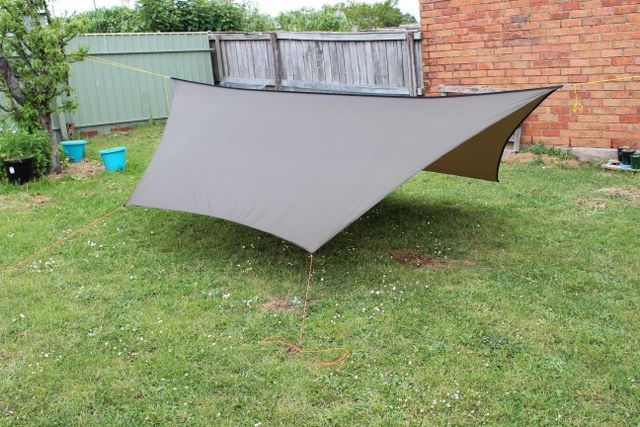 First Published: Jun 4, 2017
Other hammock related posts:
http://www.theultralighthiker.com/a-hummingbird-in-the-hand/
http://www.theultralighthiker.com/adjustable-hammock-ridgeline/
http://www.theultralighthiker.com/continuous-loop-another-great-hammock-idea/
http://www.theultralighthiker.com/whoopie-slings-what-a-great-idea/
http://www.theultralighthiker.com/side-insulation/
http://www.theultralighthiker.com/hammock-pad-extender/
http://www.theultralighthiker.com/diy-netless-hammock/
http://www.theultralighthiker.com/klymit-hammock-pad/
http://www.theultralighthiker.com/make-your-own-tarp-or-hammock/
http://www.theultralighthiker.com/hammock-camping-double-bunking/
http://www.theultralighthiker.com/hammock-hunting-till-dark/
http://www.theultralighthiker.com/all-in-one-hammock-tent-poncho-backpack-at-1-2-kg/
http://www.theultralighthiker.com/laybag/
http://www.theultralighthiker.com/all-you-ever-need-to-know-about-tarps/
http://www.theultralighthiker.com/tier-gear-catenary-cut-hex-tarp/
http://www.theultralighthiker.com/900th-post/
http://www.theultralighthiker.com/sleeping-pad-reinvented-big-agnes-q-core-slx/
http://www.theultralighthiker.com/modifyingshortening-hiking-mats/
http://www.theultralighthiker.com/catenary-cut-tarp/
http://www.theultralighthiker.com/thermarest-speedvalve/
http://www.theultralighthiker.com/upper-yarra-track-section-seven-mushroom-rocks-carpark-to-phillack-saddle/
http://www.theultralighthiker.com/hole-less-ponchoshelter/
http://www.theultralighthiker.com/hammocks/
http://www.theultralighthiker.com/hammock-camping/
http://www.theultralighthiker.com/the-ultralight-deer-hunter/
http://www.theultralighthiker.com/hunting-in-fiordland/