I will let Della begin (from her Facebook post about it): "First of our Fiordland adventures: (More to come later). We spent 3 magical days on the Dusky Track. On the first day we crossed Lake Hauroko in a water taxi and spent the night with the Hauroko Hut all to ourselves: Not everyone's notion of a 5 star hotel, but I would give it 10 stars!
Darned good view out our "bedroom" window.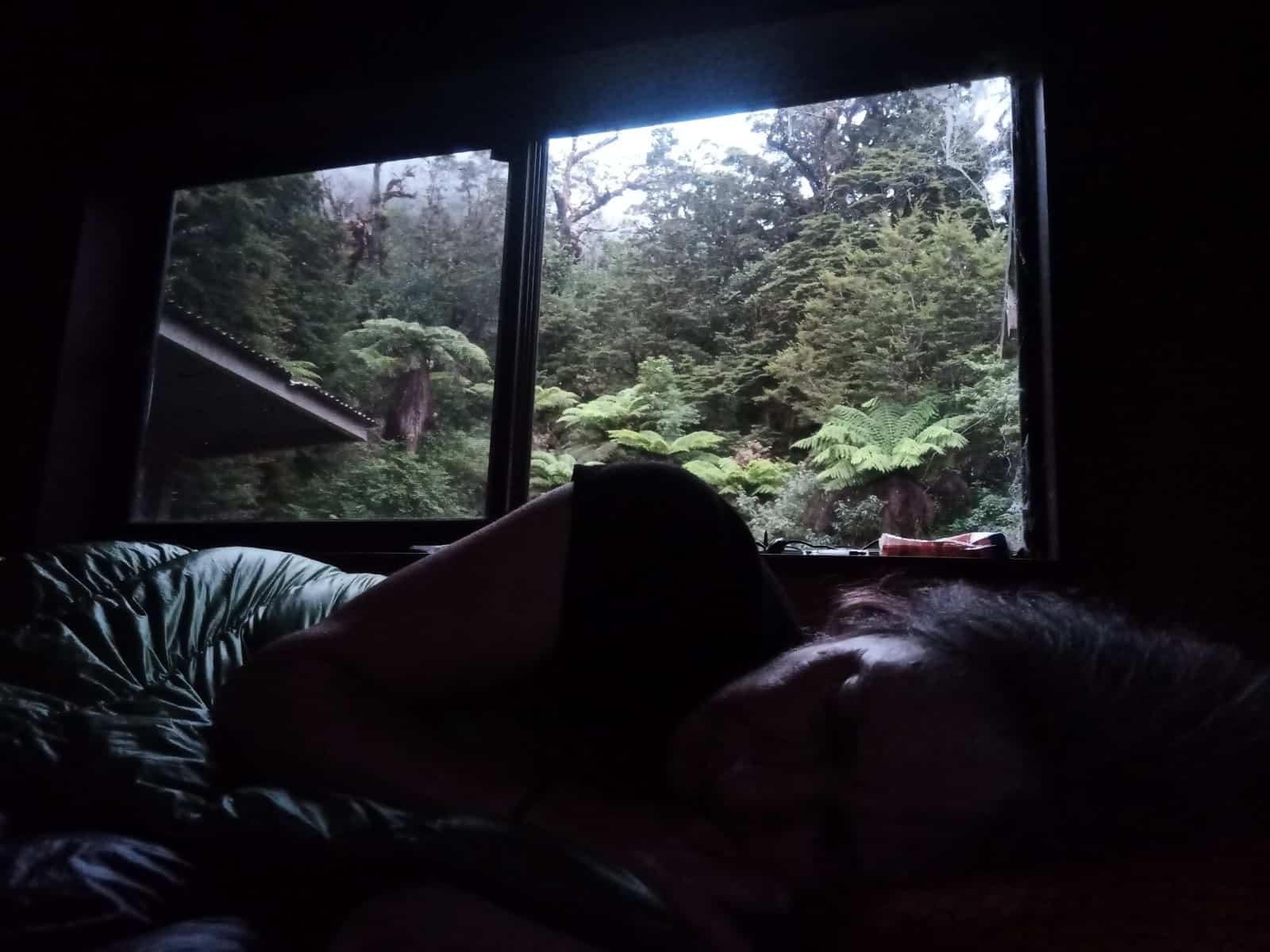 We had planned to spend 6 days walking from Lake Hauroko to Supper Cove Hut, but soon realised that "time's winged chariot" had made us slow. After the first full day of walking, we were not sure that we would make the Halfway Hut before nightfall, so reorganised our plans for safety, made camp and headed back to the Hauroko Hut the next day.
While it was a little disappointing, it was not surprising – and the approaching bad weather made us glad of our decision. The walk was nevertheless a visual feast, and not to be missed. The bonus was the exhilarating jet-boat ride back across Lake Hauroko as the storm clouds gathered in the sky!" ('Rescued ' by an old friend who happens to own a jet-boat).
Setting out to cross Lake Hauroko to begin our adventure.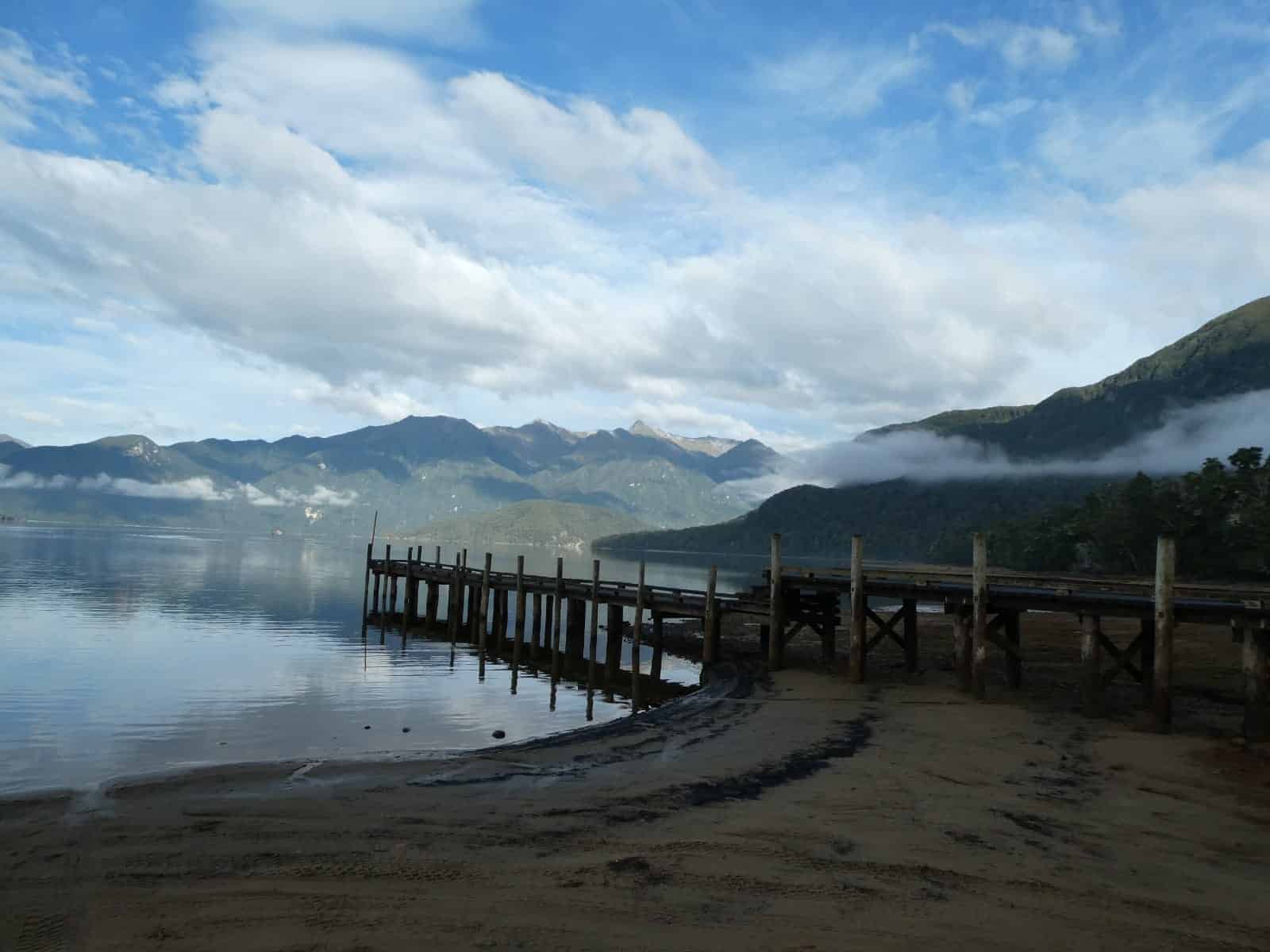 Arrival at Hauroko Hut and beginning of the Dusky Track. Johan's 'Water Taxi'.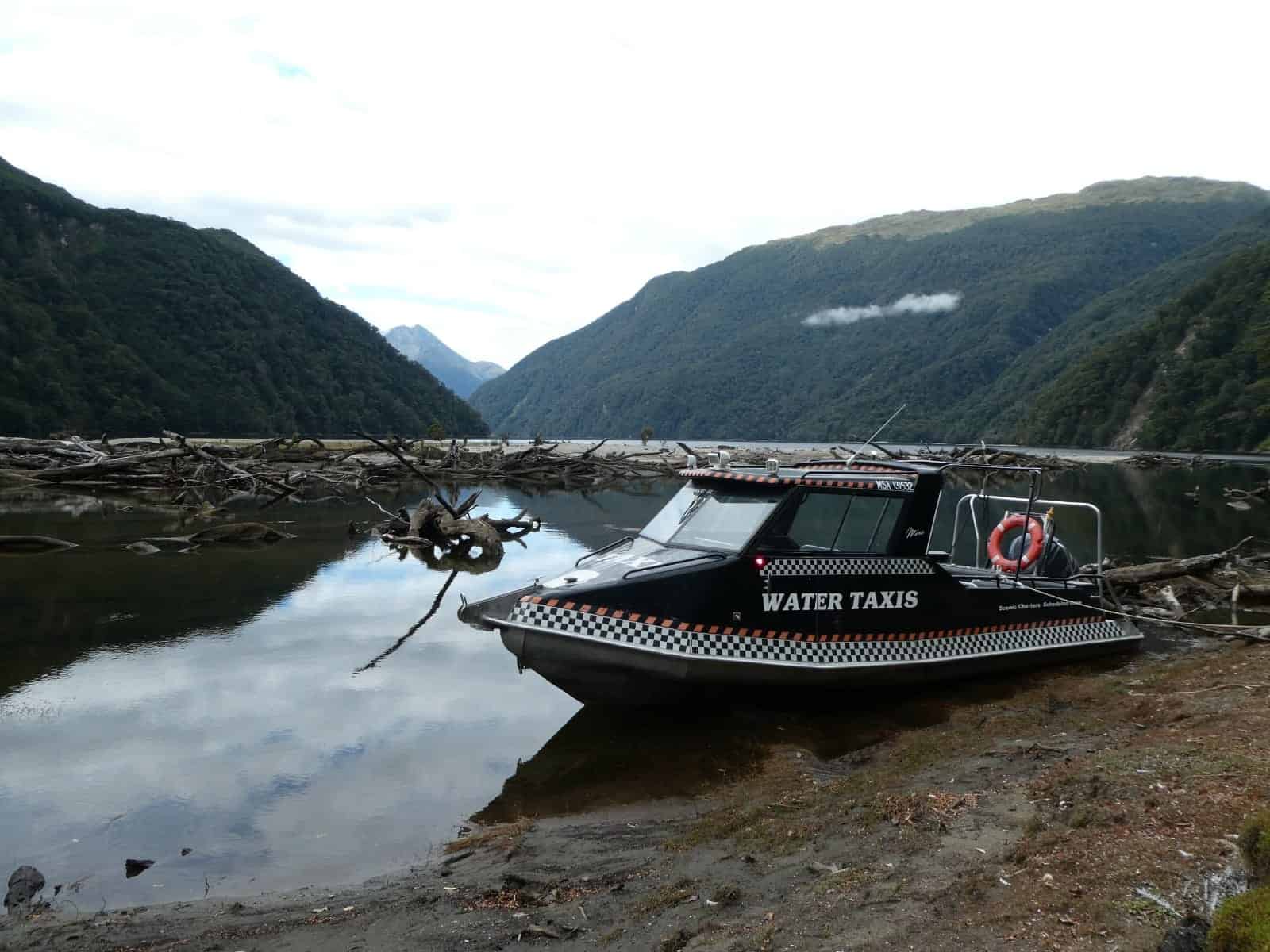 First view of Hauroko Hut .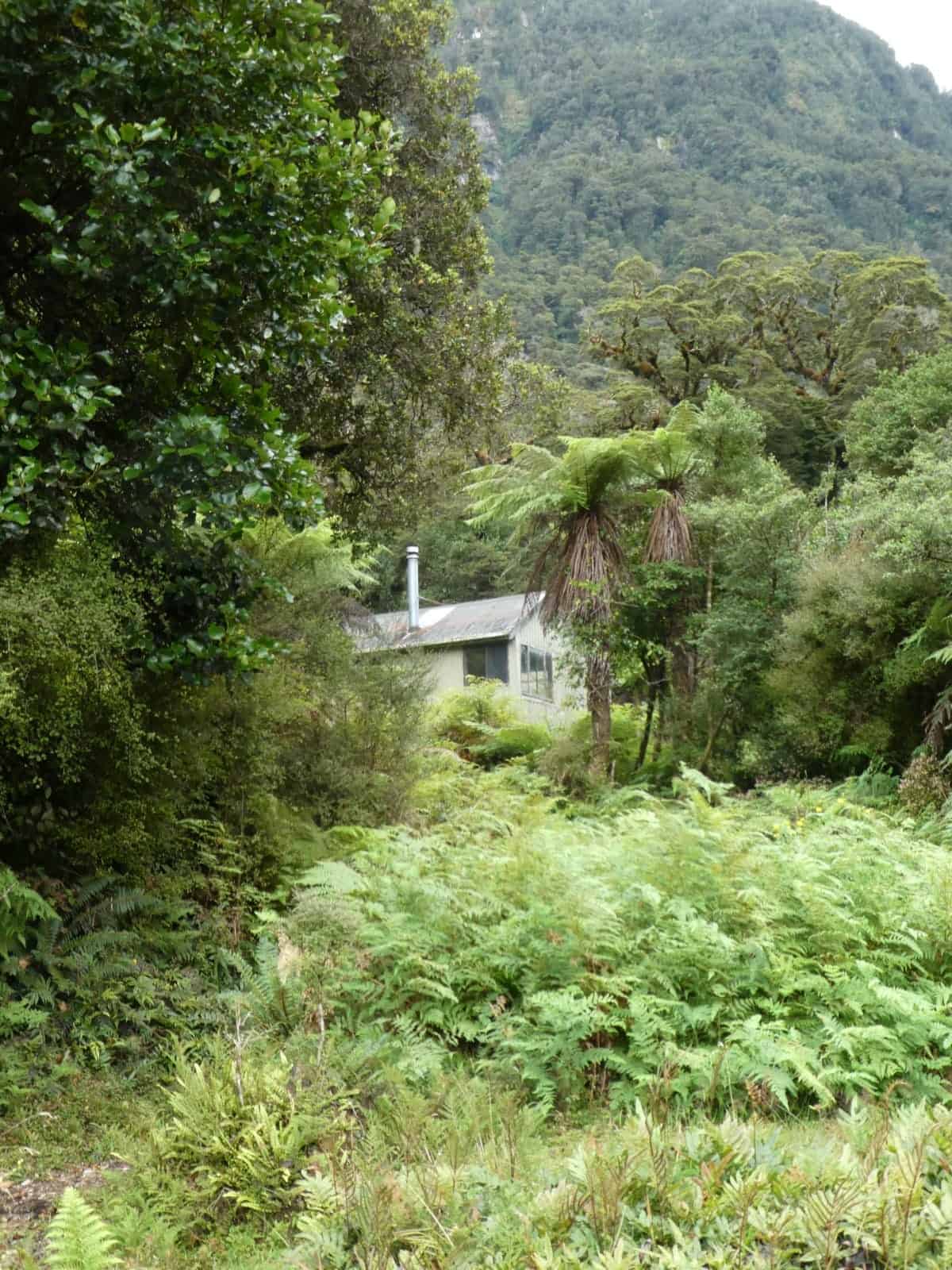 Bright-eyed and bushy-tailed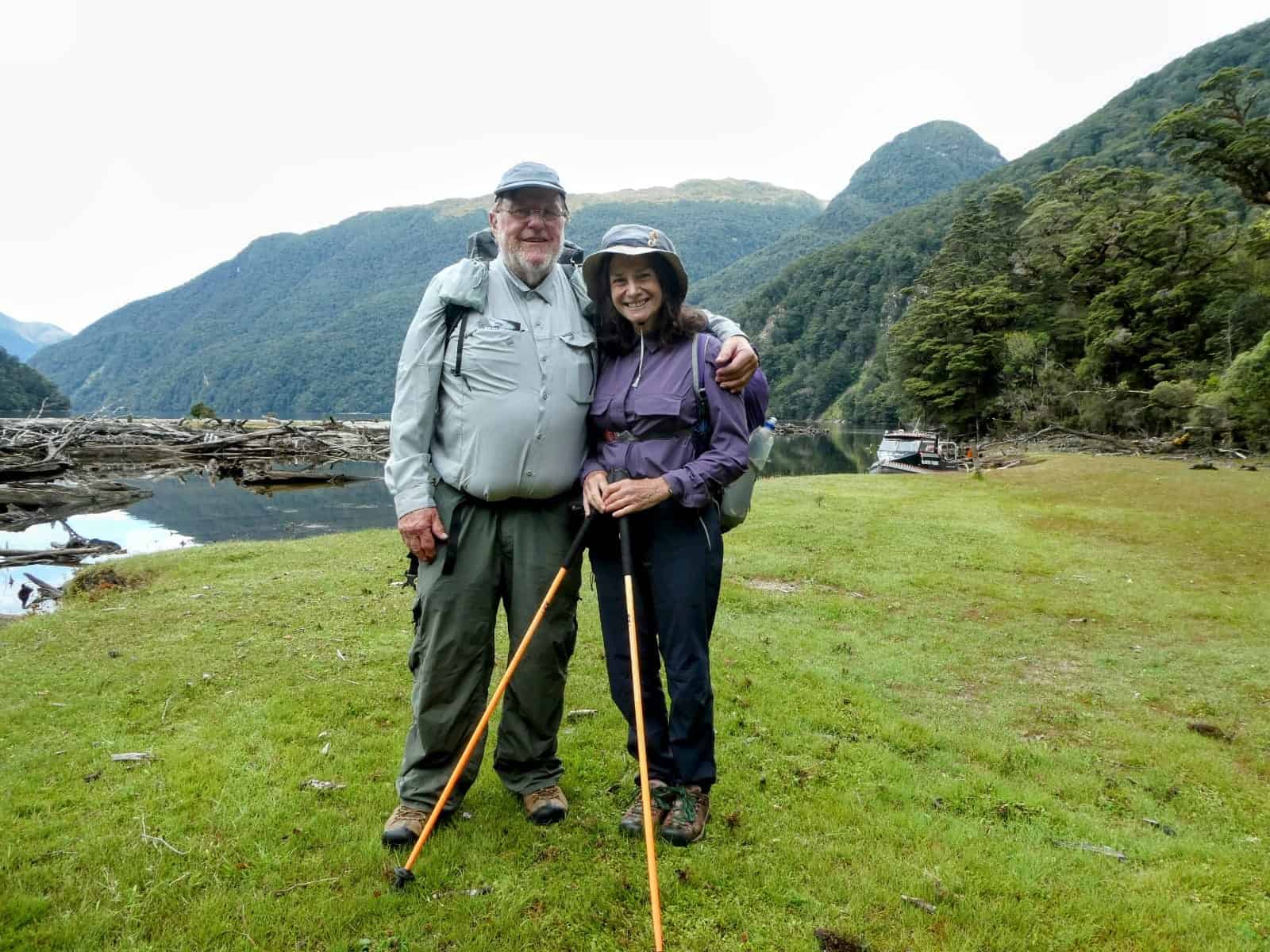 Arrival at Hauroko Hut.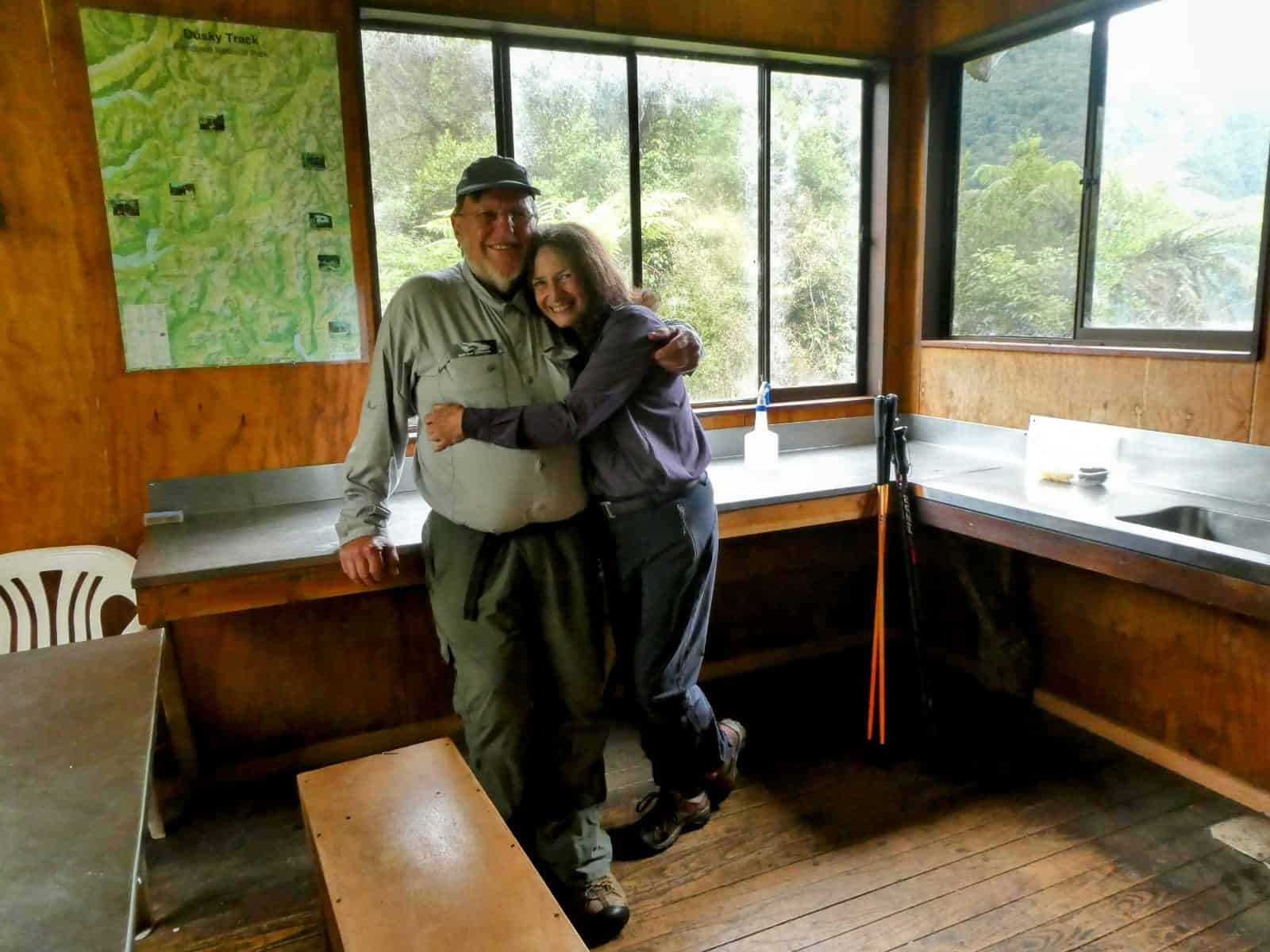 Hauroko Hut beds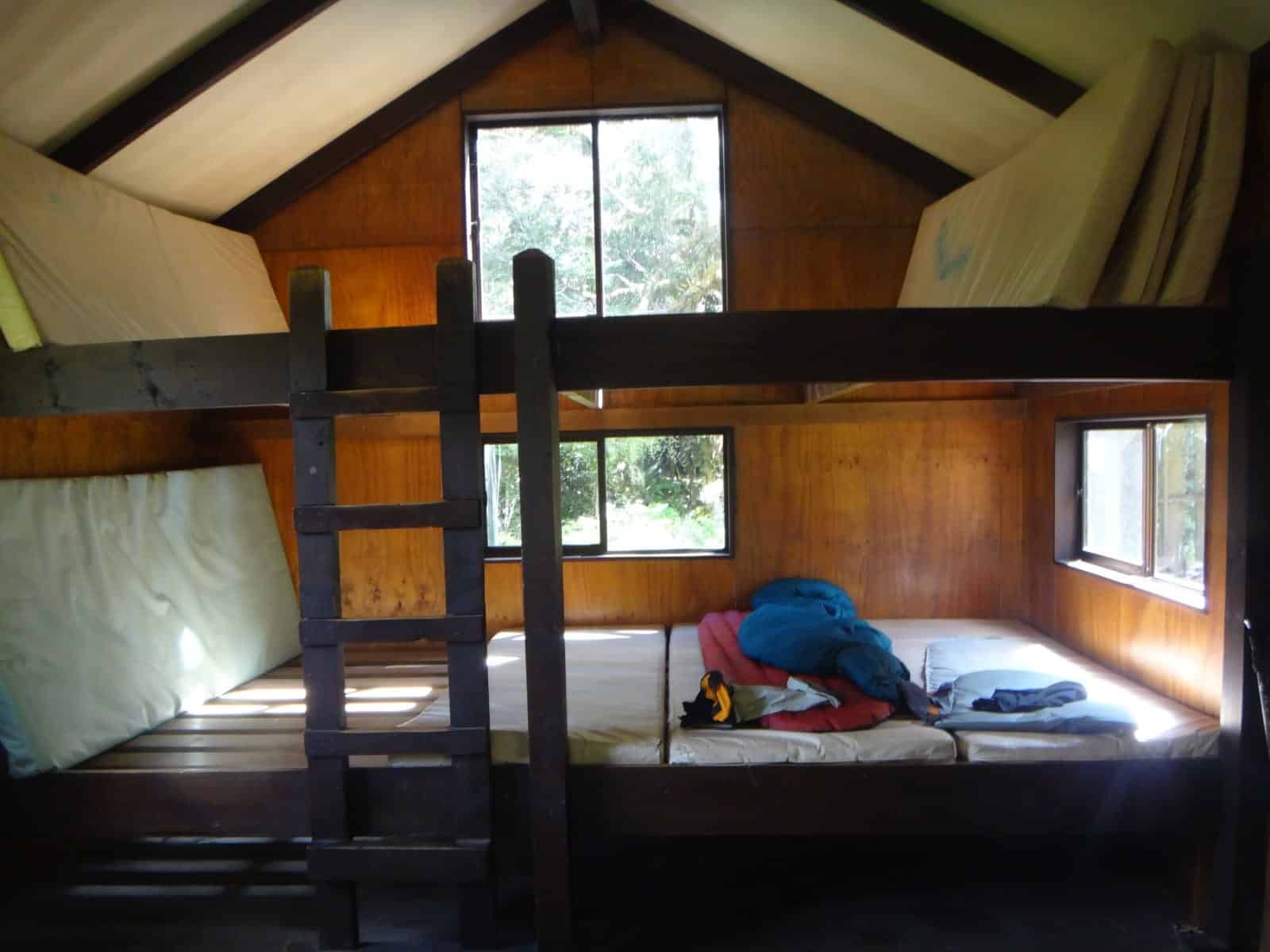 Dewy path as we set out.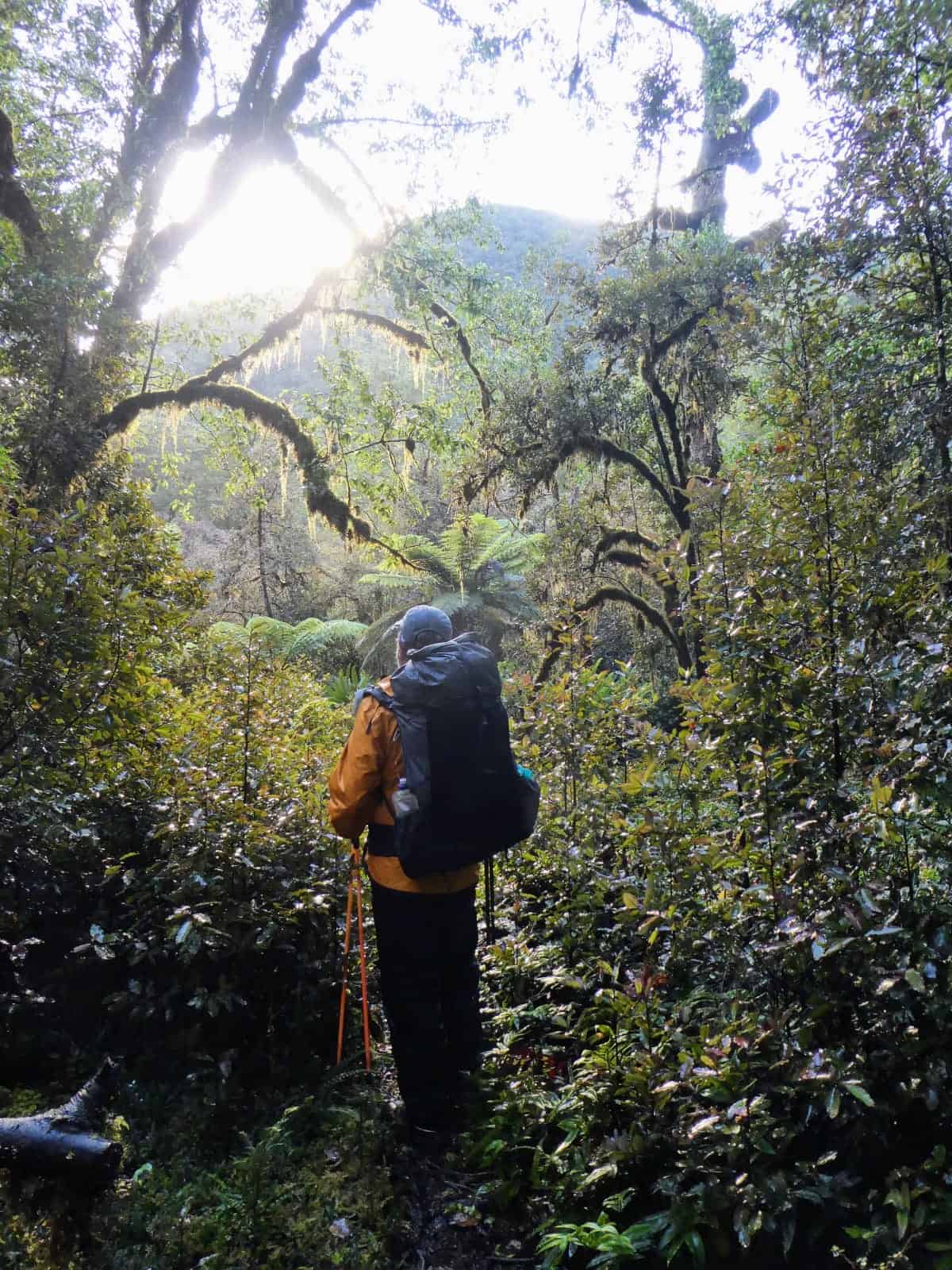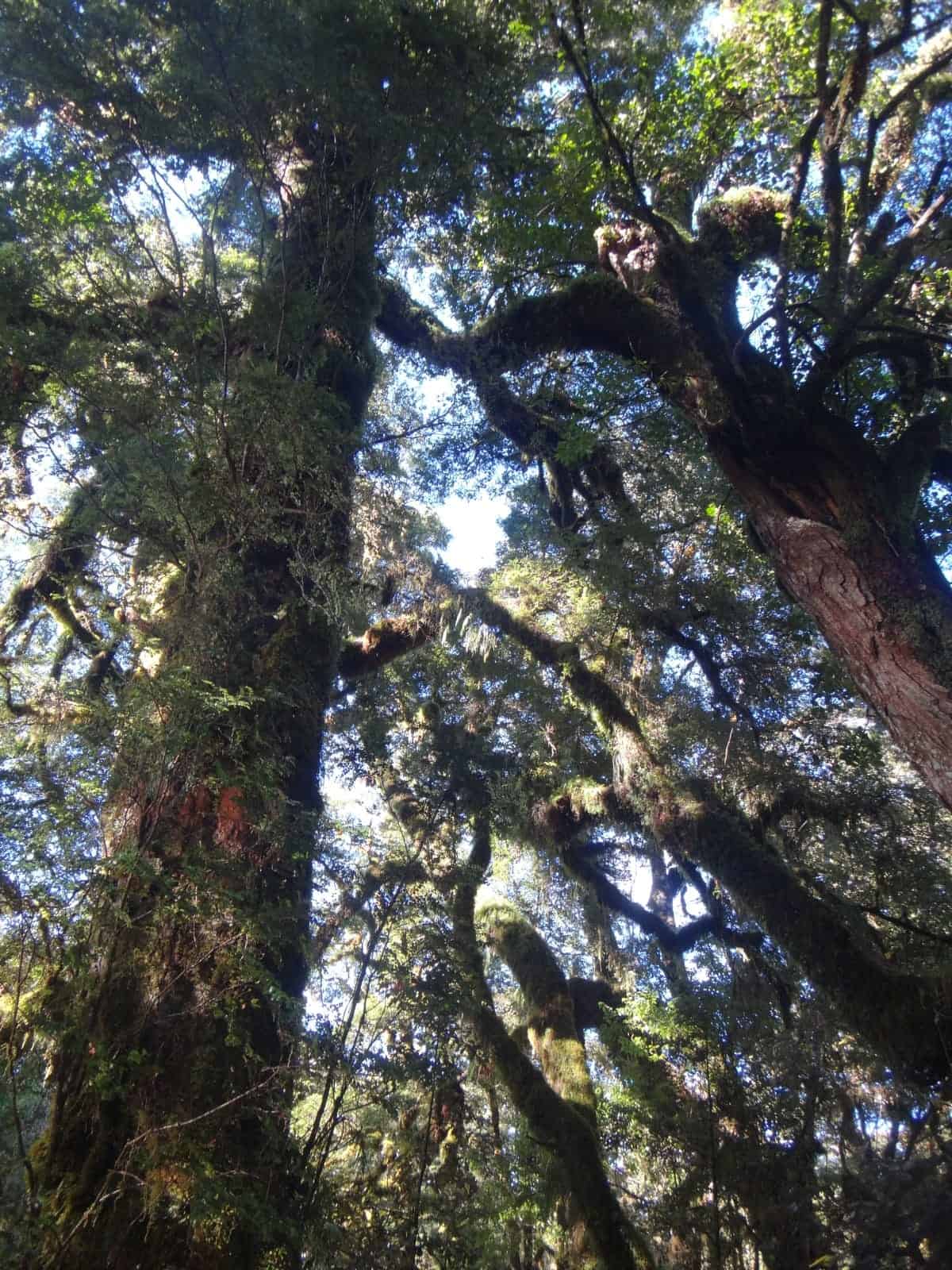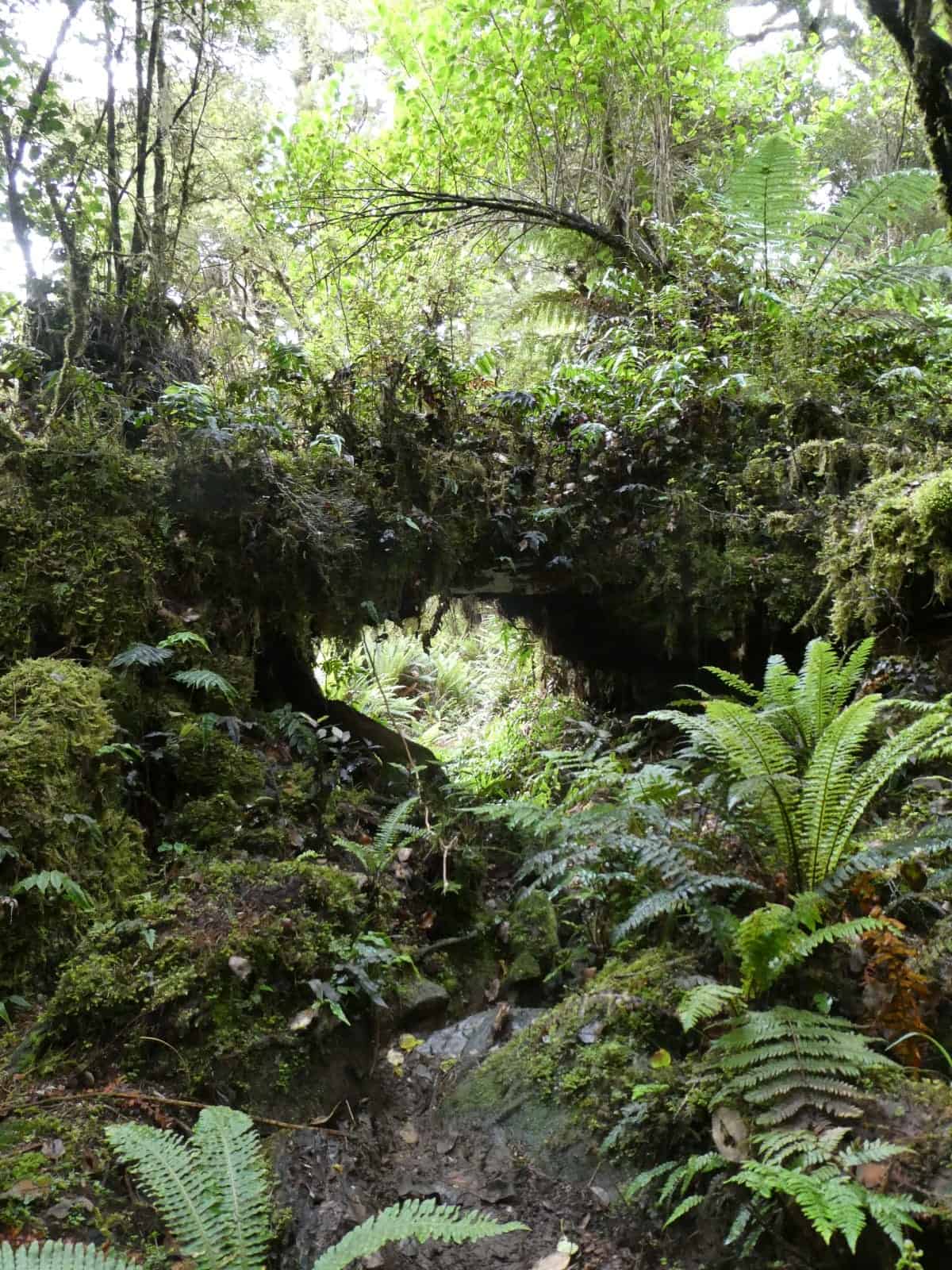 Me (Della) at the end of the first walk-wire, contemplating how to jump down SO FAR to the ground.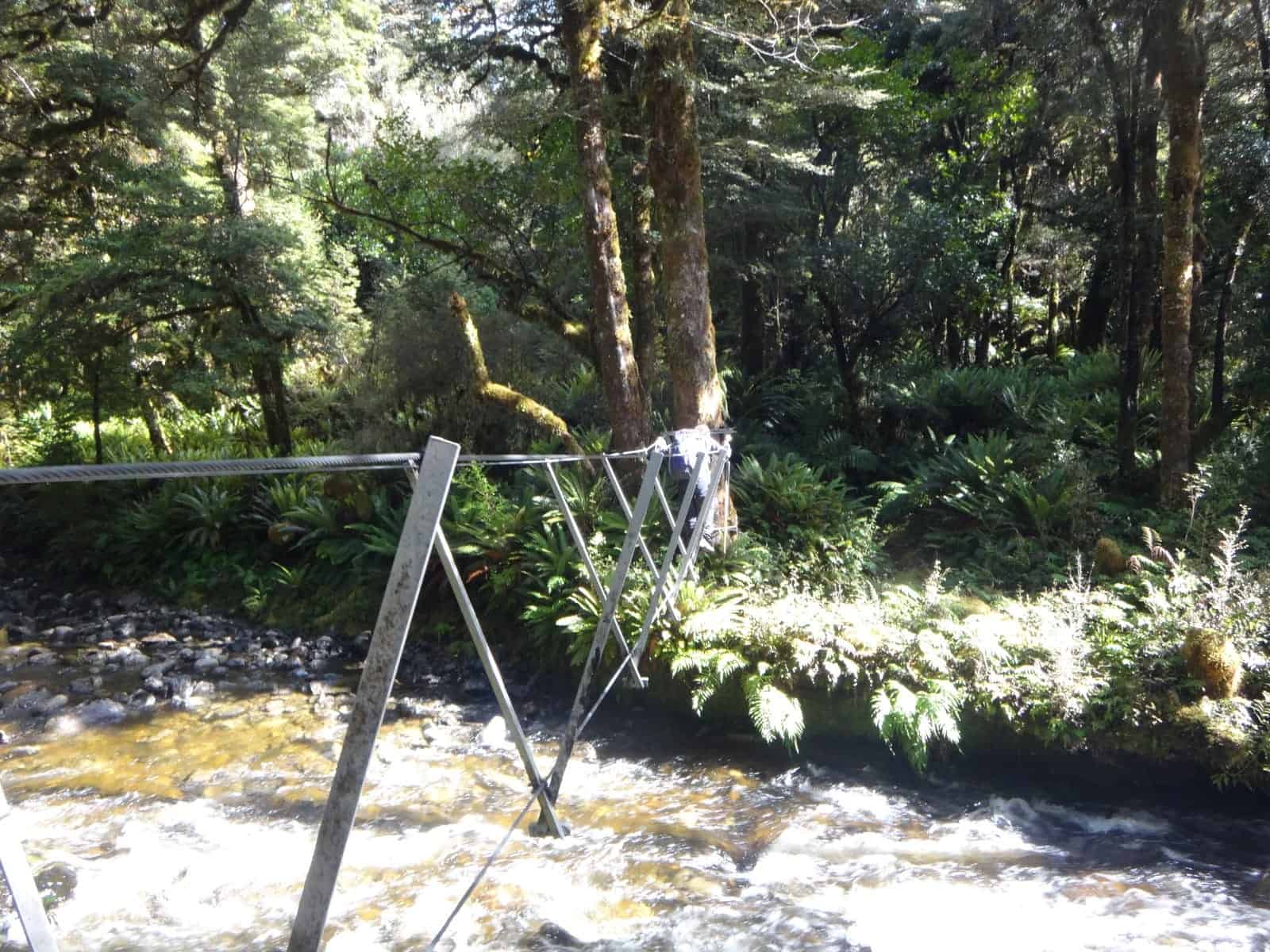 Tree root "ladders".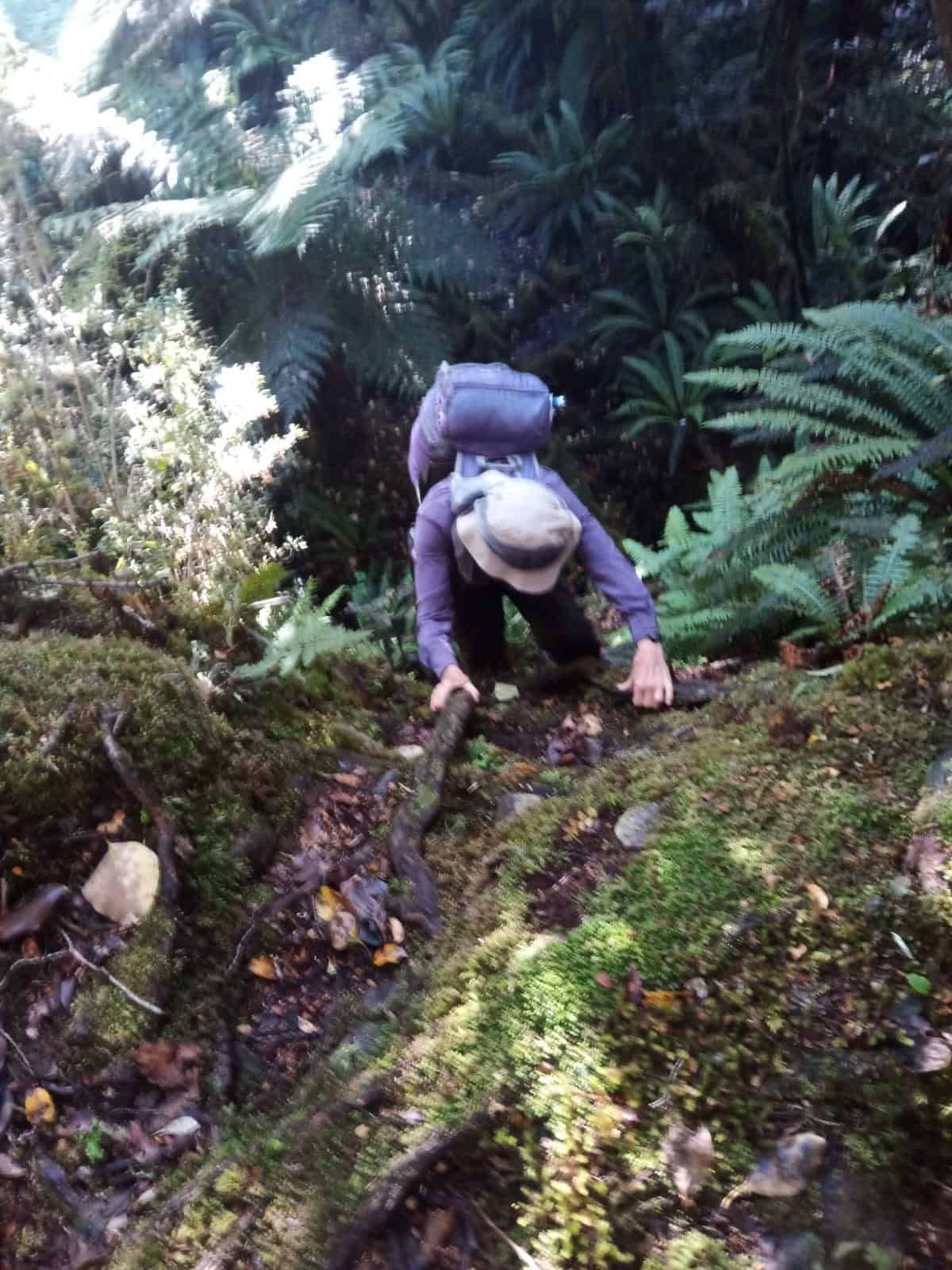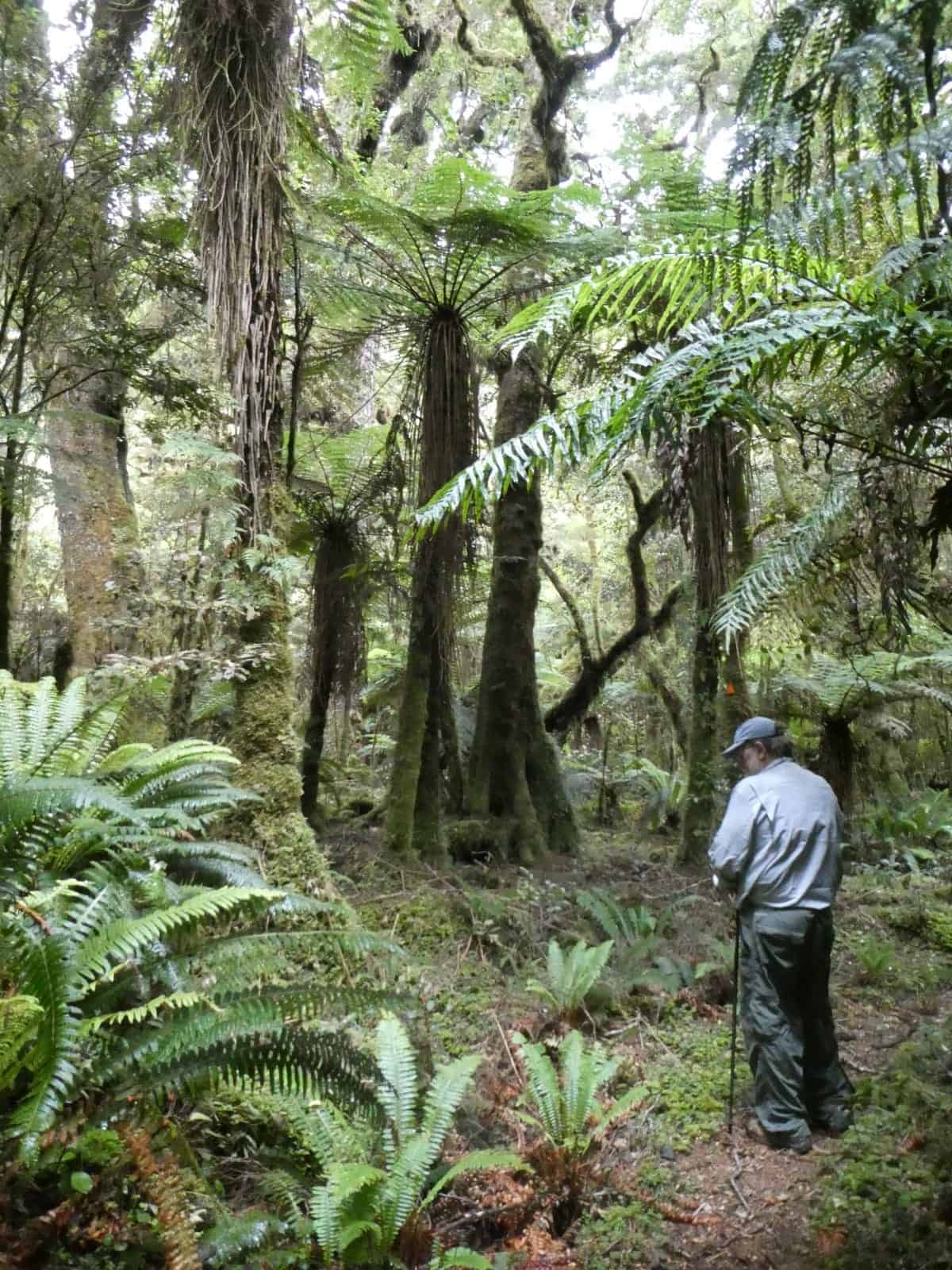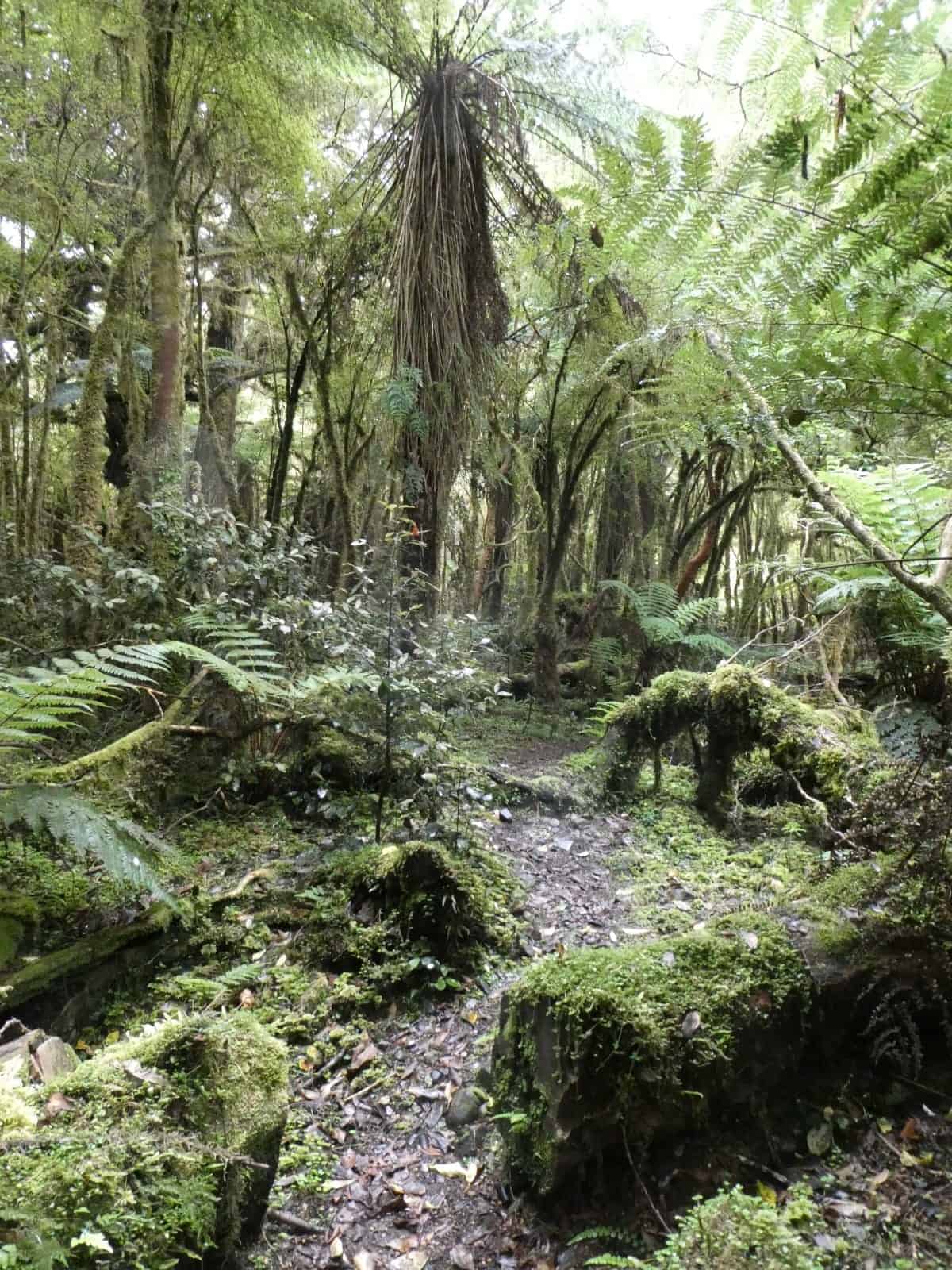 Lunch stop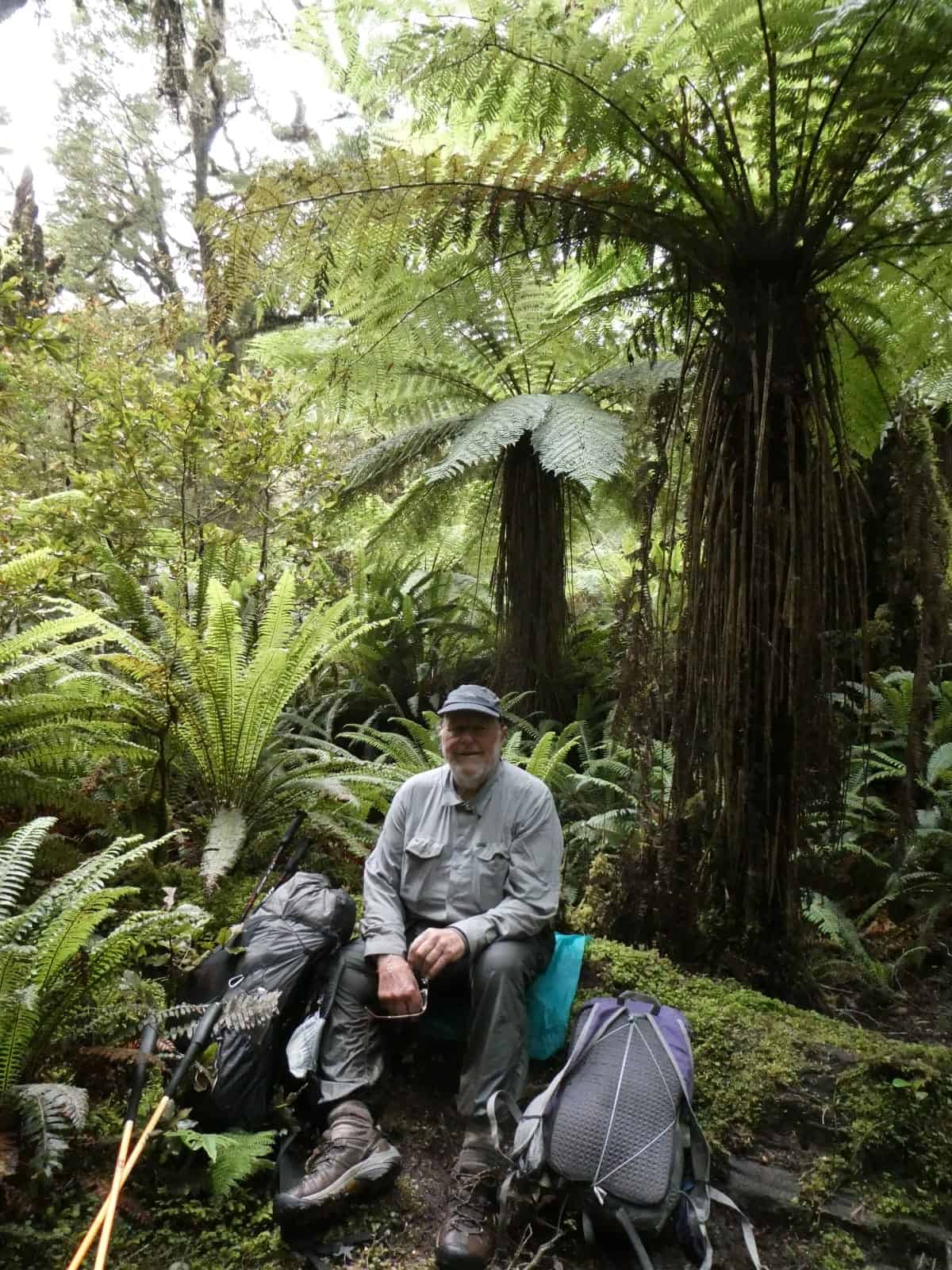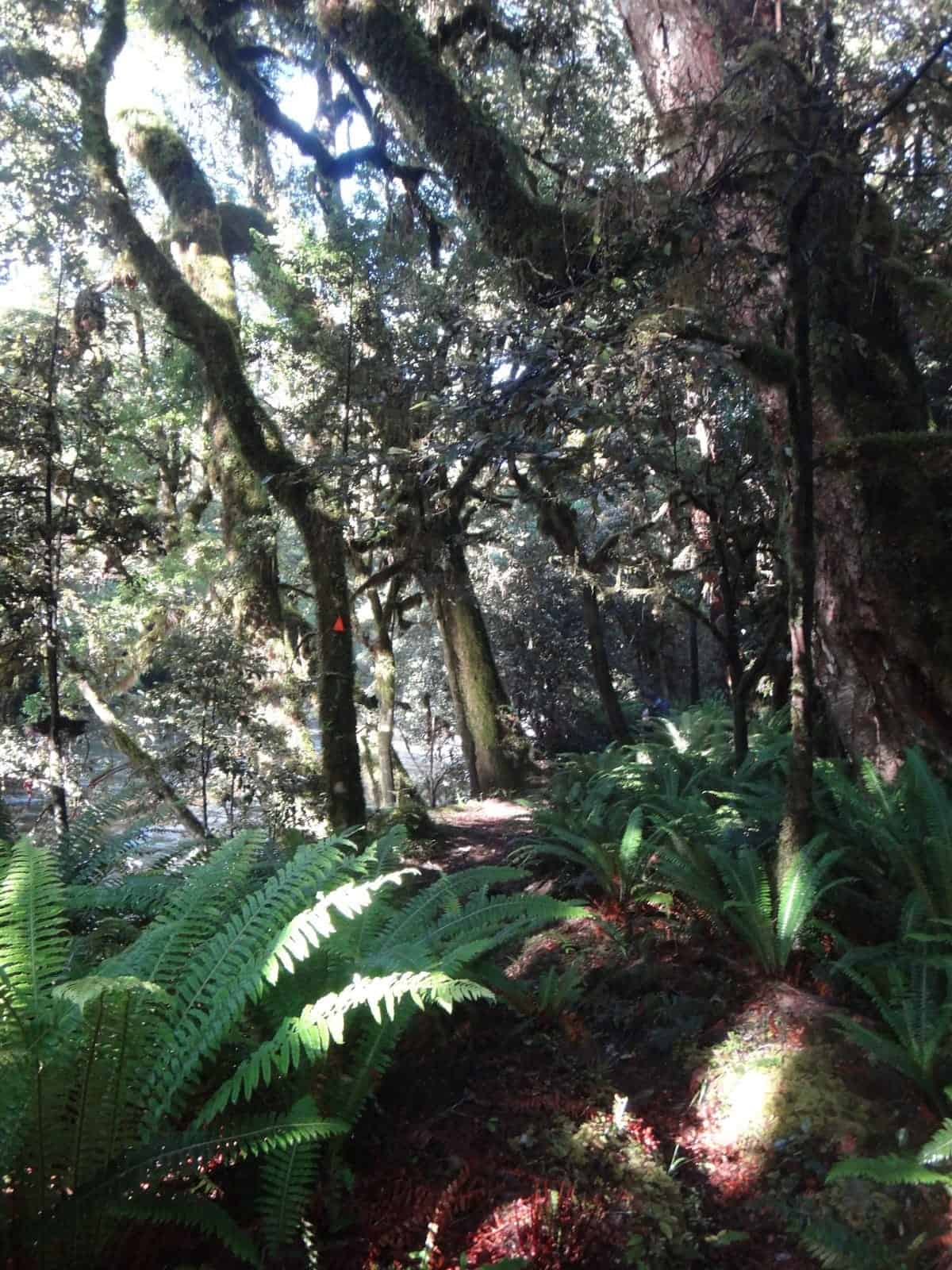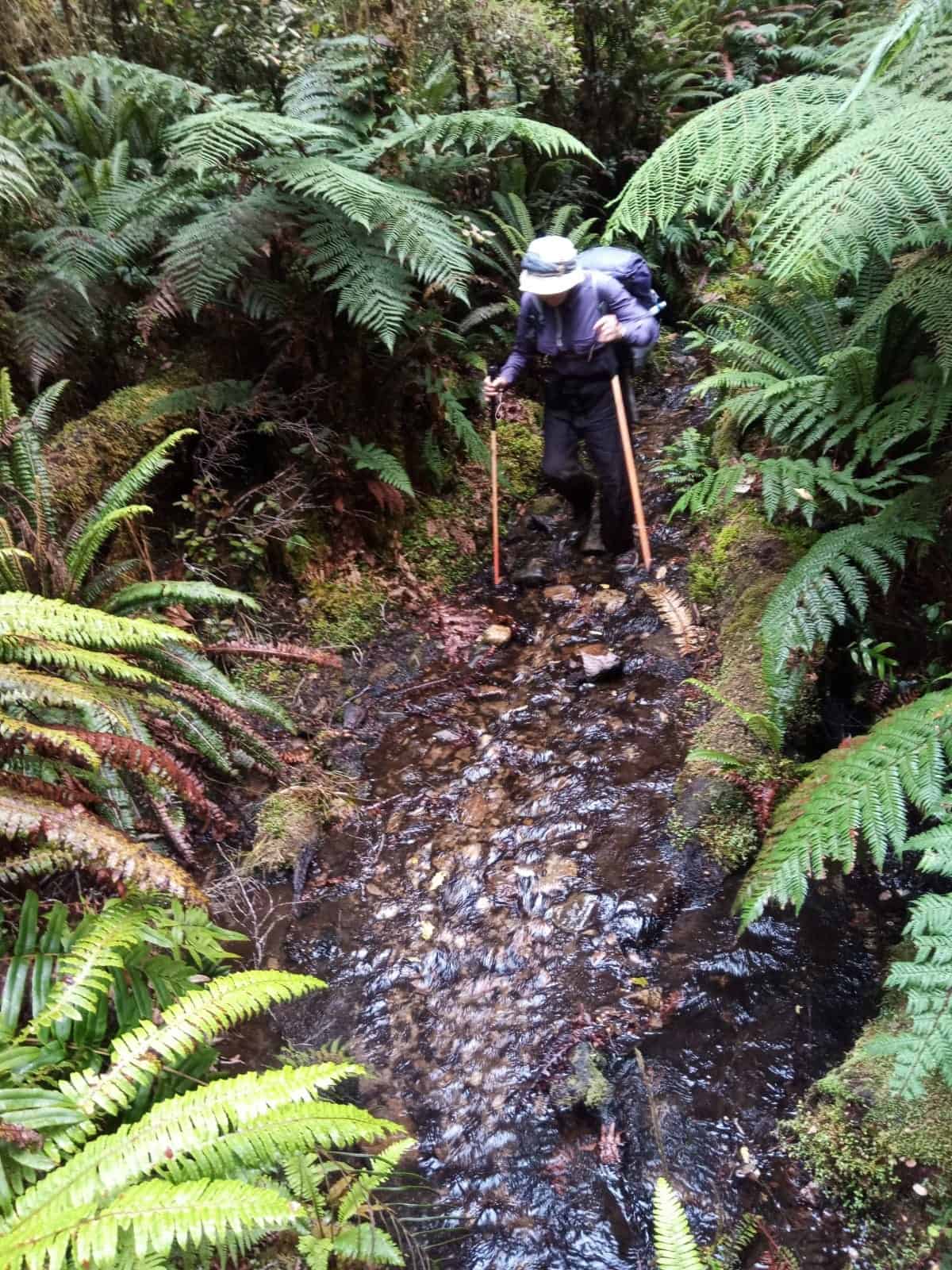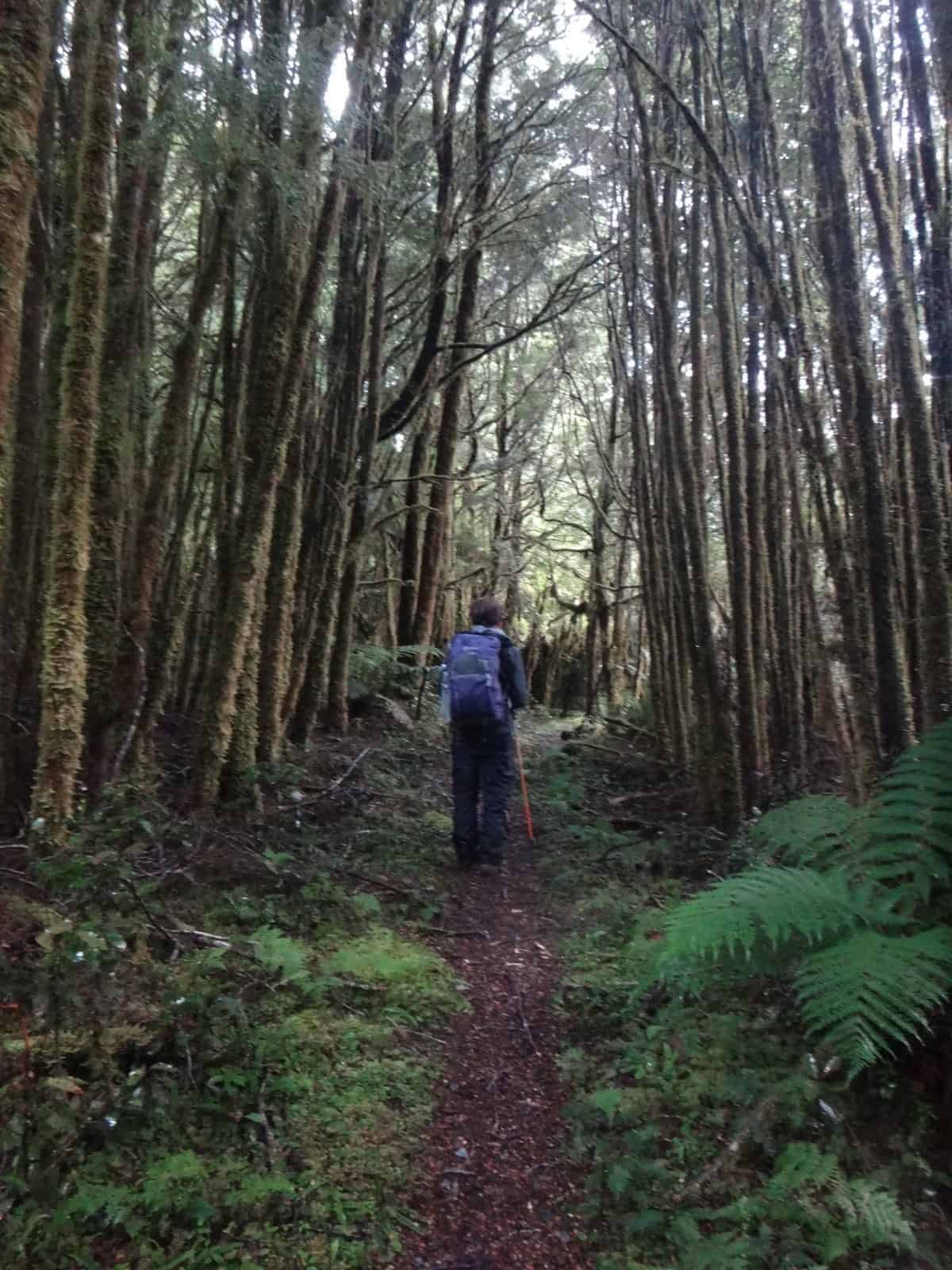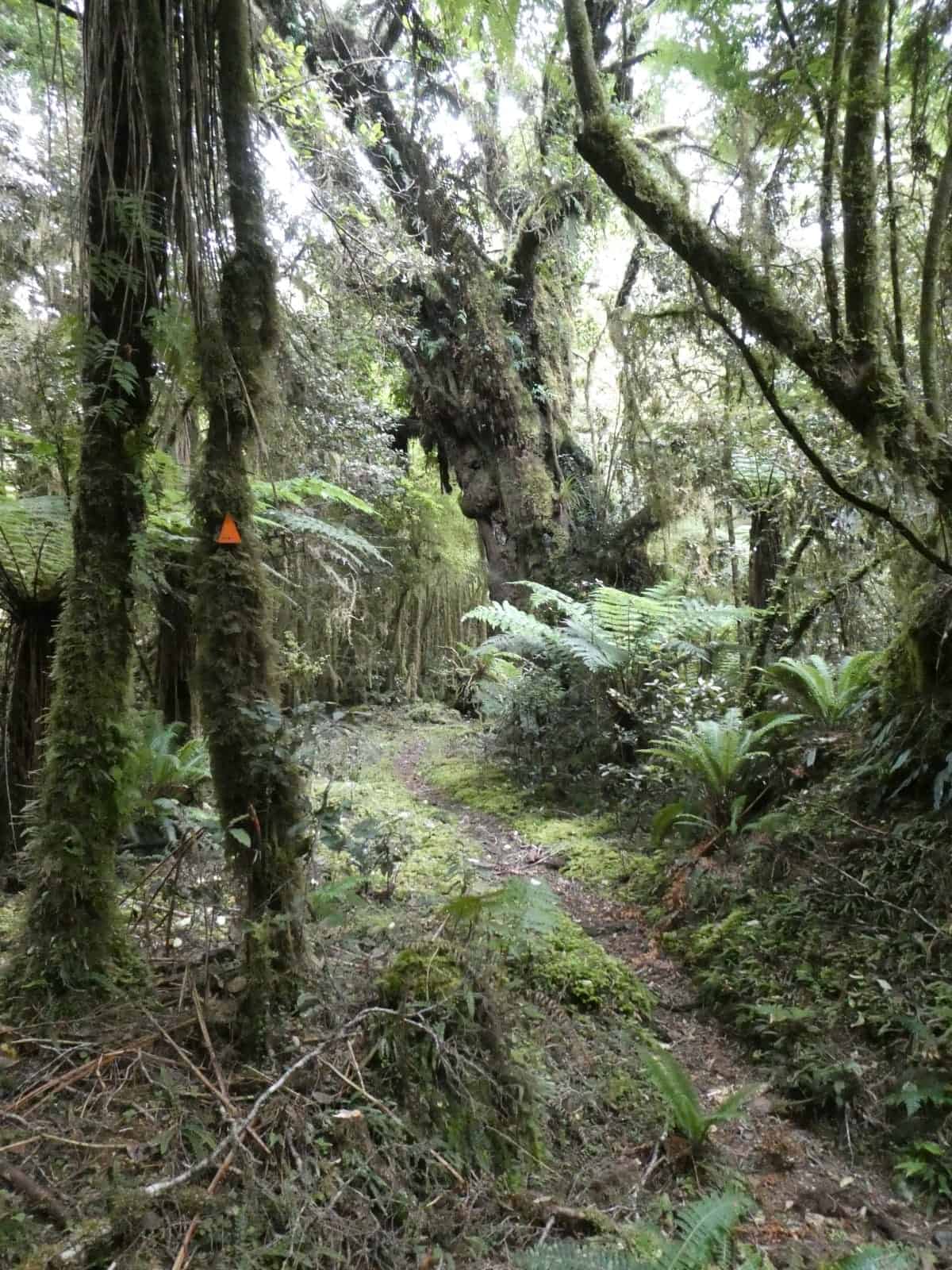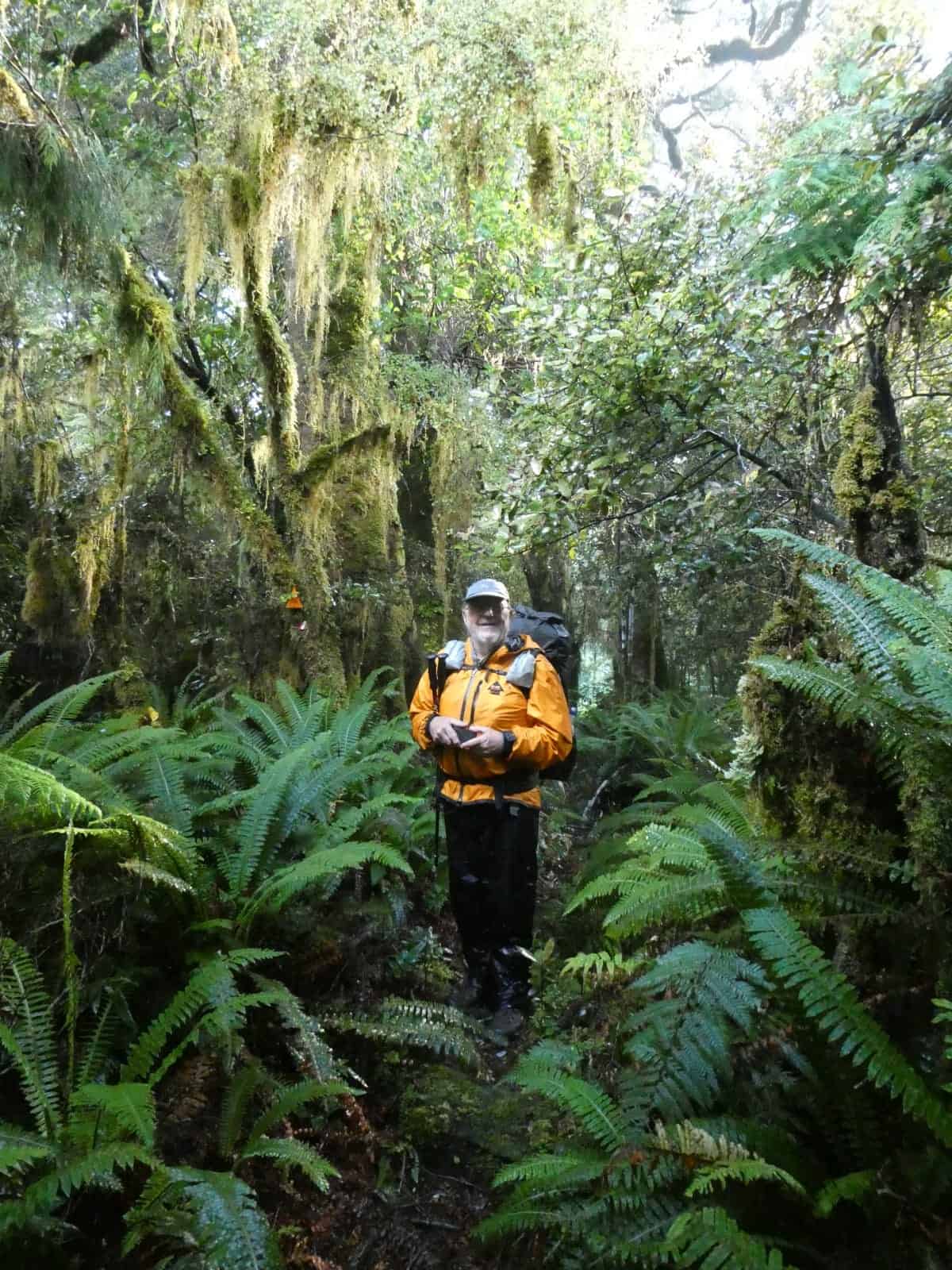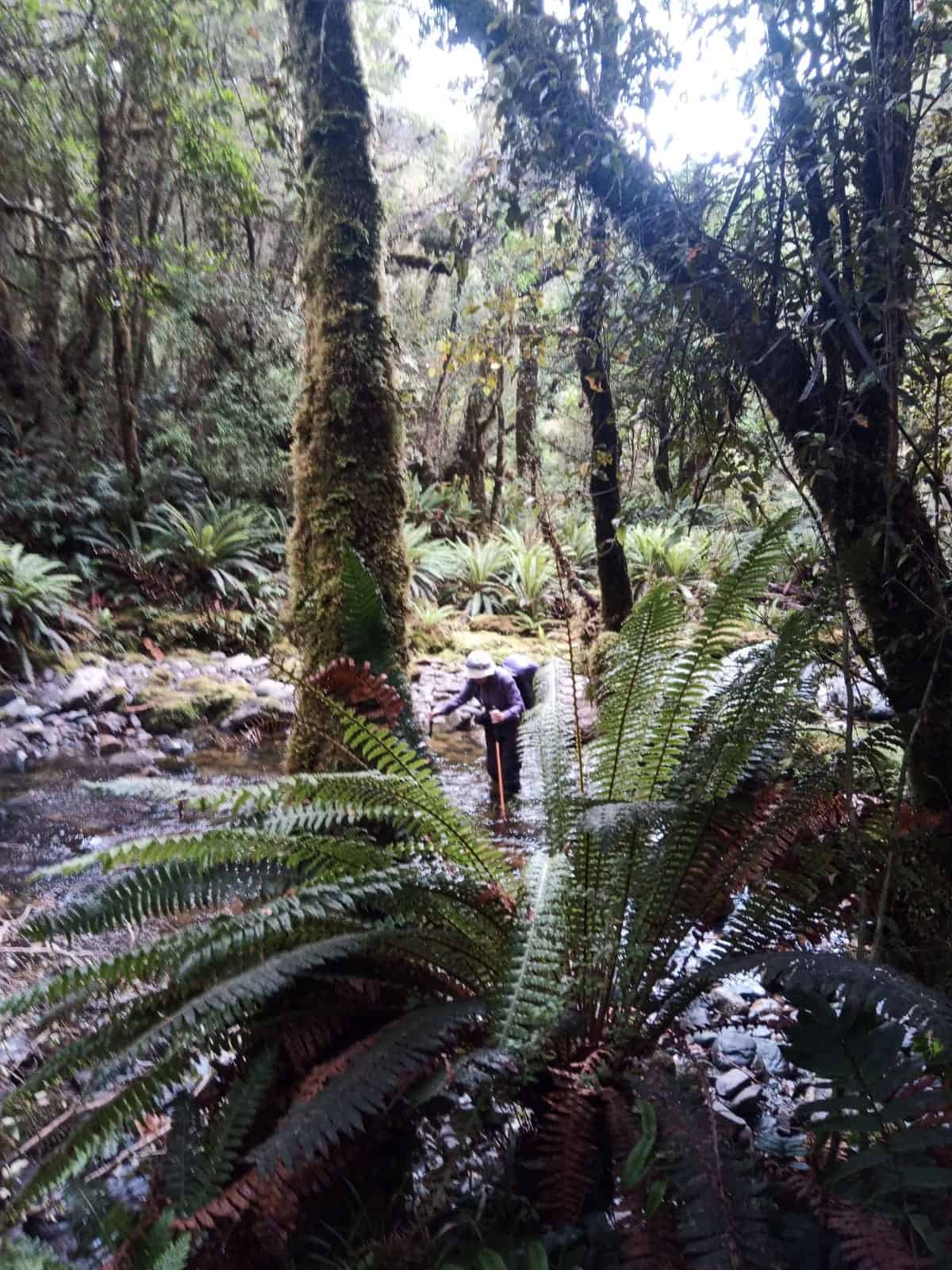 Jet-boating across Lake Hauroko.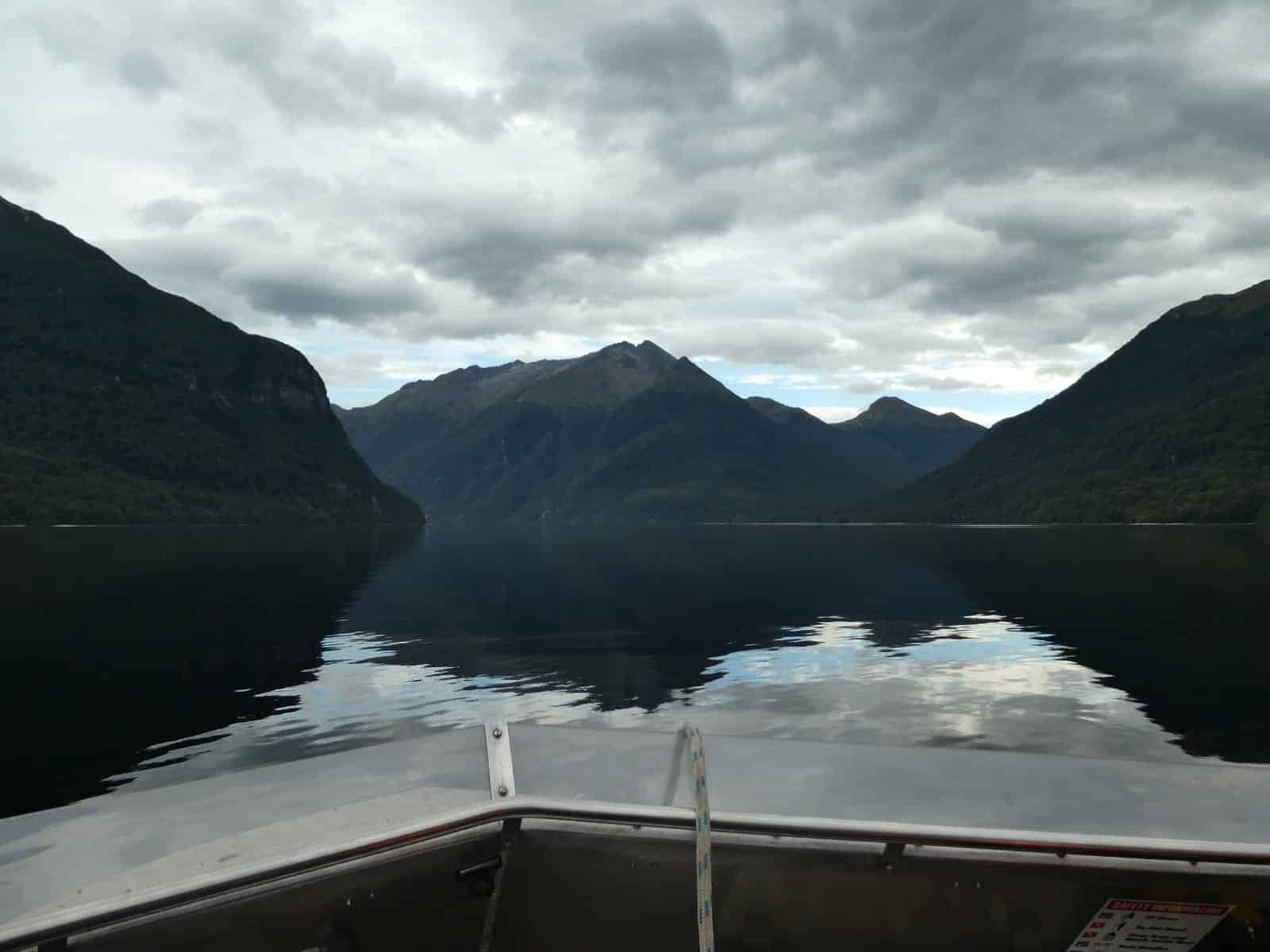 Some Della Q & A:
E.L: This looks absolutely magical Della. You two are experienced hikers.. I think I'd be afraid of getting lost in there. Is there a clear track to follow?
Della: Yes, red markers on the trees (You can see them in a couple of the pics) – but you do have to stop and search for them occasionally as the track is pretty overgrown in places. It is billed as a "route" rather than a "track" as it is not always clear-cut. Steve has walked it a number of times in the past, so has a pretty good idea of where to look for the markers.
E.L: I see. I don't know if I'd be comfortable doing a "route". I would probably want to go with someone a bit more experienced too.
Della:
You would be fine doing some of the "Great Walks" over there. NZ's "South Coast Track" is a good one, and the Kepler Track, which we also went on this time (pics coming when I get them sorted) would be very do-able. Lots of people do the popular tracks, so it can be very sociable too, and you won't have to worry about losing your way. The Milford Track is one of the most popular, but we haven't done it.
Steve: We planned this year only to jet-boat down the Wairaurahiri River, spend a couple of days at the Waitutu Lodge (booked both these) walk out via Port Craig, then fly in and out to Supper Cove where we would spend a couple of days, then back to Te Anau for a 50th Wedding Anniversary Celebratory Dinner (we made that!) before jetting home to Oz.
As it turned out the river was too low, so we decided to 'give the Dusky a go',  though neither of us was really (physically) prepared for it (yet) – after various health issues etc. Also my new knee needed a bit more training for such a long, tough trek. The walk was doubly difficult this year because the temperatures were over 25C with very high humidity – very difficult hiking conditions if you are overweight (like me). I almost always walk in winter for this reason.
Besides it was raining most of the time and my glasses fogged up horribly so I could barely see where I was going most of the time. Much of the track was dreadfully overgrown with ferns too (since last time) which did not help. Only half as many people (if that) have been walking the track. We were making very slow progress, probably only half our 'normal speed' – and the weather was predicted to get (much) worse (and did), so we 'pulled the plug'. Wisely, I think.
We hope the two young men we met on the boat in: Barnaby from Melbourne/Inverness and Taylor from Hamilton/Utah had a better trip. It was so welcoming to be recognised by them both as 'The Ultralight Hiker'. Thanks guys. We would love to hear from them about their trip. I know Barnaby made it to Supper Cove because I saw his entry in the hut log there. We regret not being able to walk with them – perhaps another time, maybe along the Wonnangatta?
PS: As you can see (from Barnaby's comment/message below) we judged it right to pull out when we did – else we would have run into serious trouble when we reached the Seaforth. New eyes being installed as I write this. The first one (left) is now crystal clear so now more glasses fogging or being unable to se the path ahead. Maybe I will get the new knee and my level of fitness up enough to have another go in the future? Here's hoping.
Yes, we did camp out for a night along the Hauroko in trying conditions, both of us
side-by-side
in our
Hummingbird
hammocks under my old 8'x8′ cuben tarp.  I have recommended this strategy for safety when conditions are wet and there is no level ground, and I can recommend it for comfort too – though Della might not agree. Perhaps she would only give it a 5-star rating? I will have a (new) wrinkle on how to do even better this (soon).
Here she is (for proof) under the tarp along the Hauroko with the two hammocks. Very wet and steamy – as you can no doubt see: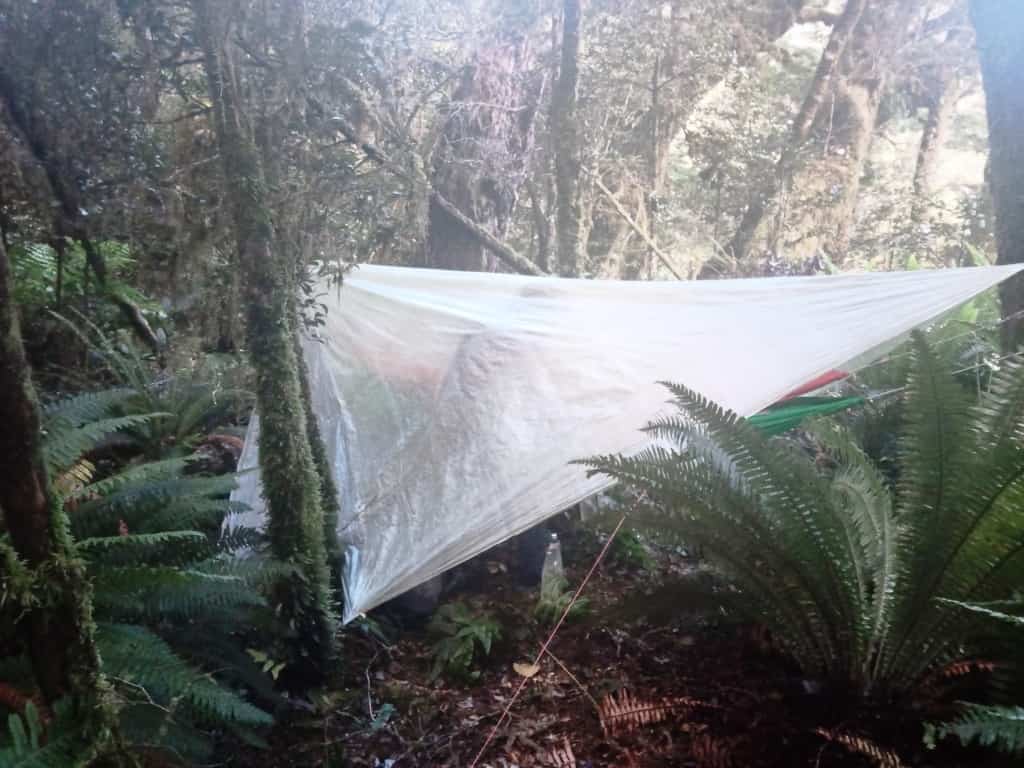 We do have photos of the beginning of the track, and us at Supper Cove (half way) and at the and (on the Wilmot Pass Rd) to show that we were there – though we never walked all the way (this time), though I have many times in the past – and (still) hope to do so again in the future.
At the Hauroko Hut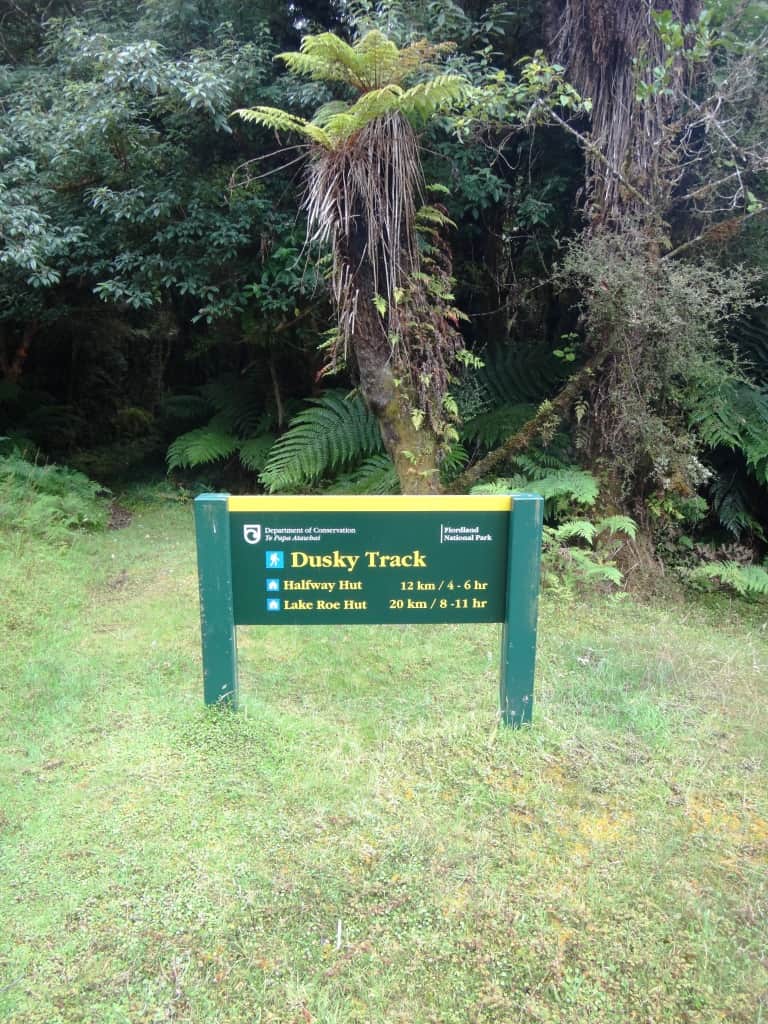 At Supper Cove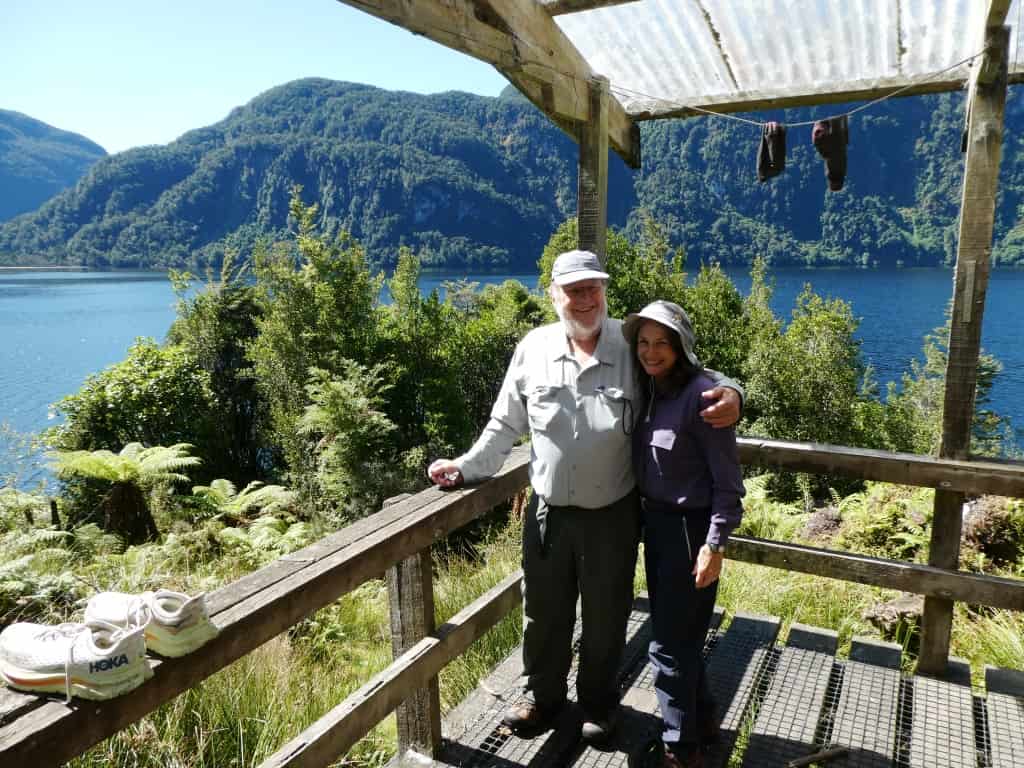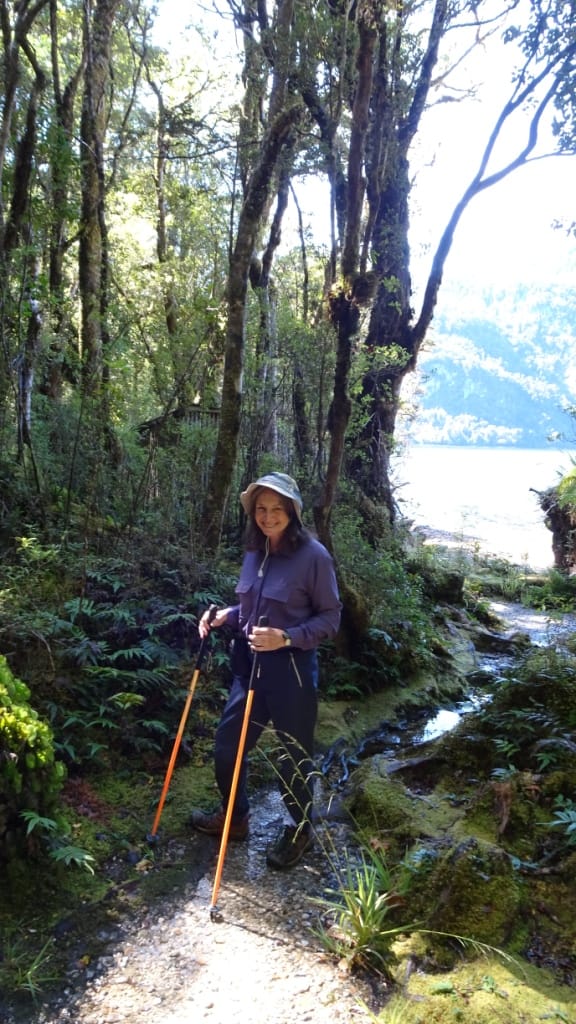 On the Wilmot Pass Rd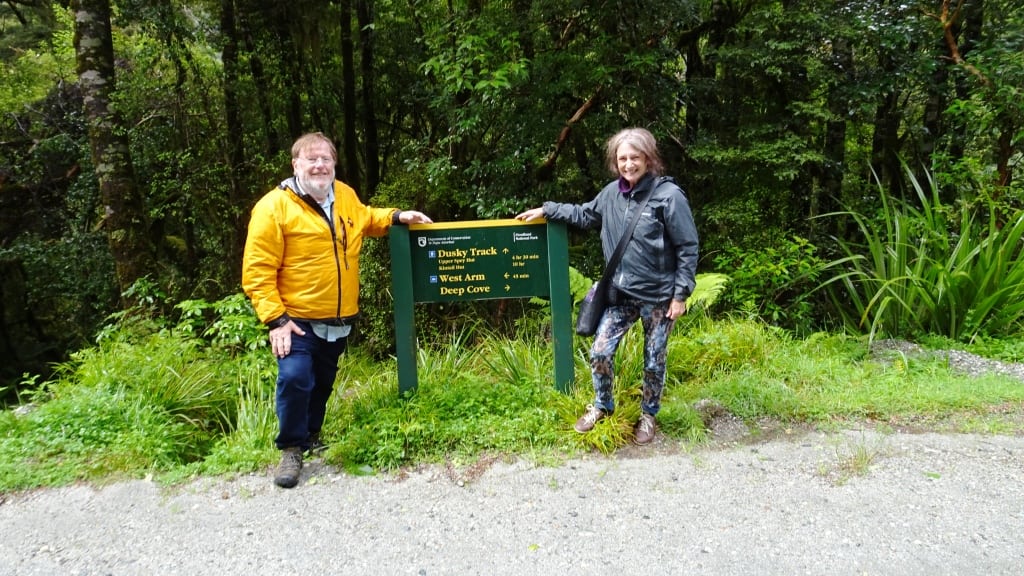 I couldn't help  but append some of my own photographs to Della's (below). I do so love that Fiordland bush, and especially the wonderful Dusky Track. Unfortunately I lost over half my own photos due to a micro sd card failure (Yes, I have tried to recover them), but you have seen them before in my other posts about the Dusky (below)
The joy of setting out: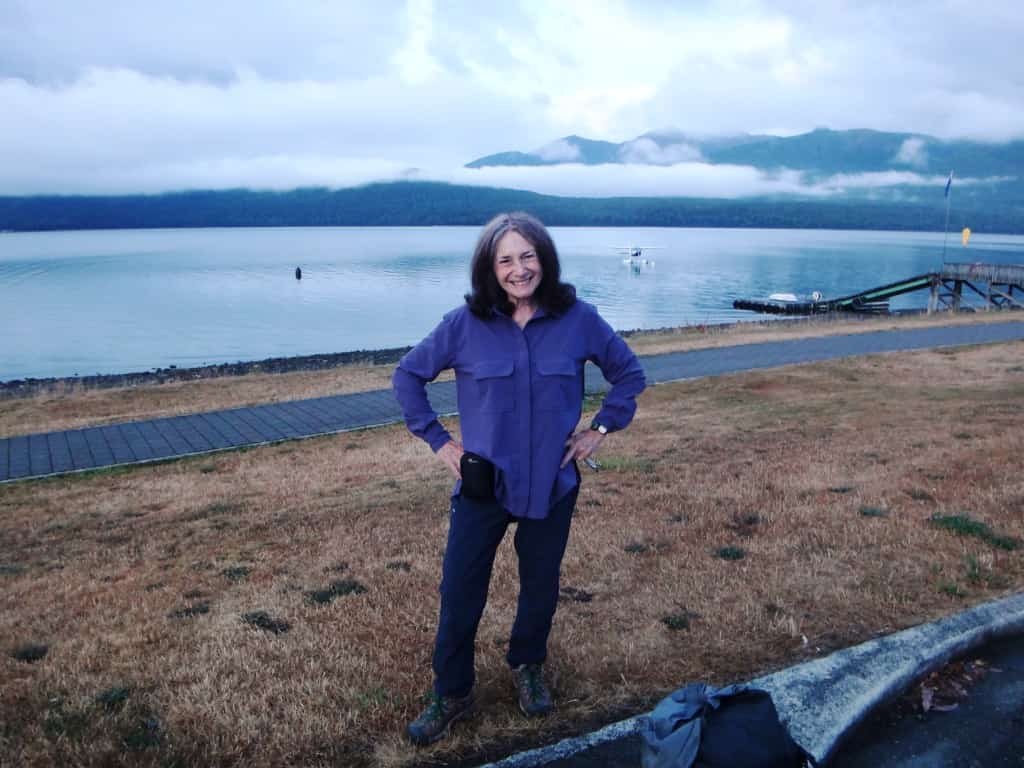 "And all I ask is a windy day with the white clouds flying,
And the flung spray and the blown spume, and the sea-gulls crying." – John Masefield, 'Sea Fever'.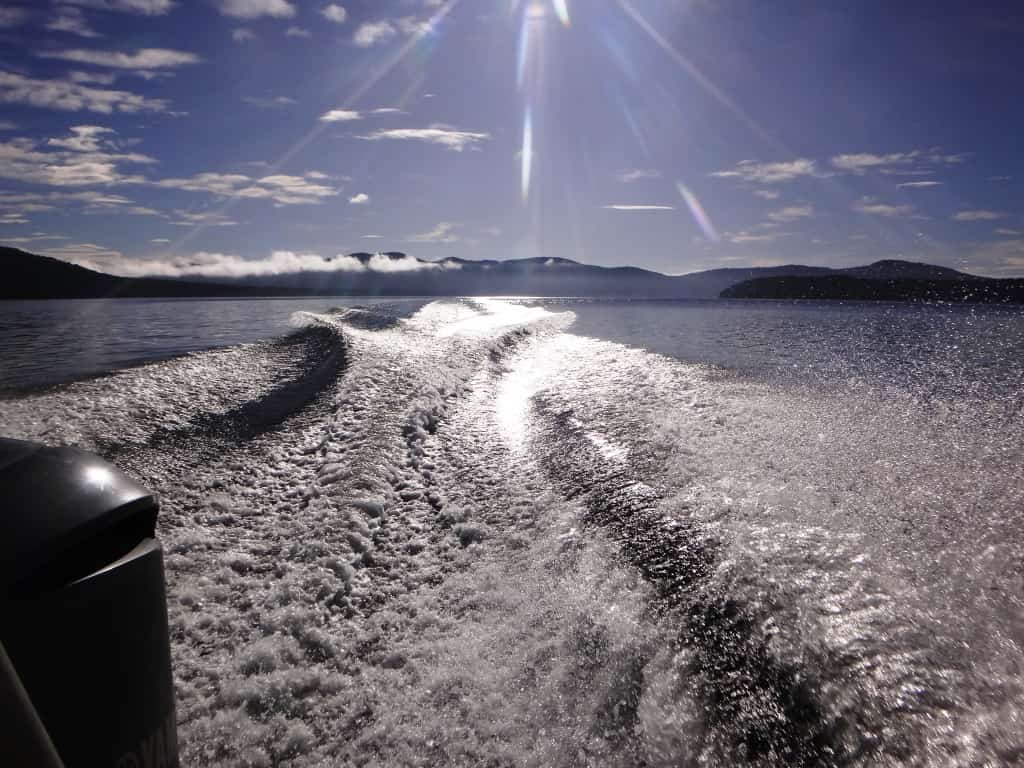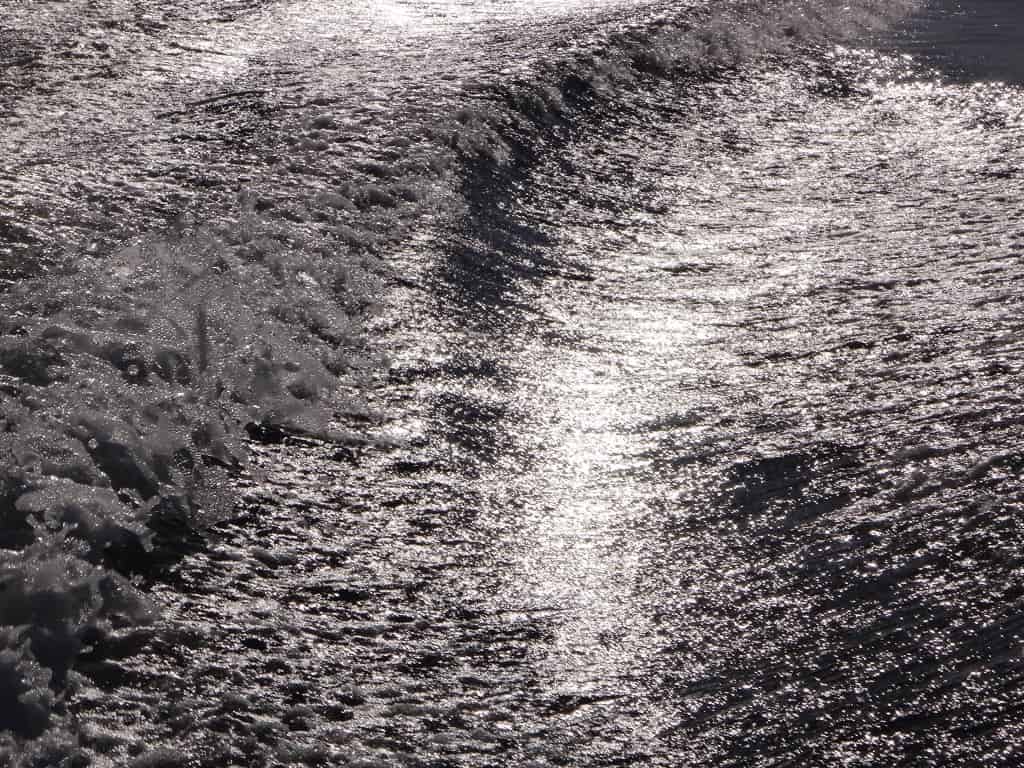 Something there is that loves sandflies: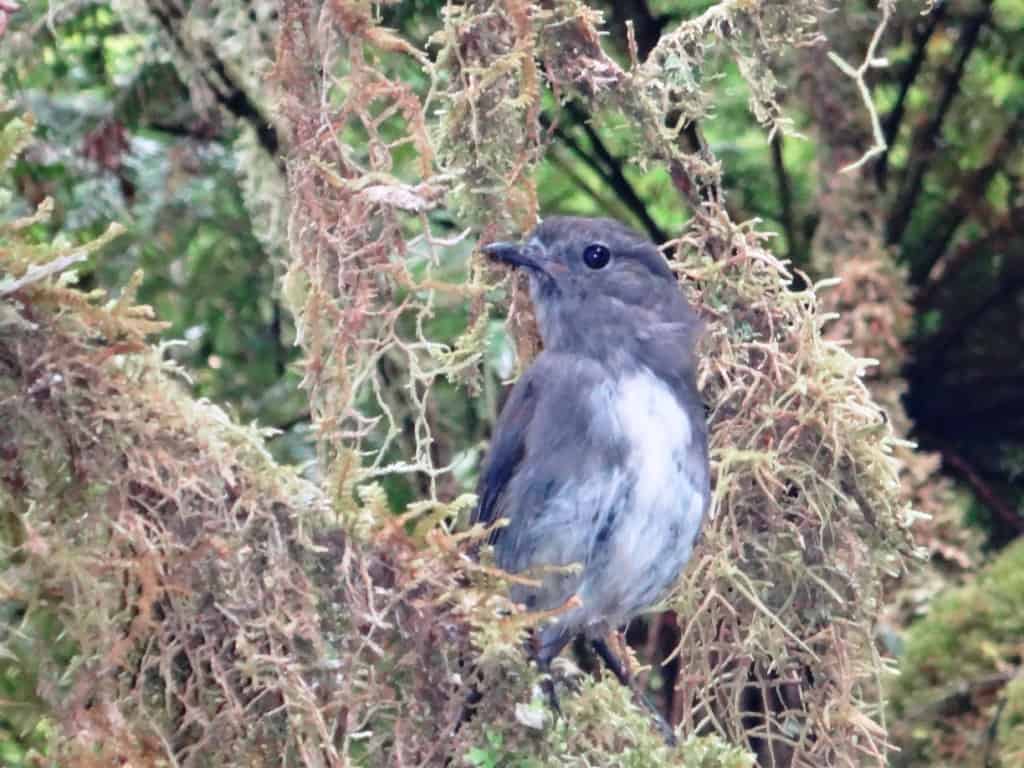 You see the tree on the right browsed to that 8'+ line?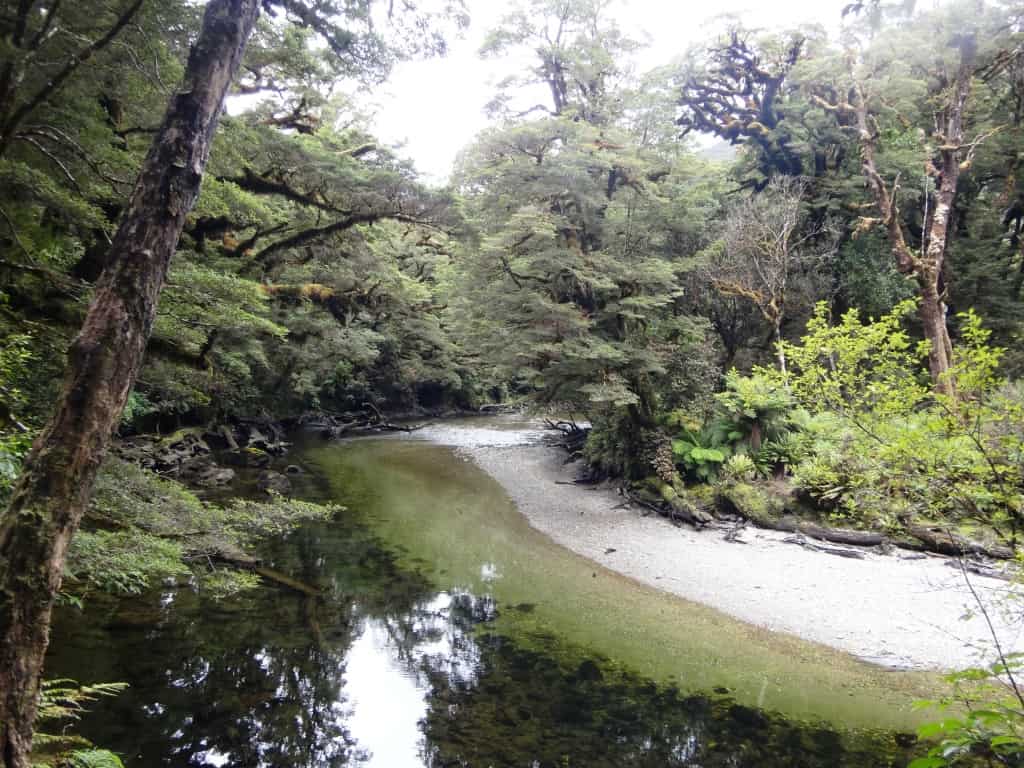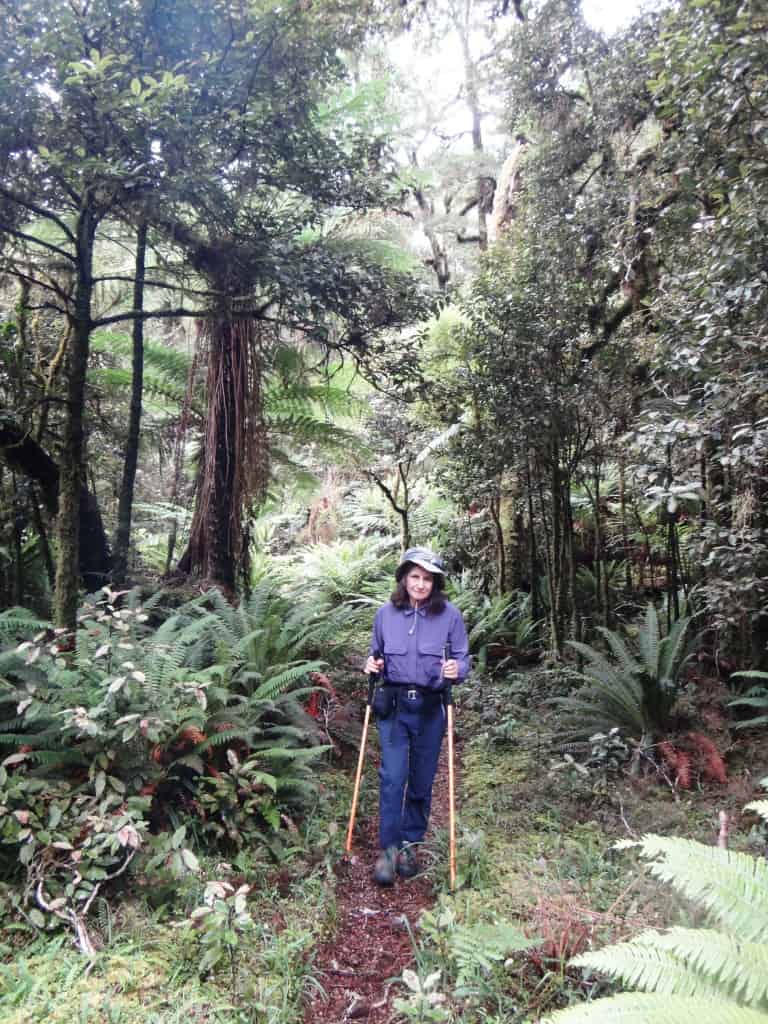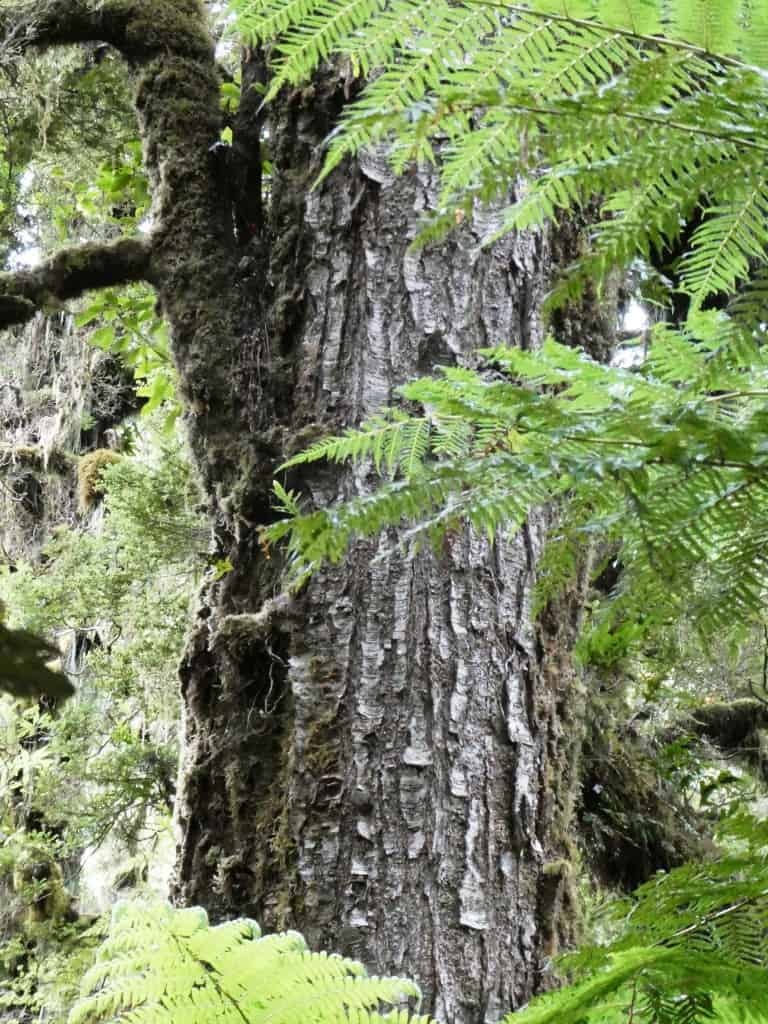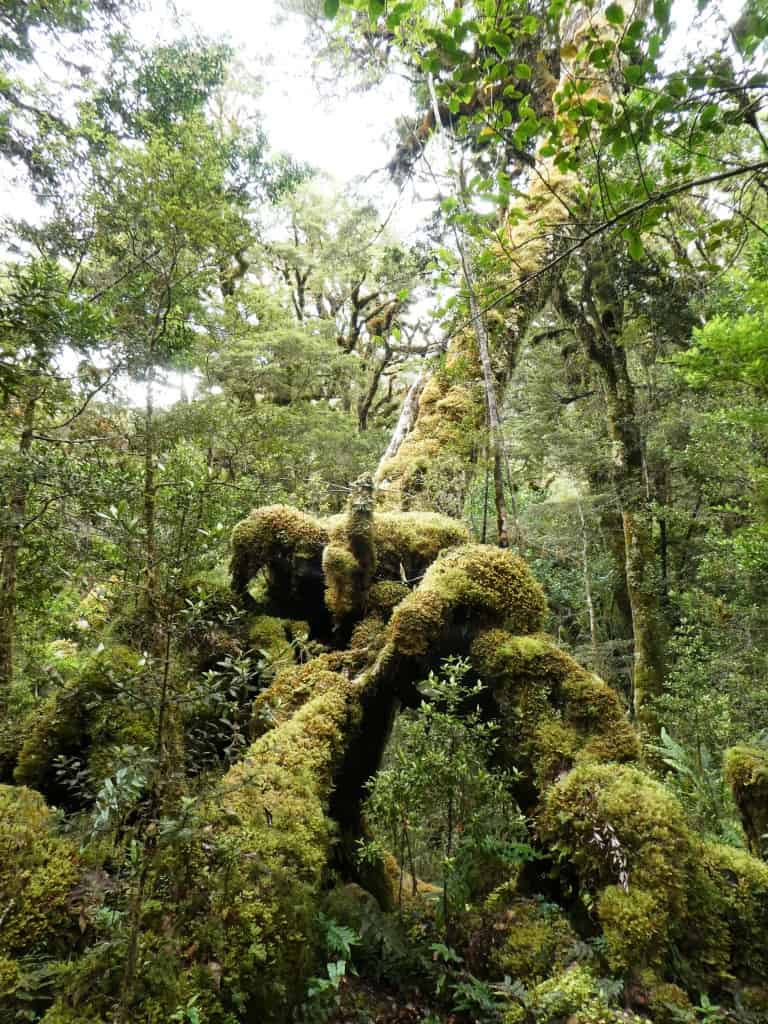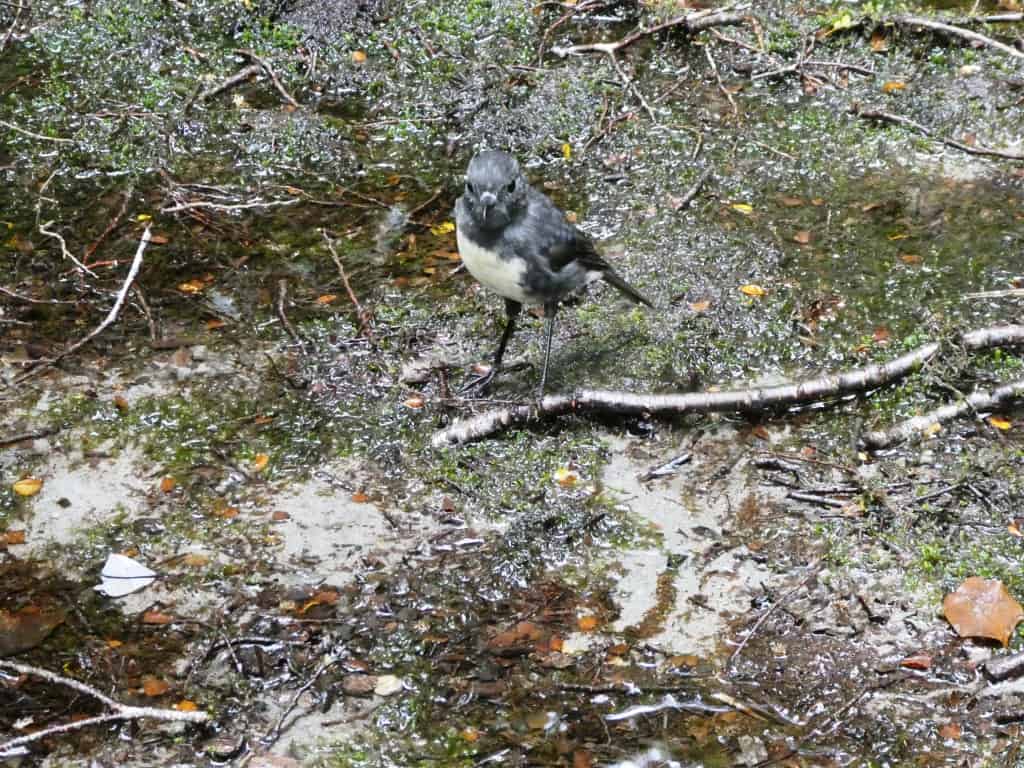 BTW: It has been 50+ quite wonderful years with this amazing woman. I think we can both still thoroughly recommend married life to those of you who have been foolish enough to have never tried (or persisted with) it. Another fifty is really too much more to hope for, but I am sure it would whirl by as quickly and joyfully as the last.
A PS about moose: I really did hope to see some fresh evidence of the Fiordland moose this trip but it will have to wait another year. With my glasses almost completely fogged up most of the time I was lucky to see anything! The fresh sign (and smell) I found last time was in the Upper Hauroko which we did not get to (unfortunately).
However I did notice very old sign even within approx 200 metres of the hut. Here and there you could see branches bitten off at that characteristic 8'+ above ground – and along the stream there was that tell-tale browse line at just that height everywhere edible plants hung down, whereas elsewhere (eg along the road to Milford) etc those self-same plants either grew all the way to the ground or were browsed only so far as red deer can reach ie around 7′.
A young helicopter pilot saw a moose in Doubtful Sound in 2021 and Ken Tustin continues his search there. He had been in to check his cameras for an overnight trip the week we were there. We wish him every success.
More about our NZ trip:
See Also: