You can hang two hammocks side by side from the one pair of trees using just one tarp with this simple expedient. You need one (or two) spacer bars (3/4″ thick branches or parts of your hiking poles will do) and some of these 25 mm (1 inch) poly plumbing fittings from eg Bunnings at A$1.67 (Jan 2018) each. If you have some 1″ poly pipe you can just cut four approx 2″ lengths and drill eg 3/8′ holes in them (as I have done) for the hammock suspension – they will weigh 6 grams each. Double bunking for 24 grams; how good is that?
As you can see, Spot thinks there will be room for a couple of dogs too!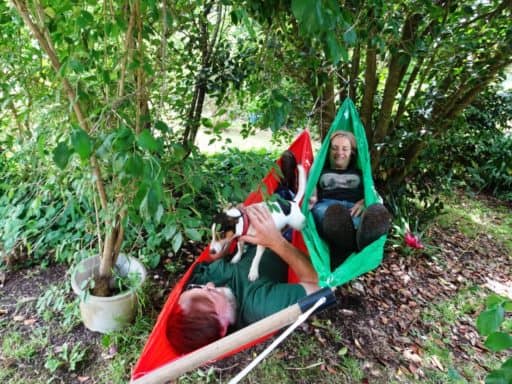 Detail of the poly pipe and sticks – the sticks only need to be about 16″ (40 cm).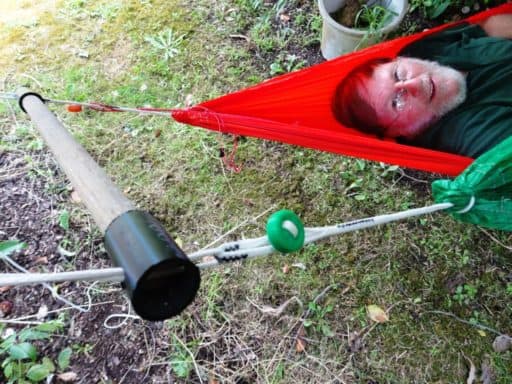 My hammock needs tightening up a bit, but you can easily see we would both fit under the one hammock tarp. This will be wonderful safe Fiordland NZ travel for us. See eg: http://www.theultralighthiker.com/a-walk-in-fiordland/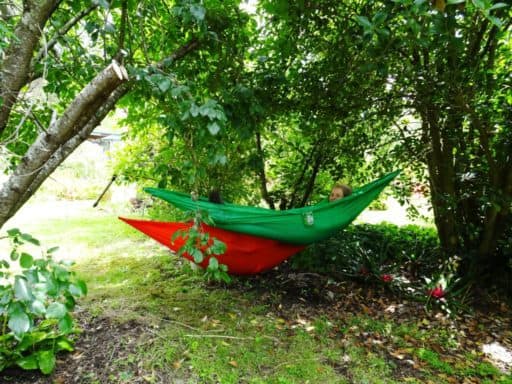 NB These are my Hummingbird (Single) hammocks which weigh a mere 147 grams each. They are a superb hammocks with a wonderful easy set-up and one of the best and lightest suspension systems (60 grams!) I have seen. Highly recommended. I took one with me on my Dusky track Fiordland NZ trip last year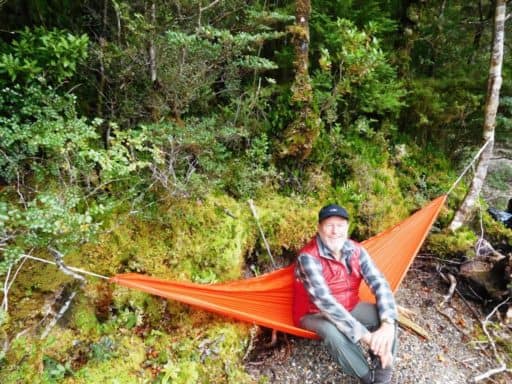 If you are using the plumbing fitting, you place the spacer bar at the point where the hammock attaches to the hammock suspension. One end of the bar fits in the middle 'leg' of the tee which is slipped onto the hammock suspension. If you sleep head to toe the bars can be shorter and you won't need a wider tarp, but if you sleep side by side the bar at your head end will be longer and you can dispense with the bar at the foot end altogether.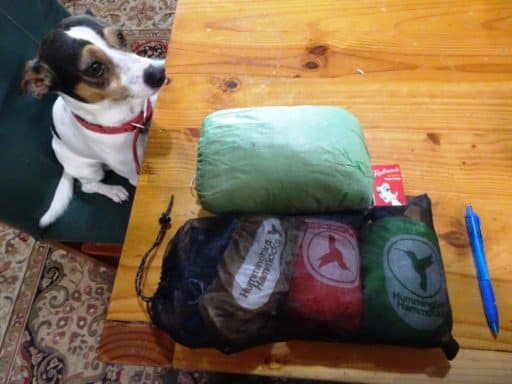 Above is my complete hammock and tarp set-up for two people (and a small dog or two) weighing less than 800 grams including stakes. This will keep us both safe in the worst weather the world can throw at us. I could whittle this weight down further. A Zpacks Cuben hammock tarp weighs 198 Grams. if I tied the two hammocks to the tree with dyneema each hamock would weigh 165 grams. I would then need four 7 gram stakes and some dyneema to pitch the tarp. Total say 570 grams. Pretty good for two people!
Some cord and micro cord locks or mini carabiners might help eg to stop the hammocks from moving away from each other and dropping the bar on the ground or to stop the bar from moving up the suspension rope, though it doesn't seem necessary to me. You can easily drill holes in these poly fittings if you feel you need to.
PS: I also use one of these fittings to protect my groundsheet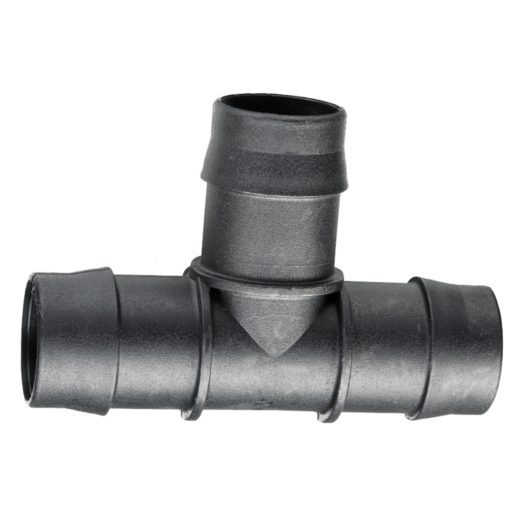 I just used some pieces of poly pipe like this. They worked fine.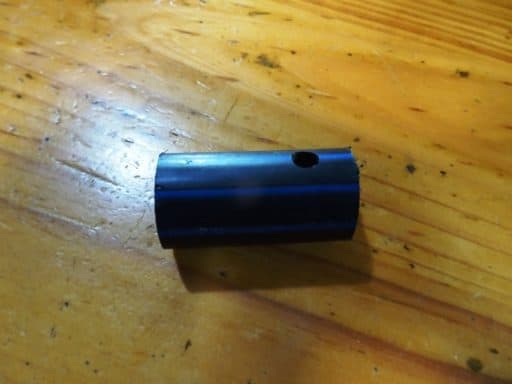 Another alternative (if you carry a small saw such as the Darlac at 35 grams or this better DIY one at 28 grams) is just to cut a 'V' notch in the ends of the stick and to tension the suspension ropes into the 'V' with some cord.
Yet another alternative (from a reader):
'A Dutchware double hammock woopie hook on one hammock which perfectly fits the tip of my Cascade Designs pole and a mini carabiner to the hand strap on the other hammock.
You could just as easily rig it with two ring hitches on a looped cord. One hitch around your suspension and the other around the pole end. There are probably lots of different ways to rig it depending on what your suspension setups are.
I love using the trekking pole since you can adjust the length for different situations. Short to hang close together and baton down in a storm, or long to spread out.'
https://dutchwaregear.com/product/double-hammock-whoopie-hooks/
If you are sitting out a prolonged wet spell this idea will work well – you could even play cards!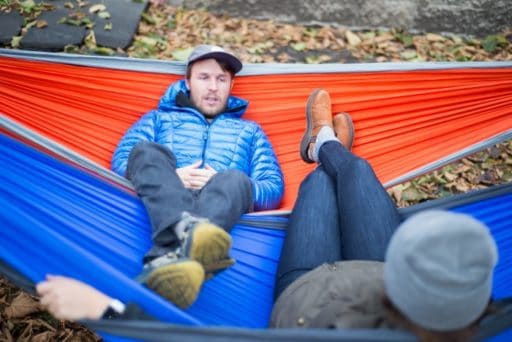 A commercial version of this idea (which will weigh a lot more) is available here: https://www.eaglesnestoutfittersinc.com/shop/lifestyle-gear/fusetm-tandem-hammock-system/ for US$29.95 It weighs 9.8 oz (279 grams.)
Review here: https://gearjunkie.com/eno-fuse-spreader-bars-tandem-hammock-system-review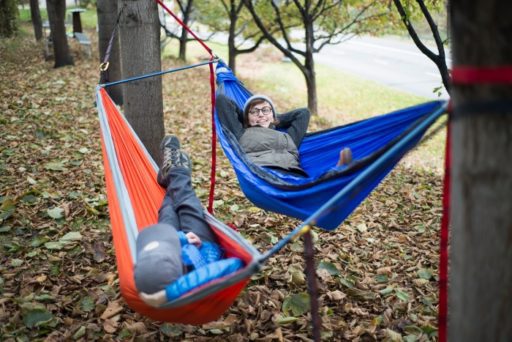 This is too wide apart for a single tarp. My set-up is better. Get some poly pipe.
See Also:
https://www.theultralighthiker.com/2018/09/09/how-to-carry-a-saw/
http://www.theultralighthiker.com/hammock-camping-double-bunking/
http://www.theultralighthiker.com/60-diy-ultralight-hiker-ideas/
Other Hammock Related Posts:
http://www.theultralighthiker.com/a-hummingbird-in-the-hand/
http://www.theultralighthiker.com/simple-hammock-double-up/
http://www.theultralighthiker.com/adjustable-hammock-ridgeline/
http://www.theultralighthiker.com/continuous-loop-another-great-hammock-idea/
http://www.theultralighthiker.com/whoopie-slings-what-a-great-idea/
http://www.theultralighthiker.com/side-insulation/
http://www.theultralighthiker.com/hammock-pad-extender/
http://www.theultralighthiker.com/diy-netless-hammock/
http://www.theultralighthiker.com/klymit-hammock-pad/
http://www.theultralighthiker.com/make-your-own-tarp-or-hammock/
http://www.theultralighthiker.com/hammock-camping-double-bunking/
http://www.theultralighthiker.com/hammock-hunting-till-dark/
http://www.theultralighthiker.com/all-in-one-hammock-tent-poncho-backpack-at-1-2-kg/
http://www.theultralighthiker.com/laybag/
http://www.theultralighthiker.com/all-you-ever-need-to-know-about-tarps/
http://www.theultralighthiker.com/tier-gear-catenary-cut-hex-tarp/
http://www.theultralighthiker.com/900th-post/
http://www.theultralighthiker.com/sleeping-pad-reinvented-big-agnes-q-core-slx/
http://www.theultralighthiker.com/modifyingshortening-hiking-mats/
http://www.theultralighthiker.com/catenary-cut-tarp/
http://www.theultralighthiker.com/thermarest-speedvalve/
http://www.theultralighthiker.com/upper-yarra-track-section-seven-mushroom-rocks-carpark-to-phillack-saddle/
http://www.theultralighthiker.com/hole-less-ponchoshelter/
http://www.theultralighthiker.com/hammocks/
http://www.theultralighthiker.com/hammock-camping/
http://www.theultralighthiker.com/the-ultralight-deer-hunter/
http://www.theultralighthiker.com/hunting-in-fiordland/