We spent the afternoon poking around on the Wilsons Prom Isthmus, an area easily ignored as you roar down from Foster to the National Park, but in many ways it is scenically superior to the park itself. We had time only to drive down five roads to the sea, and take a peek: Foster Beach Road (off Lower Franklin Road) Foster, Charles Hall Road (off Black Swamp Road) Yanakie, Shelcotts Road Yanakie and Hourigan Camp Lane (off Millars Road) Yanakie and Lester Road (off Meeniyan- Prom Road Yanakie.
As you know I am working towards a Great Gippsland Circuit (http://www.theultralighthiker.com/the-great-gippsland-circuit/) that will walk along the entire Gippsland Coast from Phillip Island to Eden then return to Melbourne along the Alps Walking Track. Today we were checking out just a small part of that.
A view from Foster Beach towards Wilsons Prom across Corner Inlet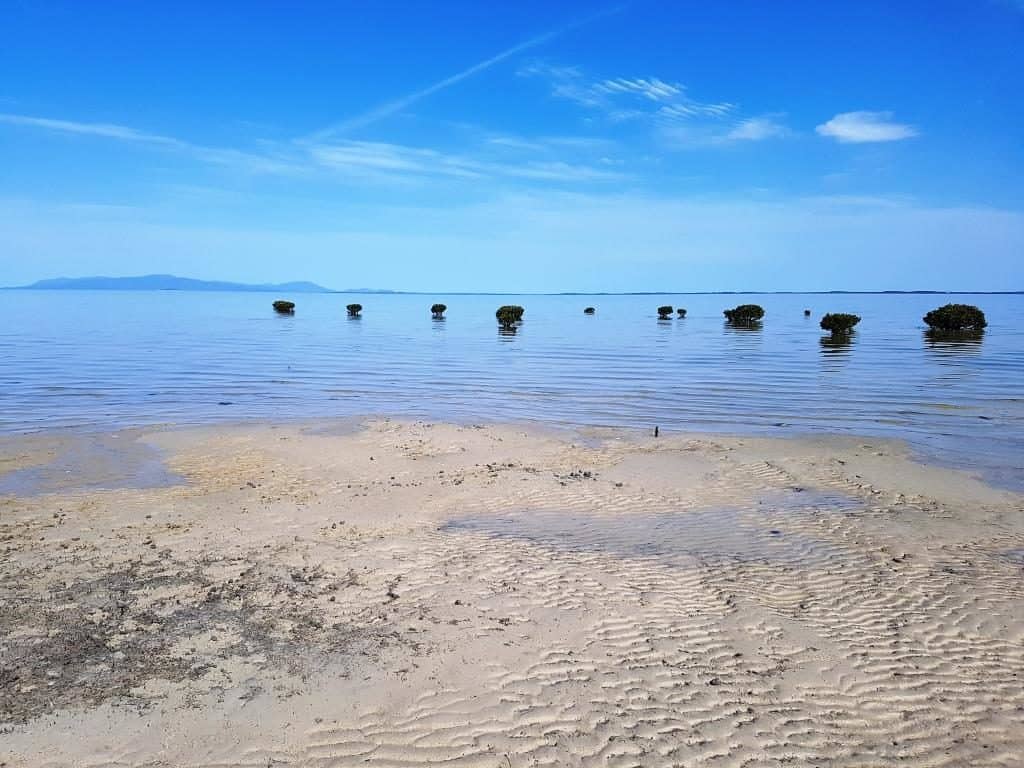 Red Billed Shearwaters amongst the mangroves Foster Beach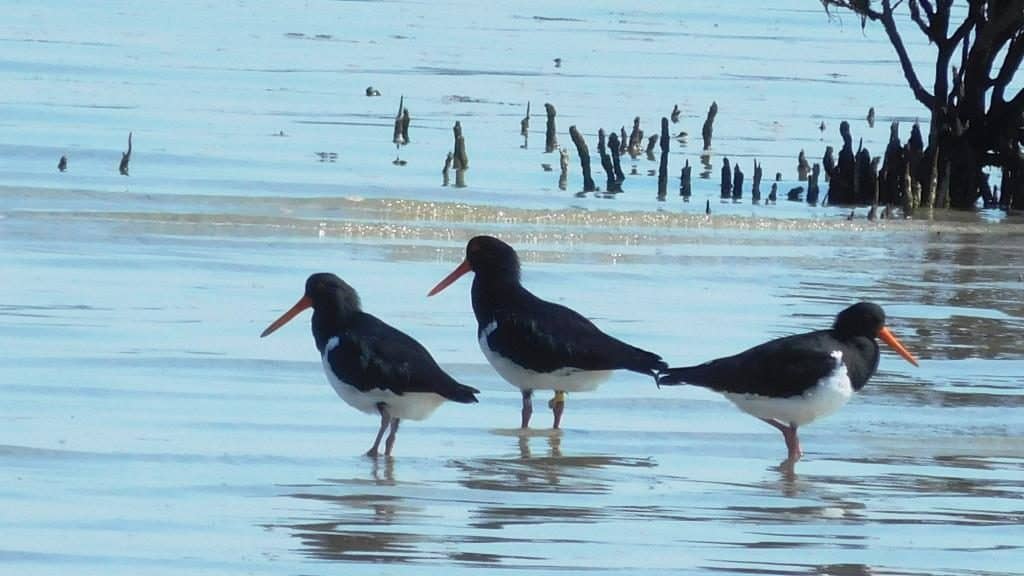 Mangroves Foster Beach looking across to the Yanakie Isthmus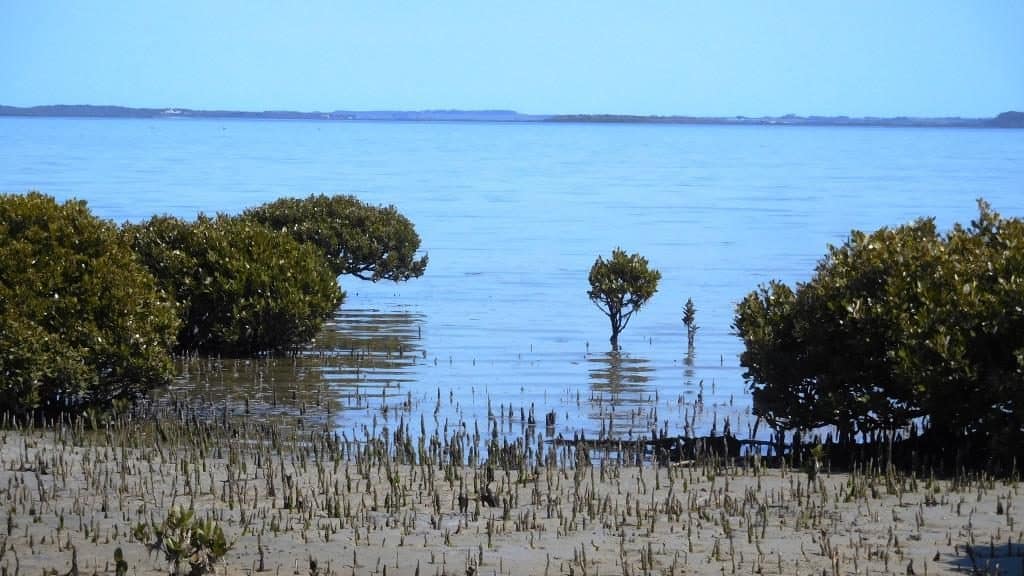 Mangrove crab Foster Beach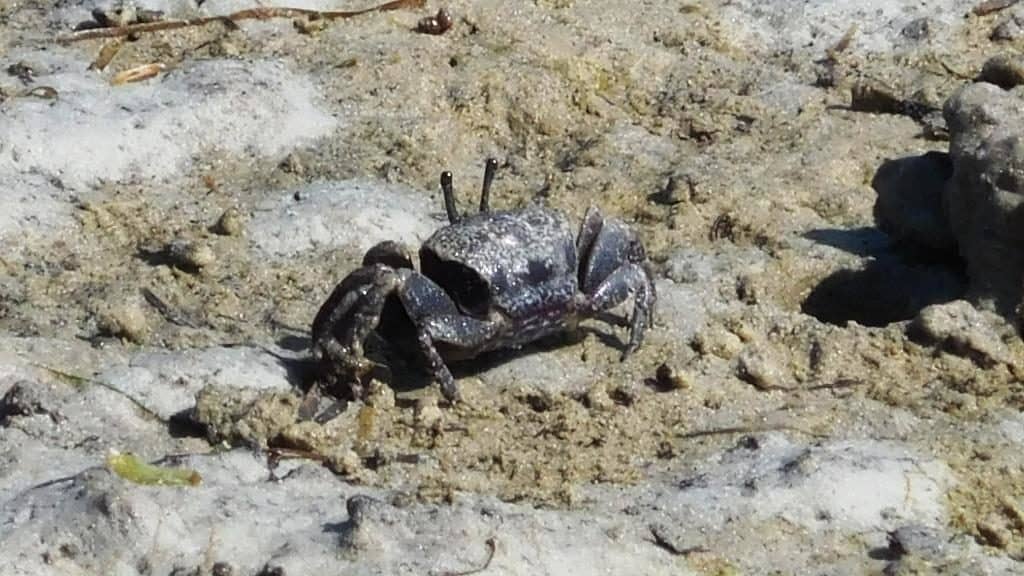 Mangroves Foster Beach looking towards Wilsons Prom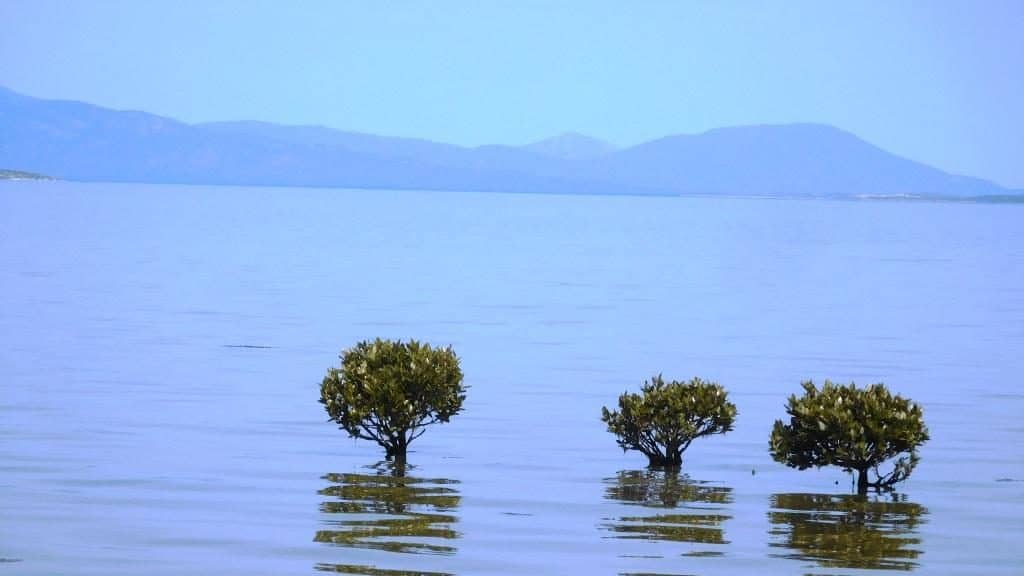 Charles Hall Road looking towards Doughboy Island. Wilsons Prom in the background.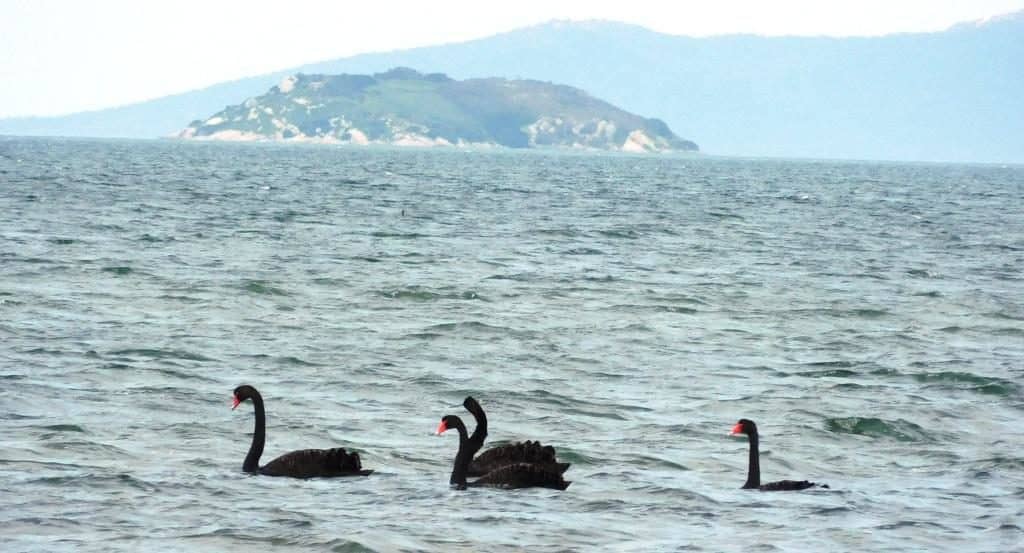 Charles Hall Road looking towards Foster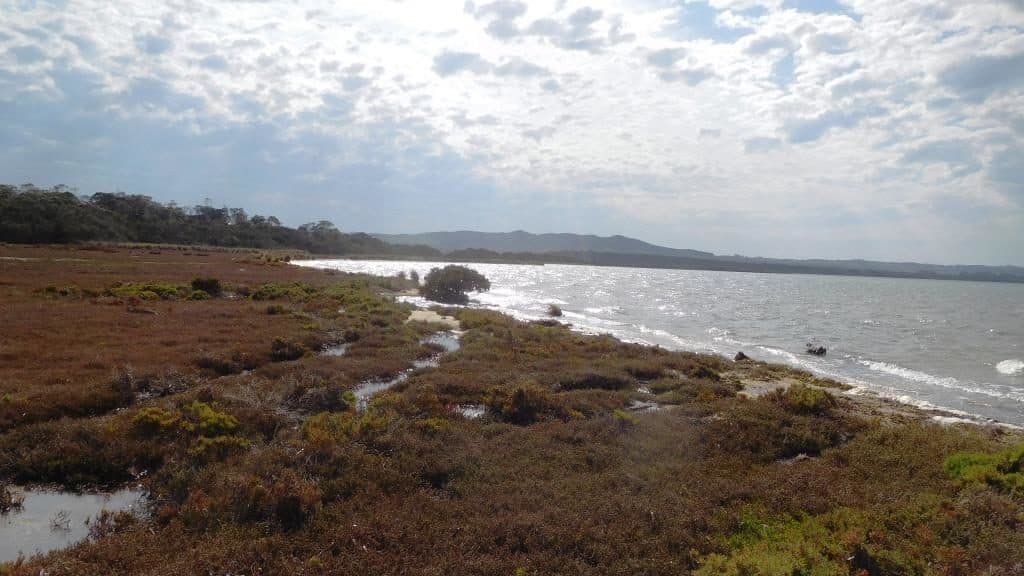 A close up of the above – so easy and pleasant walking along most of Corner Inlet particularly at low tide.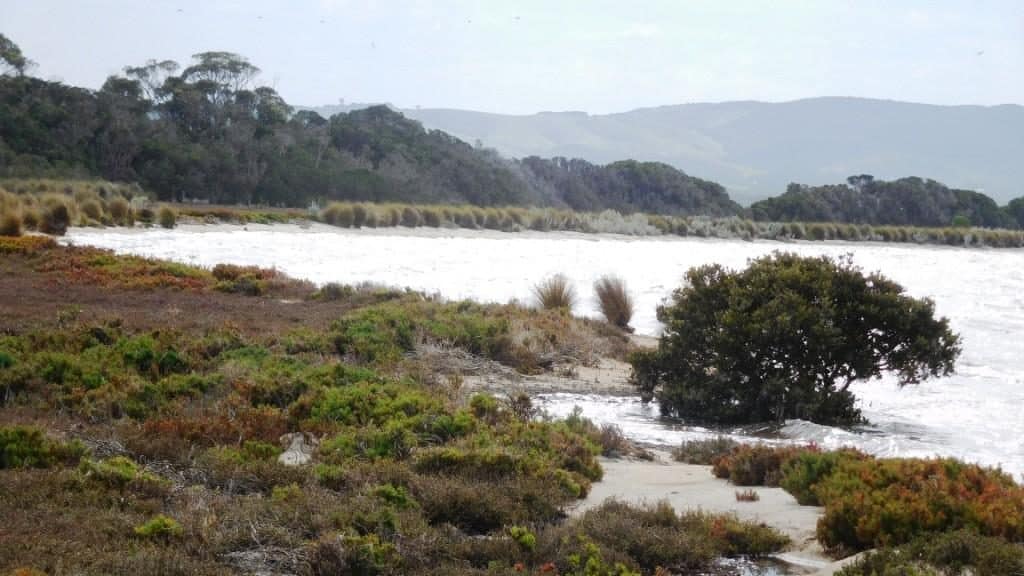 Shelcotts Road looking towards Charles Hall Road and Foster. The good walking continues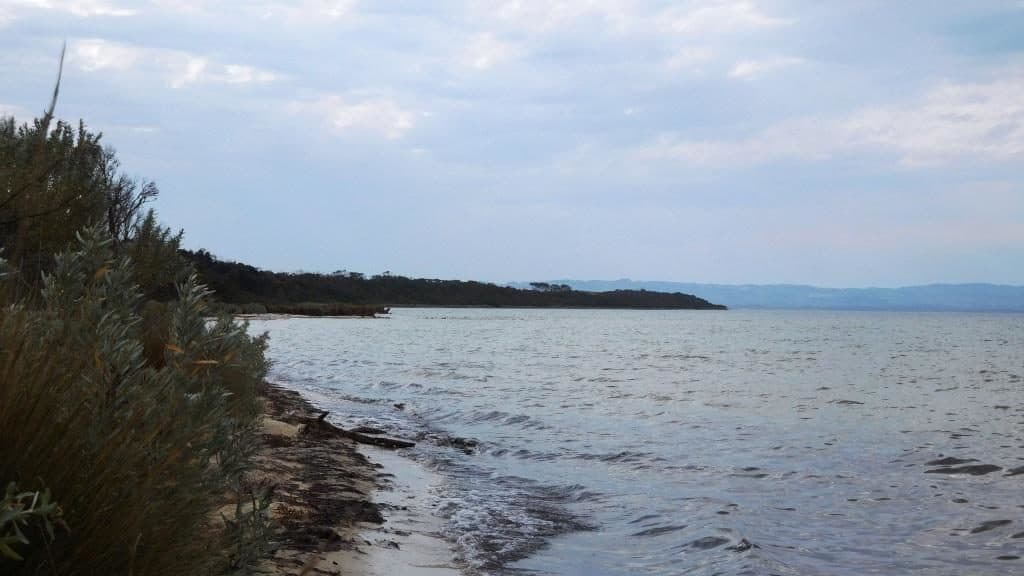 Shellcotts Road looking past Red Bluffs towards the Prom. At low tide at least you can easily walk past Red Bluff Road at least as far as Foleys Road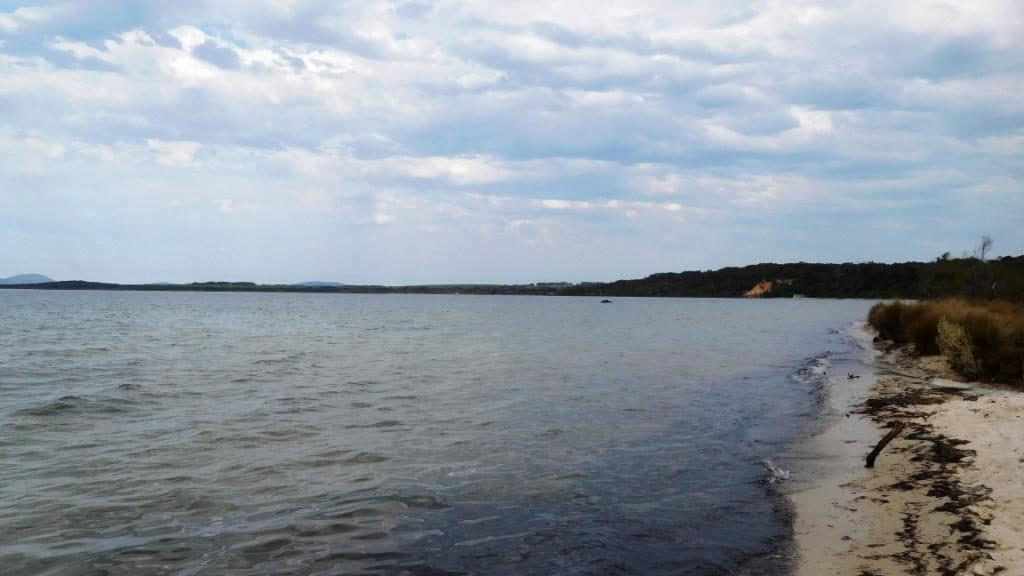 Close up of the above. Red Bluffs centre.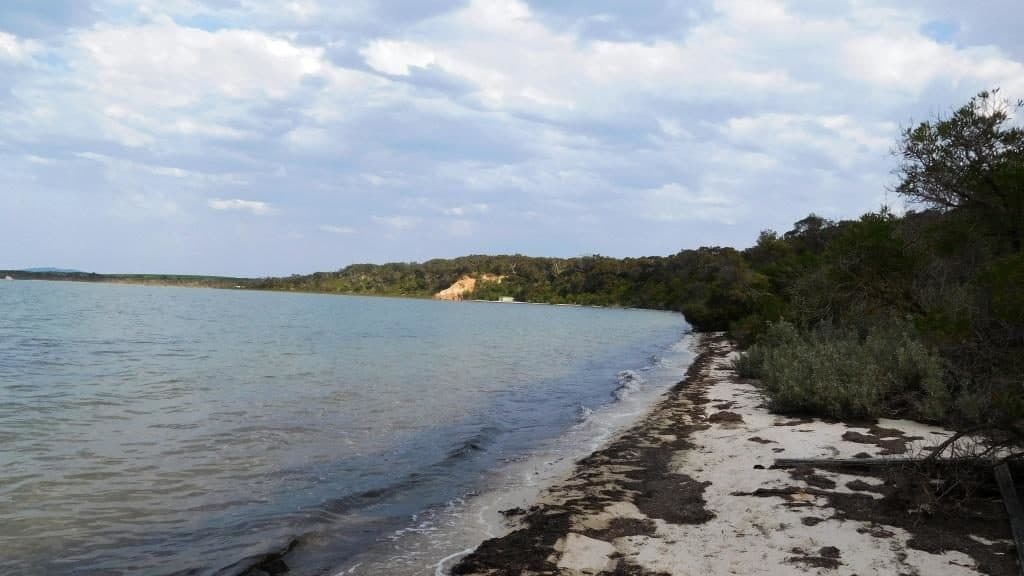 Shelcotts Road: shags on a rock, Doughboy Island and the Prom in the background.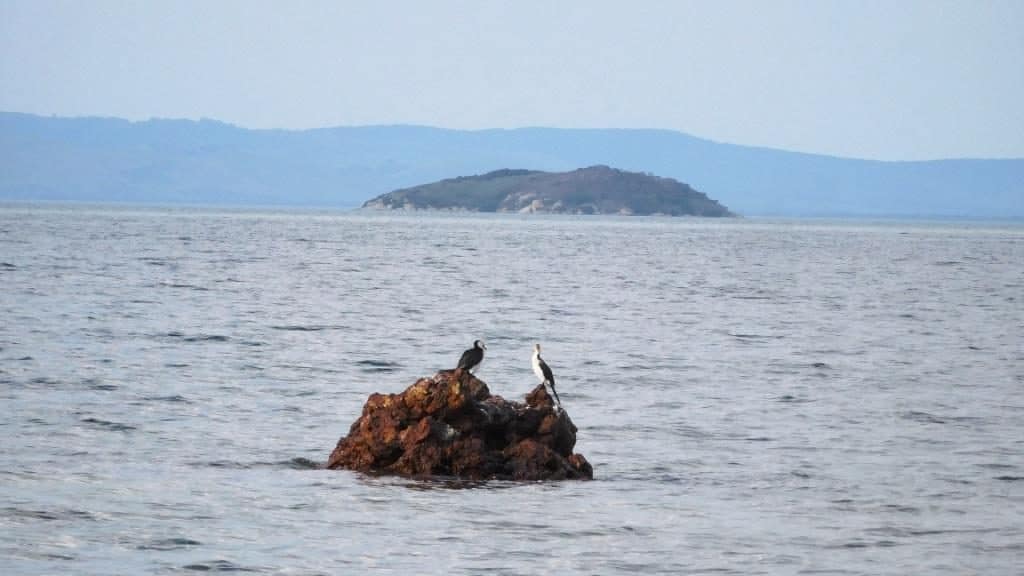 Della beachcombing Hourigans Camp Lane looking back up Shallow Inlet towards Lester Road camping grounds. There is a freshwater creek to cross before you get there. It would have to be swum.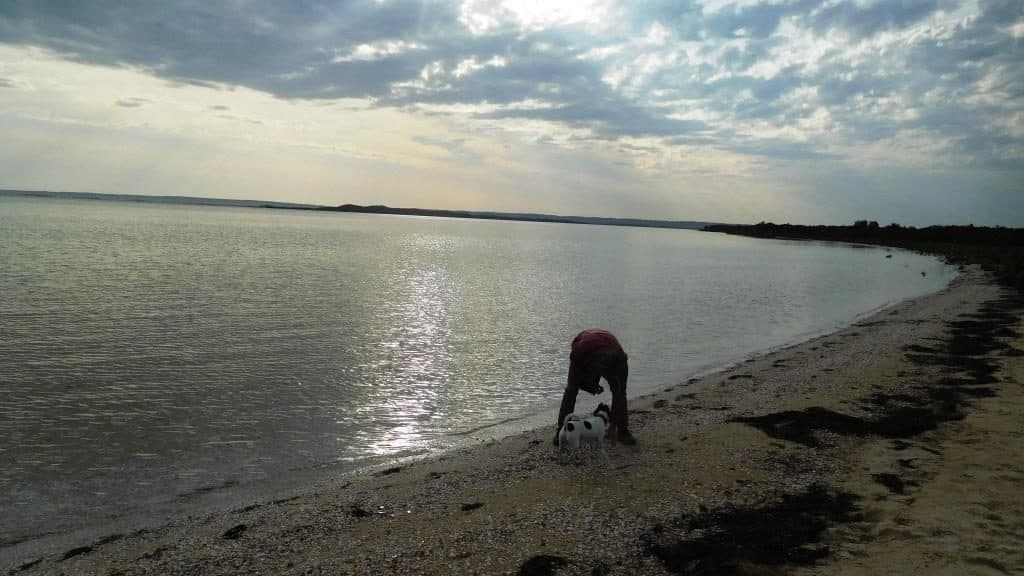 There are plenty of spots you can do a bit of beach camping along here though in the National Park part it may not be strictly legal.  Someone has near the stream below, and you can see they had a pleasant campfire with a fine view of the water. You can also easily walk from here along the beach all the way to the Darby River.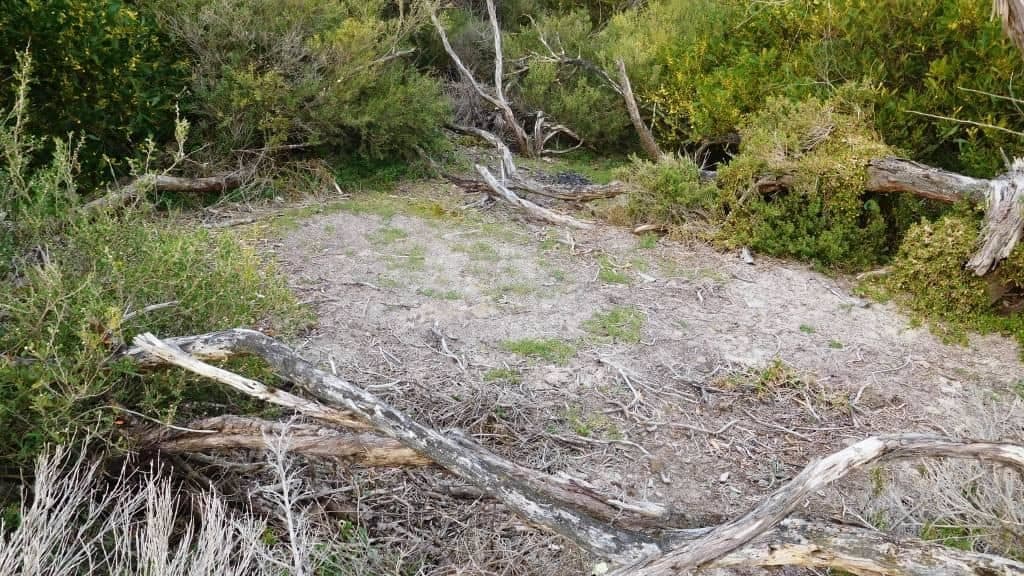 This is the view towards the Shallow Inlet entrance. There is plenty of firewood on the beach here.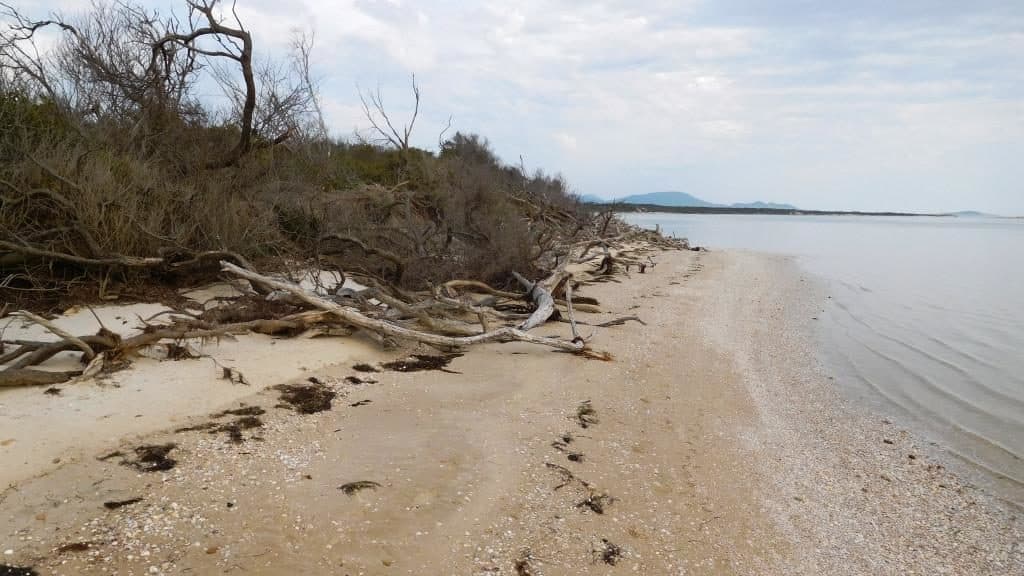 Close up of the same view. Wilsons Prom in the background. There are many freshwater streams such as this one as you walk along the coast or around Shallow Inlet. Perhaps filter the water with your Sawyer Mini filter as there is run-off from paddocks containing stock such as sheep. Mind you, I never have. See: http://www.theultralighthiker.com/water-filter/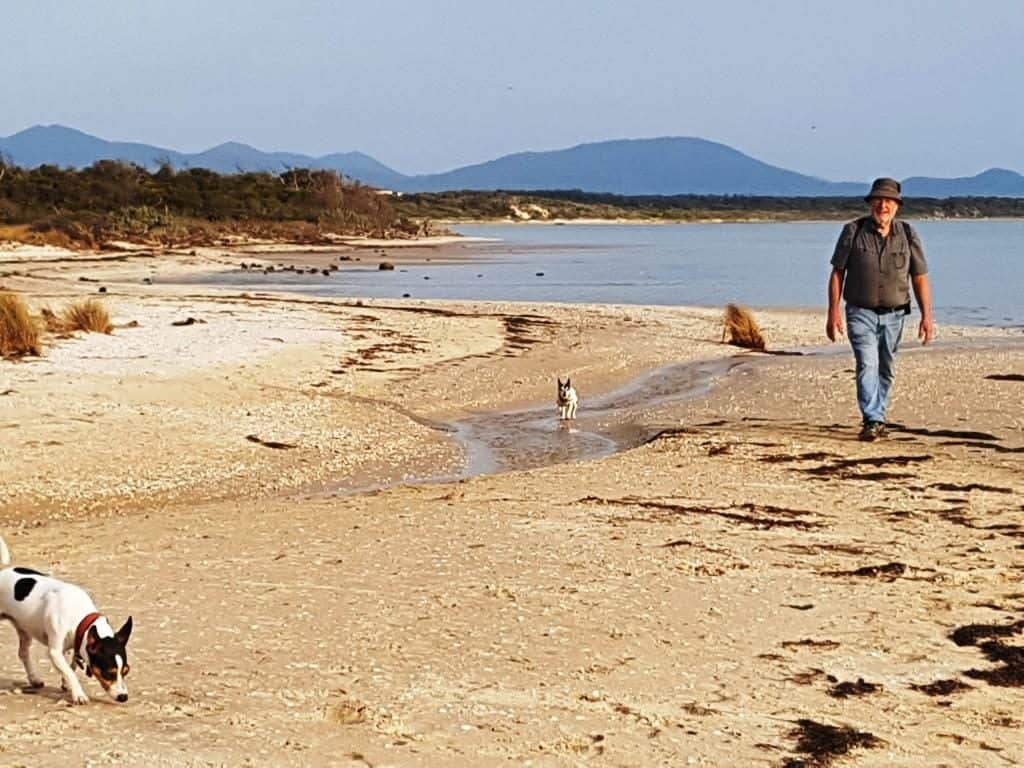 A gull enjoys the sunset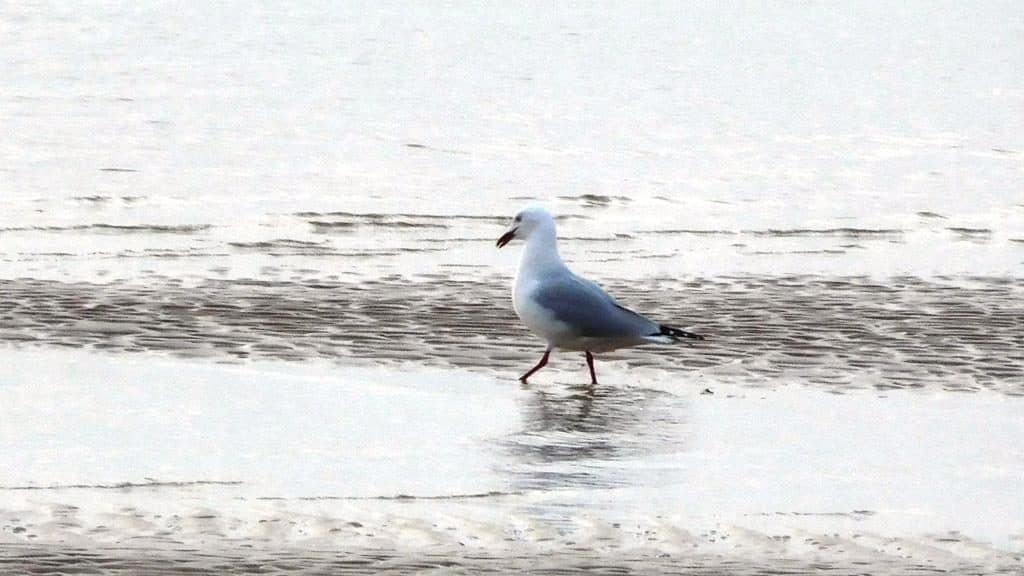 Until Spot disturbs him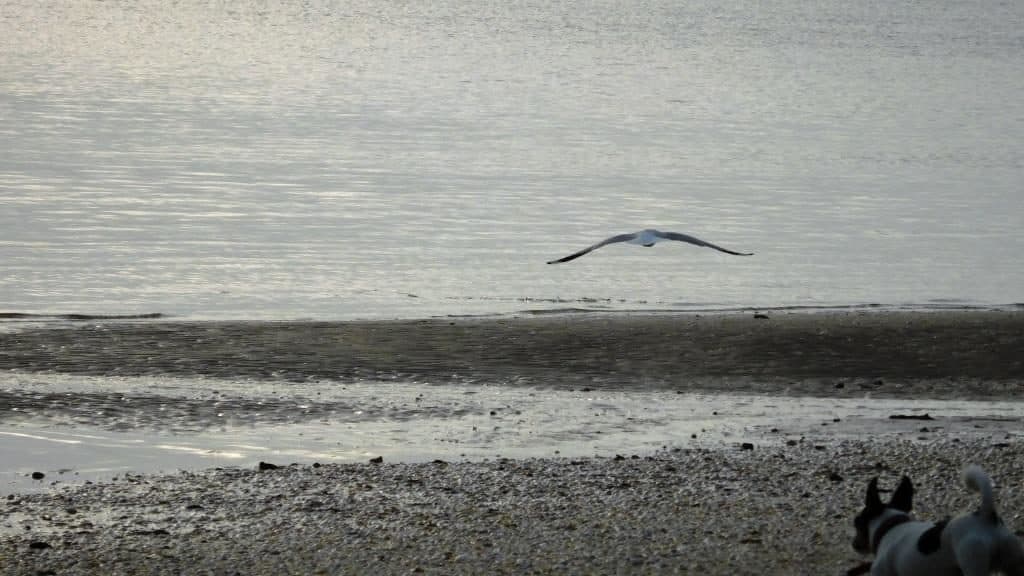 Leaving the sunset over Shallow Inlet for us alone to enjoy. Very nice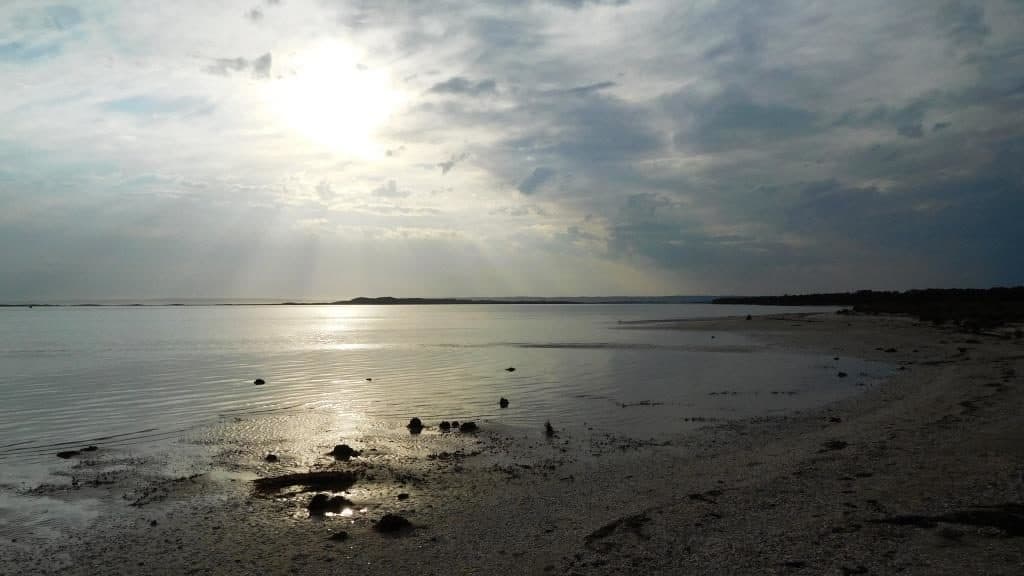 I think there will be some places on this long walk where a packraft such as the Klymit LWD (http://www.theultralighthiker.com/klymit-packraft/) will be needed, eg for crossing Shallow Inlet. The same applies at Andersons Inlet (Inverloch), Hollands landing, Mueller River & etc.
In this case it may be possible to walk all the way around Shallow Inlet though there are a number of streams still to cross (and as I mentioned earlier) there is a campground at the end of Lesters Road. Otherwise you would walk around the (Sandy) Point and back along the inshore of the inlet about 2 km then paddle the couple of hundred metres across at lowish tide on the downstream side of Fisherman's Creek below the campground opposite. Don't cross near the inlet as you could be swept out to sea! Then you can walk all the way to the Darby River, indeed to Tongue Point (http://www.theultralighthiker.com/on-the-tip-of-the-tongue-2/).
The crossing can be avoided by a long but pleasant walk along quiet country roads: Waratah Road, Soldiers Road, Daveys Road, Meeniyan-Prom Rd, Millars Road, Hourigan Camp Lane.
A packraft would also help where there is some difficulty walking along the shore (eg where there are mangroves, or at high tide). With a packraft I think you could journey all along the inside of Corner Inlet from Millars Landing to Port Franklin.
See Also: http://www.theultralighthiker.com/advanced-elements-ultralight-paddle/