For a million years (or more) this has been a defining 'element' of human life, indeed so  much so that certain ancients considered it as one of four primordials: earth, water, air, fire. Indeed this classification has a resonance to it still.
Early man learned that fire not only provided essential warmth (and protection from predators), it reduced food energy dependence and improved health, but that it added (energy and flavour) value to that food as well. Of course this is still the case.
For the ultralight hiker the problem is how to get fire's many advantages at the lightest possible weight – hence this post. The 20 gram titanium roll-up stove can be used as a windscreen with an alcohol burner, or as a twig stove – if you want to save fuel or have run out of fuel. This is so much better than a gas stove which might easily run out of fuel or block up and be useless See Fuel Follies. The empty gas canister alone weighs probably seven times this!
The 32 grams for this set up (the cosy weighs 12 grams) is so much lighter than any gas set-up – with nothing to go wrong. I just use a couple of spare tent pegs – 5.5 grams each – (for the pot stand) I carry anyway in case I need them for tent anchor side tie-outs on particularly windy nights. It also produces a substantial warmth at the door of your tent on a cold morning when you have your first cuppa of the day.
I have just completed making this titanium version of my roll-up hobo stove (as threatened here) and the carbon fibre cosy to go with it. I started with a 500 mm by 100 mm piece of titanium sourced from Aliexpress for less than US4. I have marked off the circle/hexagon for the fire door here. Note the 'V' at the bottom and top so it will roll up and fit in the billy. The circle is 2 1/2″ (62mm) in diameter. The door is 1/2″ from the bottom.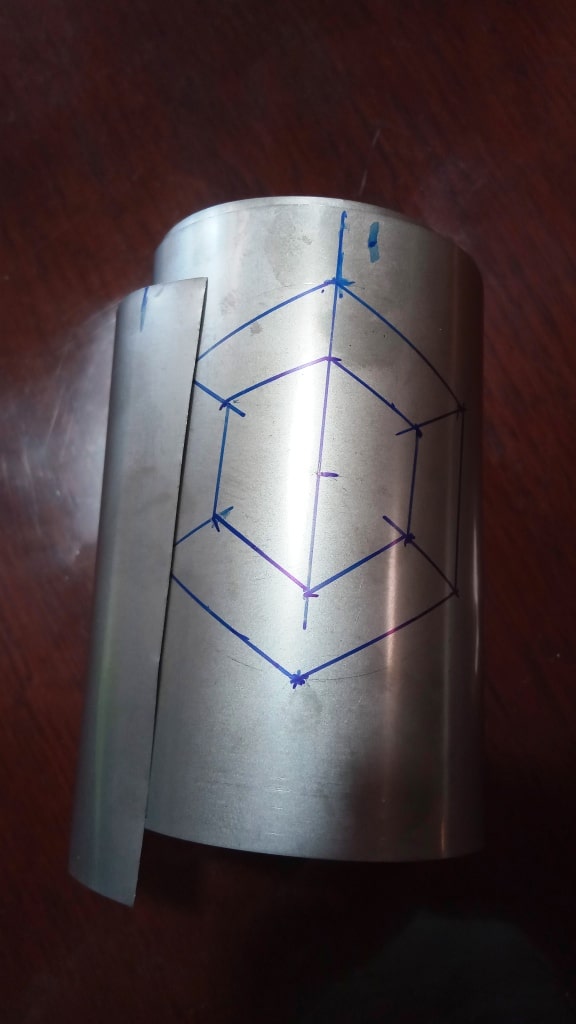 You can build it with just a pair of craft scissors, a drill and a pop riveter. I use stainless steel rivets so they will not melt. Here it is complete.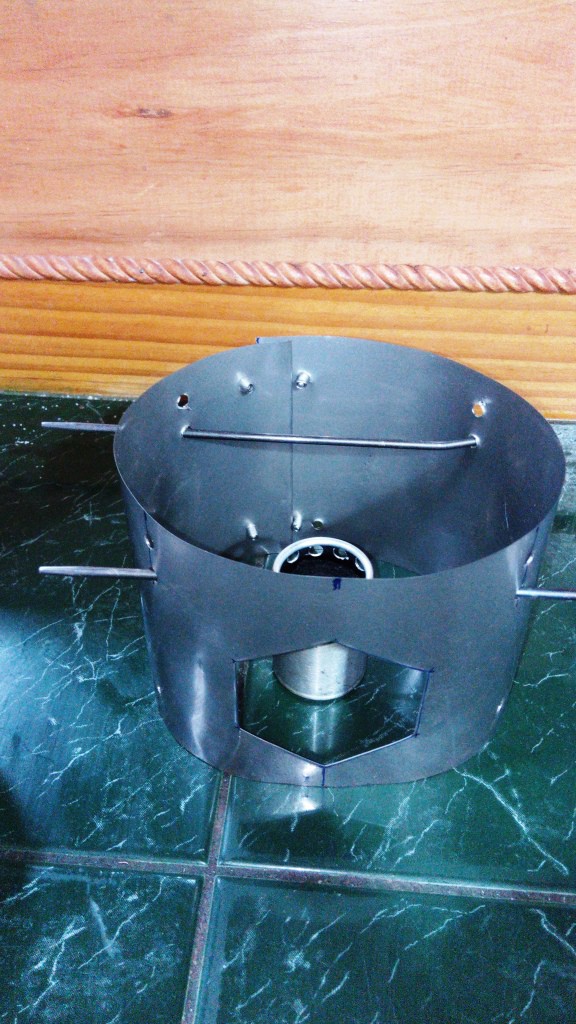 Rear view. You can study the photos and instructions at my previous post for making one yourself. It took me less than half an hour to make the stove plus cosy. They should give me several years of service.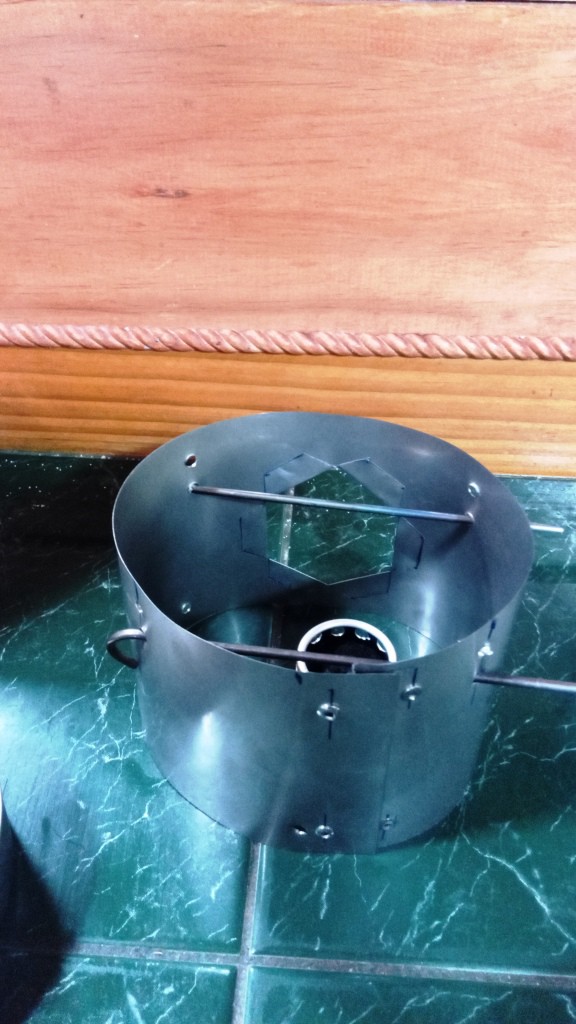 It is 3/4″ (19mm) greater in circumference than the circumference of the pot to create a chimney. The 'monkey's grip' join is 1/2″ as are the holes from the bottom for pegging it to the ground. This time I put holes at two different heights for fire/alcohol burning. I now think the alcohol holes could be even lower. I will try a couple more holes to see whether efficiency is improved at all.
Here is the cosy out the front. This is a piece of 2mm carbon felt sewn together with a 1/2″ seam (which could be trimmed further). The cosy weighs 12 grams and the titanium hobo stove weighs 20 grams = 32 grams altogether – just over one ounce!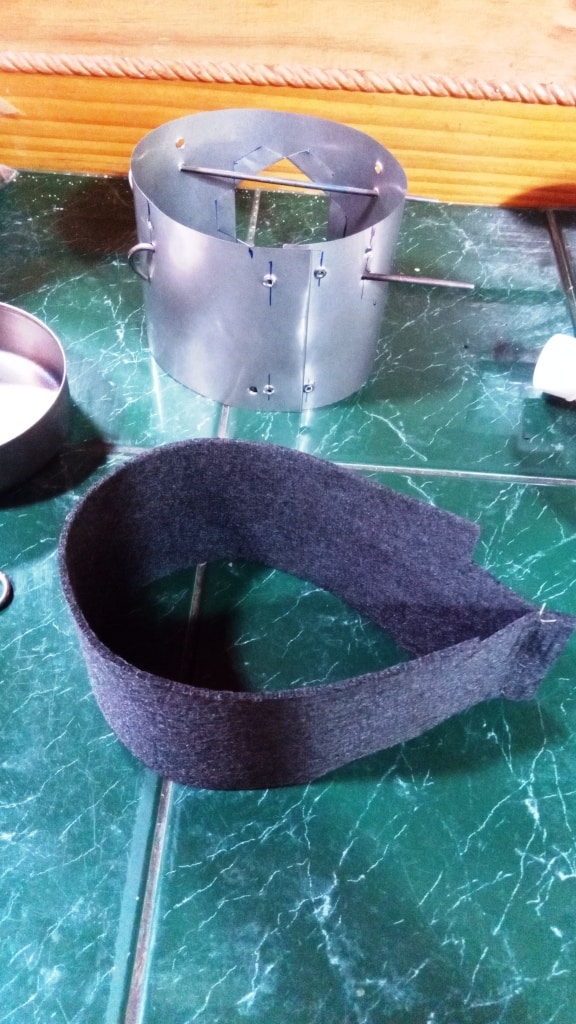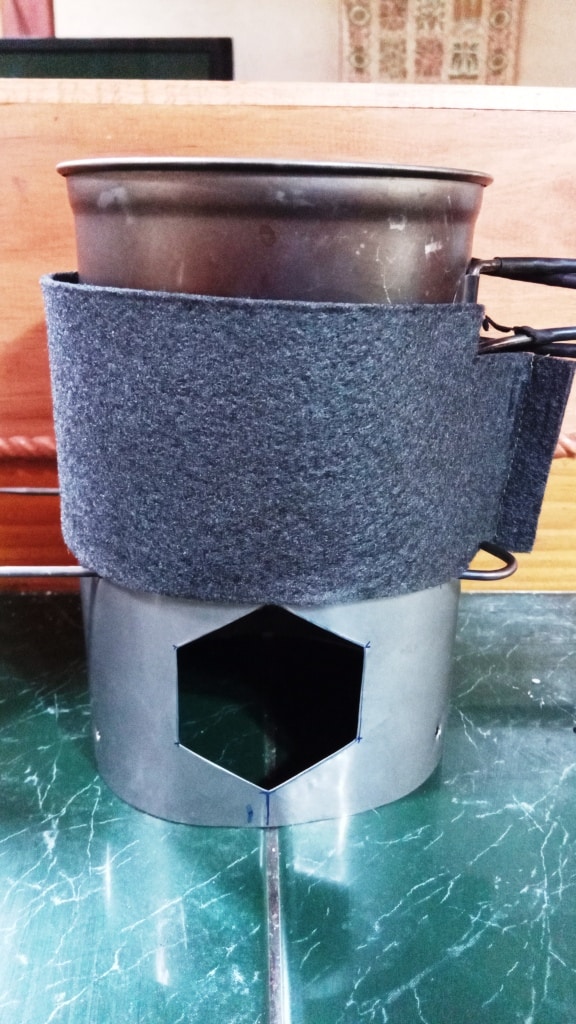 Here it is heating a cup of water. The camera has distorted it a little. It is in reality quite round.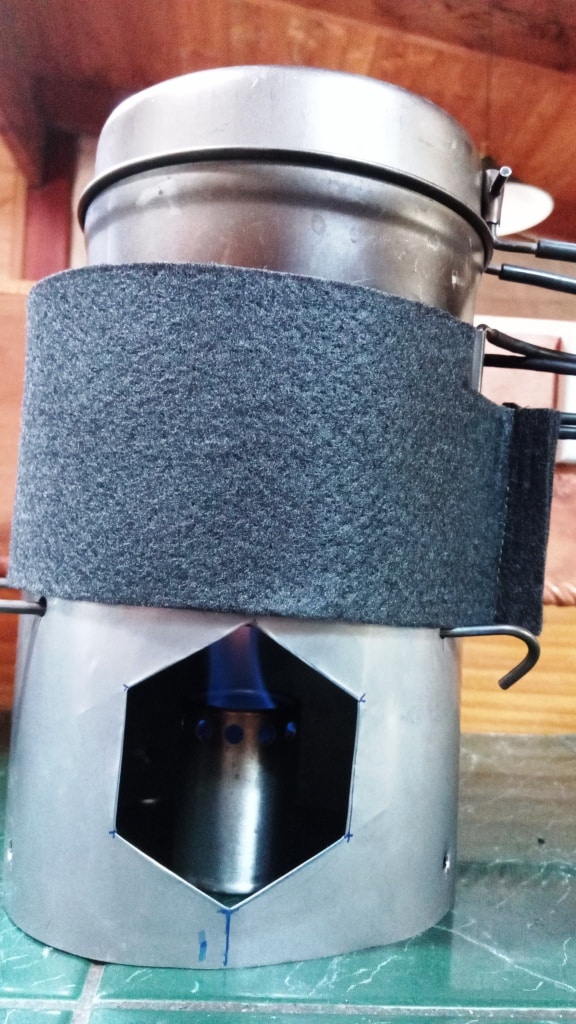 Closer up of the flame. As I said I think the flame could be a 1/2″ closer to the pot. It may create just a little more heat, particularly at the end of the burn when the flame starts to die down.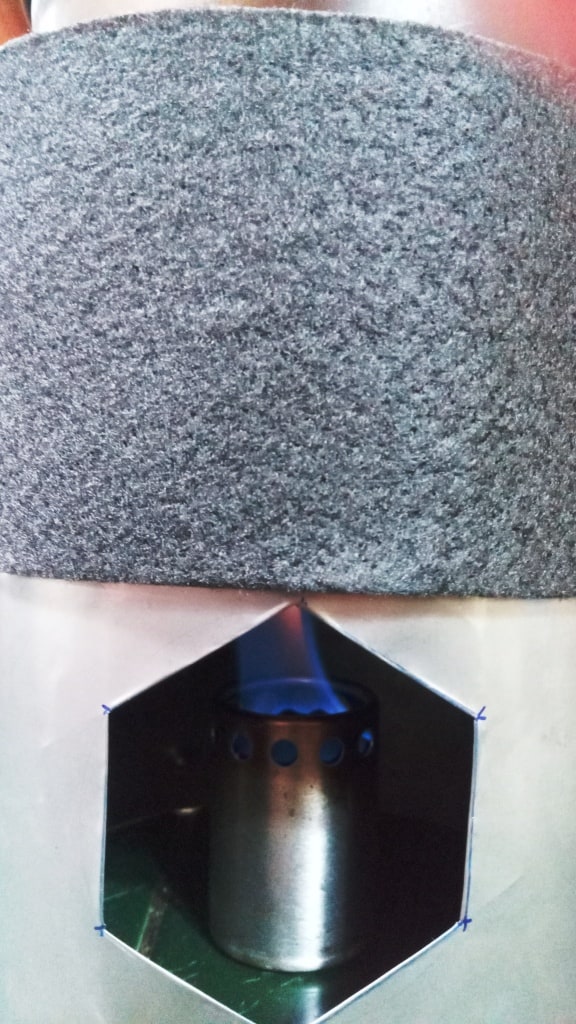 It brought a measured cup (250 mls) at room temperature (15C) to the boil and held it at a simmer for over 30 seconds on just 5 mls of metho. I usually use 7.5 mls, so it saves me around a third in fuel. This saving will be well worth the carried weight of 12 grams of the cosy on a three day trip!
Here is the evolution of this stove:
DIY 33 Gram Roll Up SS Hobo Stove
And here is an even more amazing ultralight DIY wood-fired tent stove:
Hits: 202