Or brush cutter – also excellent for track clearing. As you may know we have been pretty much self-sufficient farmers most of our lives. If I can avoid it I would rather not use herbicides though this is not always possible. I doubt though there is a more effective way of eliminating blackberries from one's property for example.
Some years are 'the year of the thistle' and they just keep coming up. This year they were away in autumn and no matter how many times one tried to get around the wretched things there were still more of them.
Once you have them down to a manageable number it is easier on the back to carry around a hand tool than a backpack full of herbicide. For some years I have used an ultralight mattock I made – which I still recommend.
My spinal fusion operation makes the bent-over position needed to wield it pretty uncomfortable after a bit so I was looking for something I could use in a more upright position. I found an old fern-hook in the shed which I figured I could make a lighter handle for out of some 1 1/4″ aluminium tubing.
This worked so well I went looking to see whether I could find anything better – well, to tell the truth I was looking for another one so Della could help out on this job! I found these folk Tramontina who make a range of brush cutter (sickle) heads. I bought their heavy duty (710 gram) one from eBay and attached an aluminium shaft to it.
You have to cut a couple of slits along the shaft and squeeze it together in the vise before you force the head onto it then attach it with some heavy-duty pop-rivets.
I think one of their lighter ones eg this one at 570 grams or this at 650 might be even better. You will have to figure out how to get one yourself. On eBay they might be called something like 'Brazilian machete, sickle  or brush-cutter'. You could try Tramontina Australia though they do not list them.
This is my 'heavy' one with an approx 5′ handle. it is sudden death to mighty thistles. I have spent the last two days hacking them down on the hill! They are looking very sad indeed now.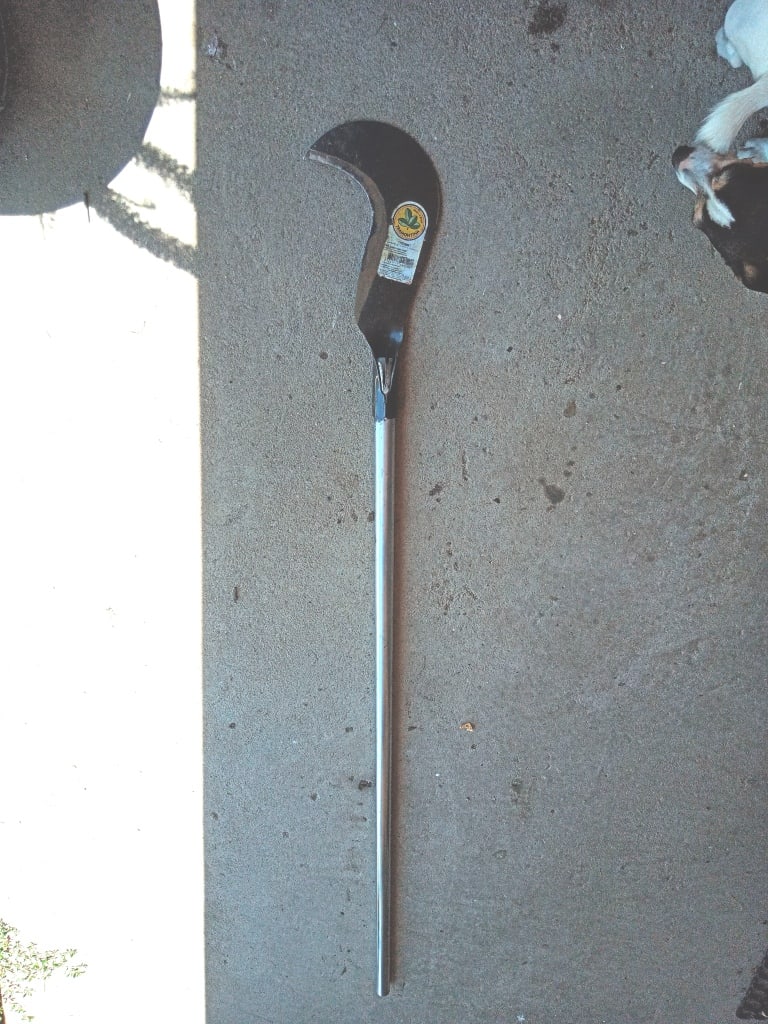 The hook is really well designed. You don't have to swing it at smaller thistles. You can simply go behind them then hook forward and they are gone. I have also been clearing some brush and weeds along the road with it and it has done a great job. Very easy to use.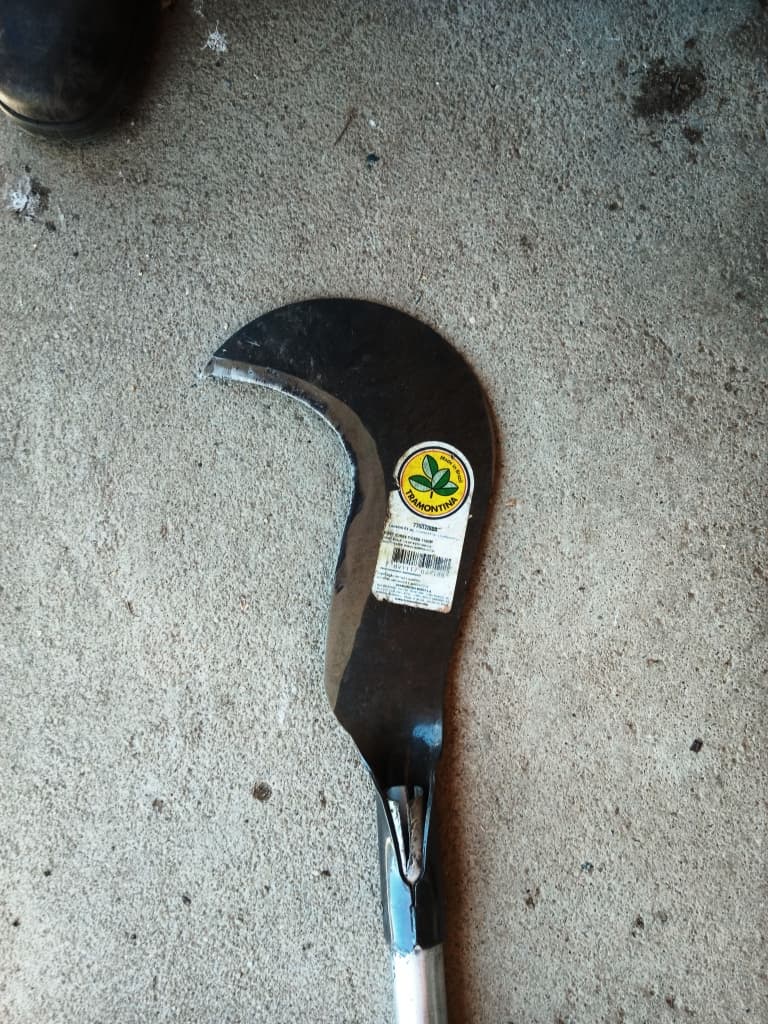 This is my old 'fern hook' and Della's Fiskar's equivalent – about a metre long and around 900 grams (all up) from memory. A beautiful tool if you have serious clearing to do, but for thistles it needs too much stooping for my old back.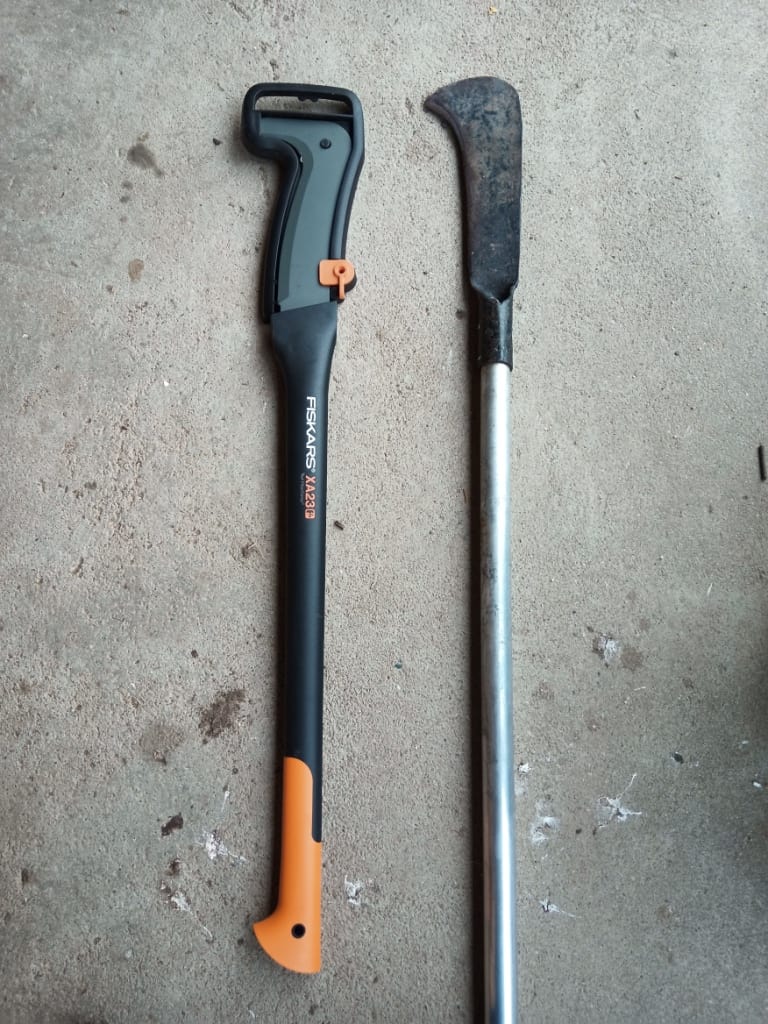 Another useful tool the Fiskars 13″ Clearing Hook 385061-1002: 453 grams.

And this is the world's greatest machete. if you don't own one, go out and buy one now. I have used it for clearing so many tracks and other things over the years.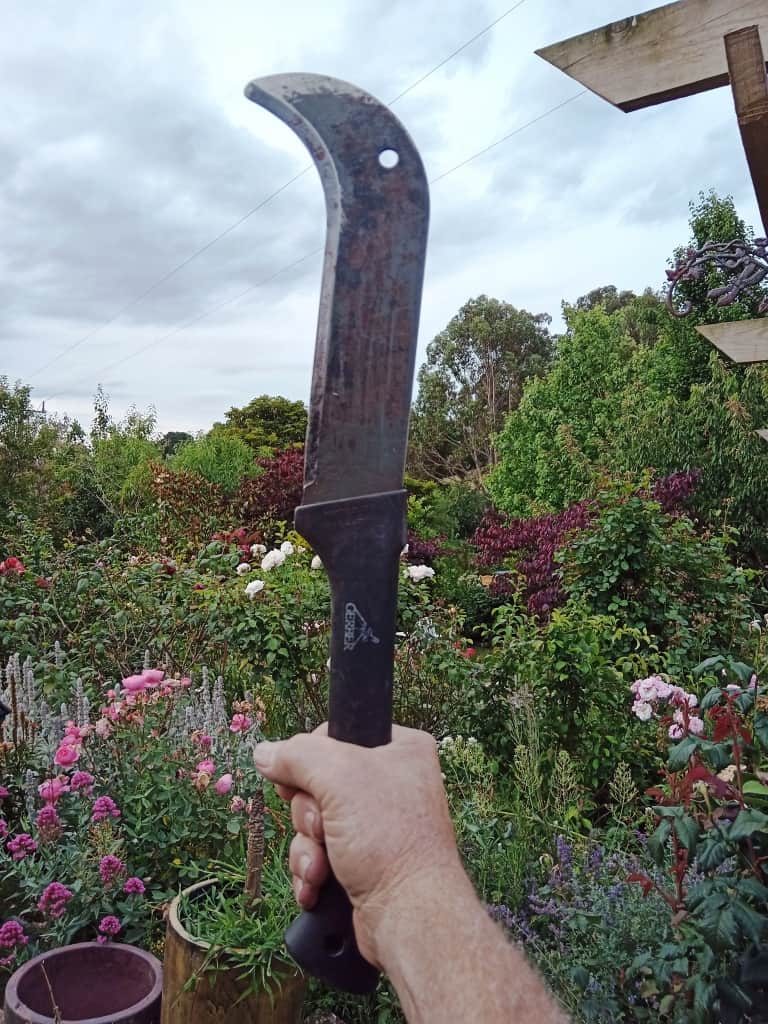 This Fiskar's pruning saw makes a perfect companion to it for track clearing.

Of course this pocket ultralight saw is just what you need for making tent poles and minor clearing around your camp site.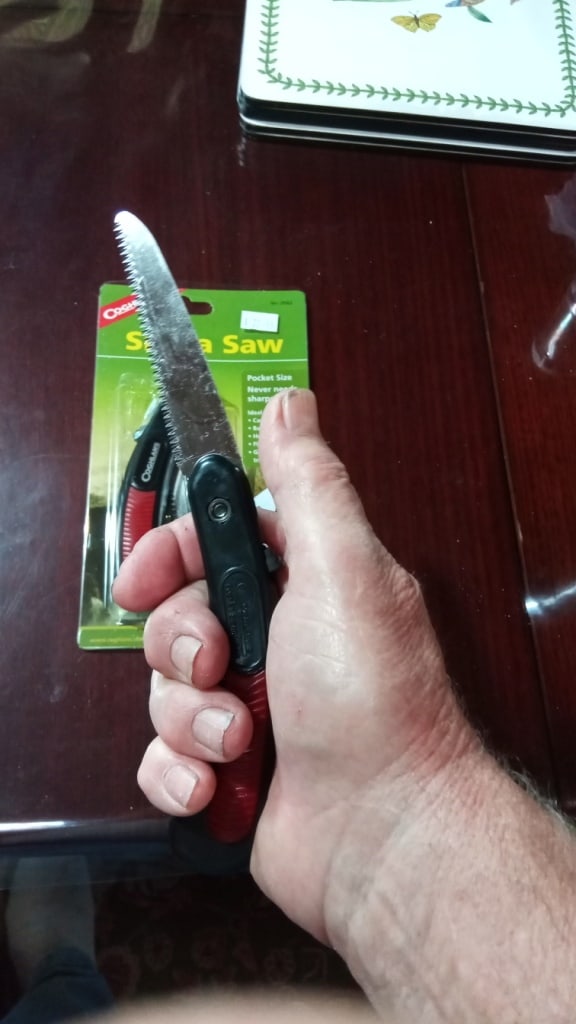 See Also:
PS: I bought my brush cutter (in the cover photo) from these folks on Ebay for A39.99 (Jan 2021). I asked for it to be mailed to me without the handl and they did so at no extra cost most promptly. They still have a few left. Get one now.
Tramontina Australia inform me that you can also purchase this tool from: Independent Retro Tools Ph 0401694258 Email [email protected] PO Box 4022 DC Loganholme Qld 4129.
Hits: 50